Know How to Prepare for CA Foundation June 2023 in 4 Months Study Period
Students who register for the CA Foundation course get four months of the study period to prepare for the exams. Read this article carefully, so that you will come to know exactly how to prepare for the CA Foundation in four months study period. Hard work is always important but smart work is similarly important. Follow these 10 smart pieces of advice given in this article to crack the Foundation level in your first attempt.
Chartered Accountancy is regarded as the toughest course in India and becoming a Chartered Accountant is the dream of every commerce student. In spite of the registration of Lakhs of students every year, still, there are only 2,80,000 Chartered Accountants in India. The only recognized body that is responsible and authorized to conduct the CA examinations is the ICAI (Institute of Chartered Accountants of India).
Students enrolling for the CA Foundation 2023 exams must check the new syllabus proposed by ICAI. For all the details of the ICAI CA new scheme 2023, check out the detailed blog.
---
---
The entrance test to become a Chartered Accountant is named CA Foundation which is replacing the current entry-level i.e. CPT(Common Proficiency Test). CA Foundation will be going to be a bitter tough than the CPT.
Students who wish to pursue this course have to complete their CA Foundation registration after appearing in the 10+2 examinations conducted by an examining body constituted by law in India or an examination recognized by the Central Government as equivalent thereto.
You get a minimum of four months of study period after registration for the CA Foundation. To appear in the CA Foundation examinations one has to pass 10+2 examinations.
To pass the entrance test of the CA course you must know all information regarding CA exams and have to fully dedicated to your studies. Wherever you are and whatever the reason may be. Don't let your efforts came down.
Today we are giving you some pieces of advice to crack this exam in four months but the difficult part is execution and which is your part.
The entire course at the Foundation level is divided into four subjects –
Principles and Practices of Accounting.
Business Laws and Business Correspondence and Reporting.
Business Mathematics and Logical Reasoning and Statistics.
Business Economics and Business and Commercial Knowledge.
A 12th commerce student must be familiar with the majority of the subjects. CA Foundation syllabus is much similar to your senior secondary classes.
The first two papers in the course are subjective and the latter two are objective. The students are advised to start preparation with the 12th standard.
---


---
10 Expert Advice to Prepare for CA Foundation During 4 Months Study Leaves
Students preparing for the CA Foundation exam for the first time don't know much about preparation. Here, we are providing you with expert advice that will help you in getting good CA Foundation results. Check out the preparation tips to clear the CA Foundation exams on the first attempt.
1. Prepare a Time-Table
The first step before starting your studies is to prepare a timetable. Those students who think that making a timetable is a waste of time done a blunder mistake. Instead of wasting time every day thinking about what to study or where to start, make a proper plan. Pick Up the study material, check out the CA Foundation exam pattern and allocate time to every subject and every chapter according to the days left in your exam. This will not just organize your studies in a proper manner but also help you to analyze your performance.
2. Join the proper coaching
Teachers play a major role in the success and the failure of a student. Many of the students crack this exam without coaching with just passing marks. But let me warn you, that clarity on the concepts is essential from the basic level because Chartered Accountancy is a long journey where you will be called experts. And a proper CA Foundation coaching helps you a lot in gaining clarity over your concepts. So, it is very important to choose CA foundation coaching. you can choose offline or online class for CA foundation as per your convenience
Teachers are the candles who burn themselves to light others…
3. Focus on Statistics and Logical Reasoning
Non-Maths commerce students are advised to focus on Statistics and Logical Reasoning because CA Foundation Maths does not seems to be a scoring subject for the Non-Maths students. Logical reasoning covers 20 marks and the remaining part is divided equally among Maths and Statistics. Therefore Non-Maths should focus mainly on Statistics and Logical Reasoning.
4. Prepare Your Own Revision Notes
The course is very vast and almost impossible to revise in a day so the best source notes to revise at the exam time are your own handwritten notes. So, always prepare your own short notes during your classes which will prove immensely helpful at your exam time.
5. Command Over Calculator
ICAI does not want its student to do the labor work that why it permits calculators in the CA exams. Papers are always lengthy so it has become very important to grab command over the calculator. Learn the short keys like M+, M-, G, etc. This will save you crucial time in the exam.
6. Take Short Breaks
If you want to study effectively then do not study continuously for the whole day. Take short breaks of 10-15 minutes every 2-3 hours to refresh your mind. Start your day with the theory subjects because morning time is regarded as the best time to complete your theory subjects and thereafter practical subjects. End your day with the revision of what you have done for the whole day.
7. Minimum Three Times Revision
The course is vast and needed to get revise at least three times before exams. Plan your revision efficiently i.e. revise each and every topic in your first revision and mark the same type of questions so that your precious time won't get wasted in solving similar questions again. At the second revision try to complete a single question for each type and mark questions for your third revision which seems to be tough, important, and needed one more revision. At your last and third revision, read the concepts and solve only those questions which you think need one more revision.
8. Practice with CA Foundation Question Papers and Mock Test Papers
CA Foundation question papers and model test papers have proven very helpful in clearing your exam. They taught you time management and how to analyze the questions accurately. Of course, it is most advisable to solve the CA Foundation mock test papers once you have completed the course. But most of the time it has been seen that due to the lack of time, students won't be able to solve the papers. Therefore it is advisable to solve the previous year's question papers and MTPs at the end of the chapter and after completion of the course.
It's better to face failure in the MTP rather than Final exams.
9. Focus on Presentation
With the introduction of the subjective paper pattern, the students will need to focus on the presentation. Don't take it lightly as this is no more your school exams. In the professional exams and especially the CA Exams presentation matters a lot. Two of the papers in the syllabus are objective while the other two are subjective. Start practising the questions in writing and tally them either with your mentors or suggested answers.
10. Revision in the last month
Set a target to complete your course in three months along with the first revision and leave the last month for the last two revisions and solve the past attempt and mock test papers. You can't waste your time in solving the question in the last month following the exam. Don't jump over other reference books or another teacher's notes. Stick to your teachers' notes and solve the model test papers as much as you can. Follow the last one-month preparation plan to score high in exams.
Now, to recap, follow these expert tips to prepare for the CA Foundation in the 4 months and clear the exams on the first attempt:
Prepare a Time-Table.
Join the proper coaching.
Focus on Statistics and Logical Reasoning.
Prepare Your Own Revision Notes.
Command Over Calculator.
Take Short Breaks.
Minimum Three Times Revision.
Practice with CA Foundation Question Papers and Mock Test Papers.
Focus on Presentation.
Revision in the last month.
ICAI has released the CA Foundation schedule for the May 2023 attempt and the papers will conduct in the month of June 2023. Check the CA Foundation exam dates 2023 from this page.
---
CPT/CA Foundation Video Solutions of Past Year Papers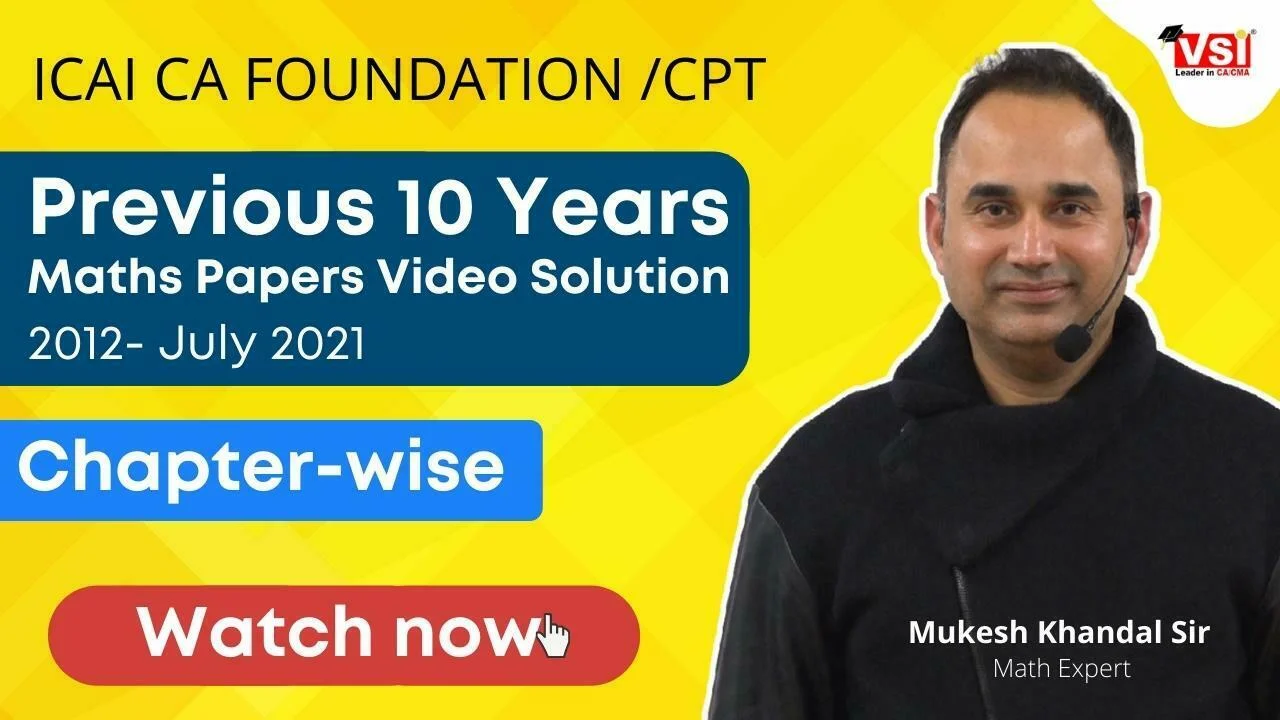 CA Foundation Maths Solutions
Watch the chapter-wise CA Foundation Maths solution videos of last 10 year papers by Mukesh Khandal sir.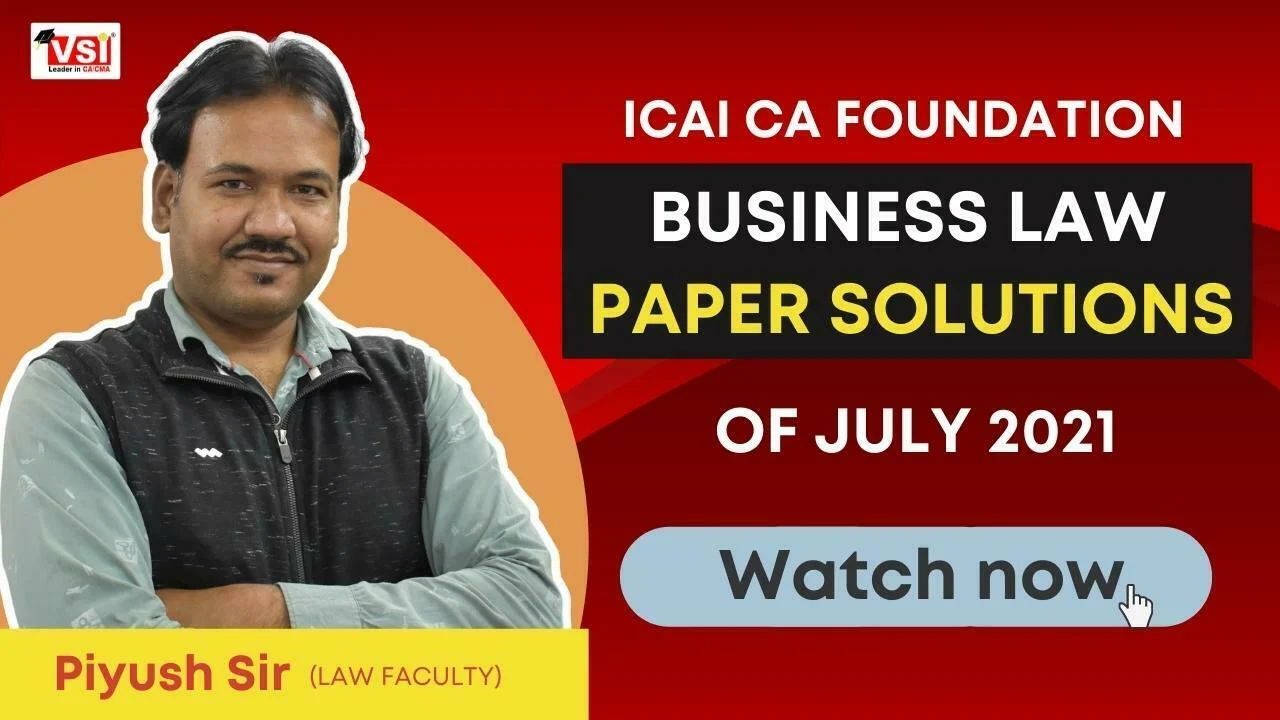 CA Foundation Law Solutions
Watch the chapter-wise CA Foundation Law modules of last 3 year papers by Piyush sir.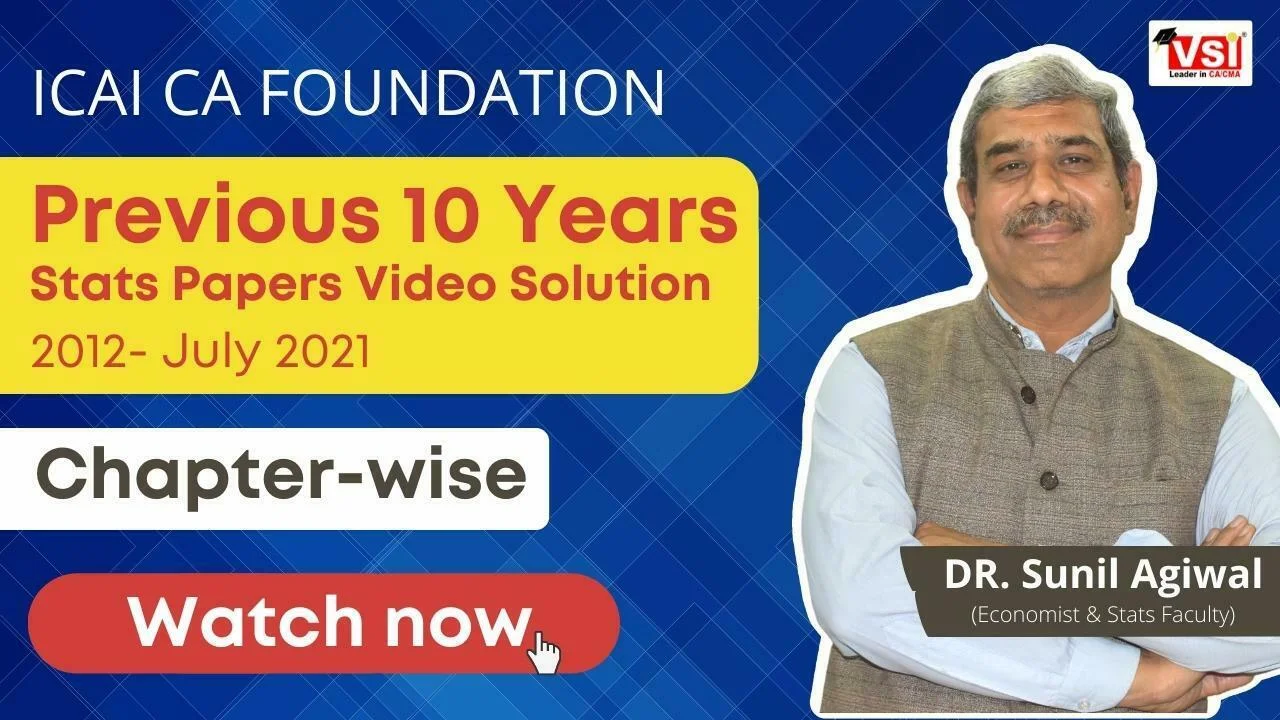 CA Foundation Stats Solutions
Watch the chapter-wise CA Foundation Stats solution videos of last 10 year papers by Dr. Sunil Agiwal sir.
CA Foundation Logical Reasoning Solutions
Watch the chapter-wise CA Foundation Reasoning solution videos of last 5 year papers by Dr. Mukesh Khandal sir.
---
Topper's Strategies to get a Rank in CA Foundation Exam in the First Attempt
Given below are strategies that will help CA candidates to rank in the CA Foundation exam in a single attempt. The strategies are as follows:
To rank in the CA Foundation exam candidates should avoid group studies with friends. Students have to complete the entire syllabus, and for this, they should be very focused.
CA Foundation candidates should try to complete the entire syllabus before time so that they get time to do revision at least three times before the CA Foundation exam.
CA candidates should divide their topics into small parts and try to complete that particular topic on the same day.
To clear the CA Foundation exam in one attempt, candidates should have a positive attitude. They should be self-motivated to study all the time.
To rank in the CA Foundation exam candidates should plan to study for at least 10 to 15 hours per day.
Try to revise theory subjects on a daily basis, and prepare short notes for every topic. This will help them at the time of revision.
CA foundation candidates should make a study plan, and should strictly follow that plan.
CA candidates must prepare their own short notes for every topic of the entire syllabus. This will help candidates to revise easily.
Students should also practice improving their quality of answers. For this, they should solve mock test papers which will help them self-assess.
To rank in the CA foundation exam students need to avoid social media, tv, the internet, etc to stay focussed on their goals.
After continuous study for at least 3-4 hours, candidates should take a short break, this will increase their efficiency.
Candidates should make their study plan in such a way that they maintain one theory subject with one practical subject.
Students should be regular during their articleship training.
To rank in the CA foundation exam. It is very important to have a crystal clear concept for each and every topic.
To excel in the CA foundation exam, candidates should stay healthy. CA candidates are advised to take a proper diet with proper sleep.
To avoid stress, CA candidates should do yoga or meditation daily for at least 30 minutes.
5 Most Avoidable Mistakes While Attempting CA Foundation Exams
1. Light Mental Attitude
Don't take the CA Foundation examination lightly or casually.
You should always keep your mind in the examination mode and channel your mental and physical energy toward the CA Foundation exam preparation. The seriousness that you put on the examination will arouse in you a self-motivation that will take you a long way in achieving your goal. Avoid procrastination at all times.
2. Lack of Proper Planning
If you are not properly planning for your preparation, you are deliberately 'planning to fail' and God too can't help you. It is carelessness, lack of seriousness and attitude of procrastination that combined together drag you towards your failure.
When you are planning, you take into consideration, your future action, and your organized efforts will make the examination yield before you. Take your CA Foundation as a 'war' and go prepared to the war field, well-armed and with a well-thought-out strategy.
3. Over-dependence on Self-Study
Self-study is the basic requirement for passing the CA Foundation examination. But the common mistake students resort to is that because of their over-confidence, they avoid, going in for an external source. As a result, a substantial amount of time and energy is consumed in conceptualizing the subjects and searching out the probable questions. Guidance is the key to success.
Read More: How Can a CA Coaching Institute Help You Rank Better in CA Exams?
4. Indulgence in Distracting Elements
Socialization, social media, running after seniors or exam-mates for advice and guidance, indulgence in watching TV or movies, and unwanted talks and discussions are the weeds in the garden of your CA Foundation preparation.
Root them out and apply such saved times to your preparation. In addition to these external weeds, you create some by yourself; in the shape of depression, phobias, apprehension, fear, frustration, and tension. Put a "No Entry" signboard for them. Meditation, yoga, and pranayama will help you a lot in achieving good CA Foundation results in this respect.
5. Lack of prioritization
Lack of prioritization may be due to irrational thoughts; "let it go, I'll relax today". Once given the scope, such negligence may become habitual. So, you must start your serious and full-fledged study right from 'day one, after you have registered with ICAI for your CA Foundation examination.
Just like the negative marking of 0.25 for wrong answers in CA Foundation, you will be losing from the probability factor of success in your CA Foundation for every 'don't' point you resort to.
---
Why Join VSI for CA Foundation Preparation?
VSI is always aimed at developing a system that can help each and every student to find his/her greatest potential. VSI CA Foundation Results have proven that we prepare every single student for Rank rather than just crack this exam. That's what makes us the best CA coaching institute in all over India. Our dedicated and experienced teachers have given three AIR – 1 in CA Exams in the last six years and established a benchmark for every coaching institute. So, join the VSI and become a successful Chartered Accountant.
---
Frequently Asked Questions
Q1. Is CA Foundation easy?
Ans: CA Foundation is the first level of the CA Course and is comparatively easy when compared to CA Intermediate and CA Final. However, students have to study well to clear the CA Foundation exams in the first attempt.
Q2. For pursuing a CA foundation, which institute should I join?
Ans: For Pursuing a CA foundation, candidates must join Vidya Sagar Institute, the best CA foundation institute in India.
Q3. Do ICAI foundation revision test papers, and mock test papers help for revision?
Ans: Yes, ICAI foundation revision test papers and mock test papers are very helpful for candidates at the time of revision.
Q4. From where can students download the CA foundation Syllabus?
Ans: VSI helps students to download the CA Foundation Syllabus.
Q5. Is the ICAI CA foundation study material helpful?
Ans: Yes, the ICAI CA foundation study material is helpful. Students can download ICAI CA foundation study material from VSI.