Best CMA Final Coaching Classes in India (Online & Offline)
VSI Jaipur is the best CMA Final coaching in India, providing the highest results to its students. Our students consistently get high marks, and hundreds of students have cleared the exam on the first attempt. Our CMA Final classes are conducted in online and offline modes. VSI institute provides coaching for group A, Group B, and the entire CMA Final course.
In this article, you'll get complete details of the VSI Jaipur's CMA Final coaching classes, including why to join VSI, its fee structure, class details, study pattern, how to join and much more.
---
---
Why Join the CMA Final Coaching Classes of VSI Jaipur?
At the final level, the CMA course lays down the strong foundation of the following four knowledge pillars: Financial Reporting, Regulatory Framework, Management and Strategy. As we know, skill and knowledge in cost management are evaluated on the international standard; it is one of the most competitive exams in the world. The average passing rate of the CMA exam is only 43% worldwide.
To crack such a competitive level of exam, VSI helps its students enhance the six skill sets required by ICMAI: knowledge, comprehension, application, analysis, synthesis and evaluation.
Features of VSI CMA Final Coaching:
Experienced and trained faculty provides coaching and doubt classes.
Effective study pattern that helps students develop the application and analytical skills to answer questions in the desired manner.
Regular mock tests to evaluate performance levels and remove exam fear.
Personalized support to each student based on their performance.
Doubt-solving session till the exams.
---
Details of VSI CMA Final Coaching
CMA – Final

Eligibility
CMA Intermediate cleared candidates
Object

To develop time management skills among CMA final students and complete the updated syllabus on time
To answer the question as expected from ICMAI
To indicate the missing and leakage from exam patterns.

Medium
Separate Batches for Hindi & English Medium students.
Course Duration
4 Months
Course Material
Hindi & English Module as per the medium of students provided by VSI
Mode of Classes
Online, Offline and Recorded
Offline Classes at
K-50 Bhawana Tower, Income Tax Colony, Tonk Road, Near Durgapura Bus Stand, Jaipur
---
Best CMA Final Online Classes in Jaipur, India
We developed our online classes for CMA Final using Pendrive classes and online classes. We are dedicated to rendering our proven teaching methodologies in the most user-friendly interface that will help our students to save time and enjoy an uninterrupted learning experience.
You can also download a free pdf of the Mock test paper, MCQ test, online question paper and free demo sessions at regular intervals. Our dedicated schedule helps our students prepare for the CMA Final examination.
Our CMA online Final classes will cover the entire 2023 syllabus of ICMAI prescribed;
GROUP – I
Paper 13: Corporate Laws & Compliance (CLC)
Paper 14: Strategic Financial Management (SFM)
Paper 15: Strategic Cost Management – Decision Making (SCMD)
Paper 16: Direct Tax Laws and International Taxation (DIT)
GROUP – II
Paper 17: Corporate Financial Reporting (CFR)
Paper 18: Indirect Tax Laws & Practice (ITP)
Paper 19: Cost & Management Audit (CMAD)
Paper 20: Strategic Performance Management and Business Valuation (SPBV)
Enrol now to get the best CMA Final video classes, pen drive classes, online classes, and face-to-face classes for CMA Final for record-breaking performance.
---
VSI Study Pattern For CMA Final Classes
VSI CMA Final classes duration is for 4 months. We have prepared a complete schedule for students to help them cover the entire course of CMA Final 2023 in advance and get some extra time to revise the entire syllabus.
Our study patterns are proven "rank providers" and are the best in the industry.
Jaipur Centre
Other than Jaipur Centre
Online Classes

(Study at your Home)

Expected Role in CMA Results
(i) CMA Final Classes
Face to face
Video Classes
Video Classes
10%
(ii) VSI Mock Test Paper
Conducted
Conducted
Conducted
40%
(iii) Personalized Guidance
Provided Telephonically
Provided Telephonically
Provided Telephonically
50%
---
Demo Lectures of VSI CMA Final Coaching
---
How can You Enrol for VSI CMA Final Coaching?
CMA candidates can apply to VSI online classes or face-to-face classes in 3 ways:
At Jaipur Center: Admission at Vidya Sagar can be taken in two ways:

Personal Visit: Visit our centre with Photo, and ICMAI registration letter if available. Fill out the form and deposit either only the registration fee or the full fee by Cash or Cheque.
By Post / Online:

Download the admission form from above.
Fill out the form and attach a photo and ICAI/ ICMA Registration letter if available
Please send it to our respective Branch where you want to study along with At par cheque / Bank draft/cheque, In favour of Vidya Sagar Career Institute Limited for Registration fee or Full fee (click here for addresses)
Hot Line: 7821-821-253

Other than Jaipur Center: Follow the online procedure to join our centre other than Jaipur.
Join from your Home: Directly get the classes by clicking on 'Order Online'. After clicking on 'Order Online', you will be asked to fill in some personal information. Then finally pay the requisite amount.
| | |
| --- | --- |
| Batch | Admission |
| CMA Final Online & Offline Classes | Admission Open |
---
CMA Final Coaching Fees Structure
| | |
| --- | --- |
| CMA Final Group | Coaching Fees |
| CMA Final Both Groups | Rs. 55,000 |
| CMA Final Group 1 | Rs. 34,000 |
| CMA Final Group 2 | Rs. 26,000 |
The fee includes GST.
Separate Batch for Hindi and English Medium.
Separate Notes for Hindi and English Mediums.
---
For UPI Payments, Kindly use the following South Indian Bank account.
UPI ID details
Paying Name
Vidya Sagar Career Institute LTD
UPI ID
vsijpr@sib
Bank
South Indian Bank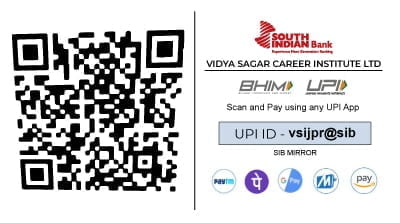 ---
HDFC Bank Account Details
Bank Account details
A/c Name
Vidya Sagar Career Institute Limited
Bank
HDFC
A/c No.
50200038833313
Branch
Income Tax Colony, Durgapura, Jaipur
IFSC Code
HDFC0000644
---
What Students Say About VSI Classes…
---
Frequently Asked Questions
Ques 1. How do I Prepare for the CMA Final exams?
To prepare for the CMA final exams, students should create and follow a study timetable. Furthermore, focus on understanding the concepts and solve mock tests regularly for practice. Try to complete the CMA Final syllabus before two months and utilize this period to revise the course at least 3 times.
Ques 2. Are the CMA Final exams easy to clear?
The CMA final exams are not easy to clear, and students must study harder to clear them on the first attempt. They must follow a study plan, revise the syllabus 2-3 times and regularly solve mock tests.
Ques 3. Which institute offers the best CMA Final coaching classes?
VSI Jaipur institute offers the best CMA Final coaching classes in India. We complete the syllabus on time, conduct full course mock tests and provide personalized guidance to each student.
Ques 4. What is the fee for CMA Final online classes?
The fee for CMA Final online classes is Rs. 55,000 for both groups, Rs. 34,000 for 1st group and Rs. 26,000 for 2nd group.
Ques 5. What is the scope of CMA?
The scope of CMA is high in India. There is a growing demand for CMAs in public and private sectors, and they hold top-level positions like MD, CFO, and more. Furthermore, a CMA can also work abroad, where the opportunities and salaries are even better.