CA Final Coaching Classes – Complete Details May 2024 Exams
Best CA Final Coaching In India
VSI Jaipur Institute offers the best CA Final coaching classes in India, providing excellent results and high passing percentages. VSI is well-recognized for its quality teaching, regular mock tests, and providing personalized guidance to each student.
In the CA Final result of Nov 2022, our 4 students got All India ranks under 50. So, when it comes to preparing for the CA Final exams, students can trust and join VSI coaching for sure success.
VSI Attributes for CA Foundation Classes –
Timely Completion of the CA Foundation Course
Exam-Oriented Classes from the Experienced Teachers
Regular and Quality Mock Test Papers
Personalised Guidance to each student based on their performance
Frequent Doubt-solving sessions
Healthy and Competitive Study Environment
Different Batches for English and Hindi
To know the complete details about our CA Final classes or to join the VSI Jaipur Institute, check this page.

---
---

---
Details of VSI CA Final Classes
Check the table below to know the details about the CA Final classes of VSI Jaipur institute.
Particulars
Details
Eligibility
IPCC/Intermediate Cleared
Object

To Develop the understanding of the subject according to ICAI Pattern.
To improve answer patterns according to the exam.
To indicate the missing and leakage from exam pattern.
Students can improve 20 marks per subject by appearing in Mock tests.

Course Fees
100000/- for both groups
Batch Date
Admission Open
Mode of Classes
Online and Offline
Course Material
English Module provided by VSI
CA Final Classes at
K-50 Bhawana Tower, Income Tax Colony, Tonk Road, Near Durgapura Bus Stand, Jaipur
---
---
VSI Study Pattern For CA Final
VSI Jaipur divides its study pattern into 3 parts i.e., Classes, Mock Tests and Personalized Guidance. So, we have mentioned the study pattern of VSI Jaipur Final classes in the table below.
Jaipur Centre
Other than Jaipur Centre
Online Class

(Study at your Home)

Expected Role in CA Results
(i) CA Final Classes
Face to face
Video Classes
Video Classes
10%
(ii)VSI CA Mock Test
Conducted
Conducted
Conducted
40%
(iii) Personalized Guidance
Provided Telephonically
Provided Telephonically
Provided Telephonically
50%
---
---
CA Final Online Coaching
VSI Jaipur also provides the best CA Final Online classes for the aspirants. To provide the best learning experience to the students, we conduct our online classes on our own robust platform. Hence, students get live and uninterrupted lectures. We are dedicated to rendering our proven teaching methodologies in the most user-friendly interface that will help our students to get the most out of their time and get the best CA Final result.
Along with the online classes, we also provide CA Final mock test papers, MCQ tests, and study modules that are completely based on the ICAI module at regular intervals. Moreover, the classes are conducted on the basis of the planned timetable and study plan to complete the syllabus on time. The personalized guidance is given to offline, online classes and Pendrive classes students through telephonic conversation.
Our CA Final classes cover the entire ICAI syllabus in the specified time period. Key features of our CA Online classes are:
Classes conducted on the Robust platform.
Exam-oriented Lectures.
Unrestricted Access to all the CA Final Lectures.
Regular Mock Test Series.
Connect with faculties for doubt clearing
---

---

In the CA Final Dec 2021 result, 6 students of the VSI institute got All India ranks under 50.
---
How to Join VSI Final Coaching?
Students can join the CA Final Coaching from VSI in the following three ways. All the students, who are residing in Jaipur, can take offline classes. Students who don't reside in Jaipur can take video classes of all the subjects. Now, the students who want to study at their home only can take online classes.
You Can Join VSI Institute in 3 Ways

At Jaipur Center

Other than Jaipur Center

At your Home

Face to Face
Video Classes
Online Classes
Students, now have to decide the option that is most suitable for them. Once chosen, they can contact our team and move further.
---
Admission Open For CA Final May 2024 Exams and Onwards
| Batch for | Date |
| --- | --- |
| CA Final May 2024 Onwards | Admission Open |
| VVMP Program for CA Final May 2024 Onwards | Admission Open |
---
CA Final Coaching Fees of VSI Jaipur
Check the table below to know the tuition fees of VSI Final classes for single and both groups.
| | |
| --- | --- |
| Group | CA Final Fees |
| 1st Group Fee | 50,000 |
| 2st Group Fee | 50,000 |
| Both Group Fee | 100,000 |
We have a registration fee of Rs. 20,000 that students have to pay at the time of registering with VSI Jaipur. And, the registration fee is adjustable in the total fees.
---
Additional Charges
| | | |
| --- | --- | --- |
| S. No. | Gateway Payment Mode by Student | Charges Debit Rs. |
| 1. | Net Banking | 18 per 1000 rupees |
| 2. | Debit Card | None |
| 3. | Credit Card | 1.2% per 100 rupees |
---
What CA Final Students Say About VSI Classes…
*Source – Google Reviews
---
CA Final Results of VSI Institute
With consistent results and All India ranks, VSI is considered the best CA Final institute in India. Check more results of our students attaining All India ranks in one of the toughest exams in India.
VSI CA Final Toppers Result May 2022

VSI CA Final Result July 2021 (New scheme)

---
VSI CA Final Result Nov 2020/Jan 2021 (New scheme)

---
All India Rank 11th from VSI in CA Final Nov 2019

---
2 Times All India 1st Rank in CA Final in 2 Years 2018 & 2019
Again, the VSI institute has proven that nothing is impossible if studied with proper guidance by giving 2 times All India First Ranks in CA Final after giving a hat-trick of AIR-1 in CA IPCC and one AIR-1 in CA Intermediate. Where everyone is running just to crack this exam, VSI is preparing each and every student for the All India Rank. It says that "Until and unless your dreams are bigger, you could not plan them to achieve. VSI spreads a positive attitude among students which motivates them to be India's next CA topper.
---
CA Final May 2019 Results

---

Ajay Agarwal, a student of VSI institute got All India 1st rank in CA Final May 2019 exams.
---
CA Final November 2018 Results

---
CA Final May 2018 Results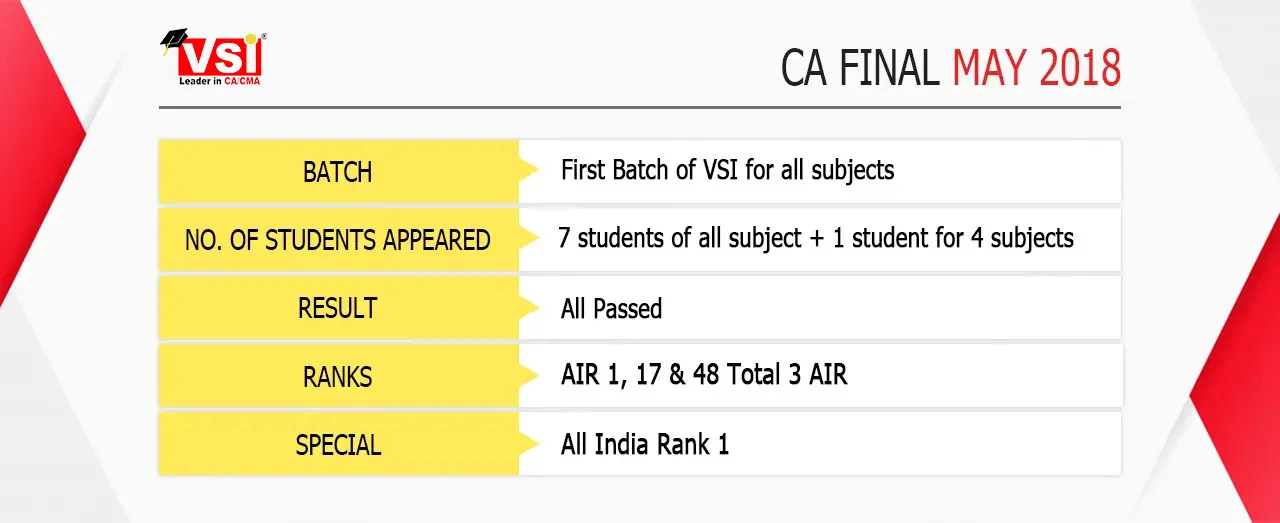 ---

Check Complete VSI CA Final Result Here
---
How does VSI Give the Best Results in CA?

---
Frequently Asked Questions about CA Final Coaching
Ques. Is passing CA Final difficult?
Yes, the CA Final course is tough and it is difficult to pass the exams. The major reasons being the vast syllabus and complex topics. Furthermore students are also doing CA articleship that makes it even harder to give proper attention to studies.
Ques. Is coaching necessary for CA Final?
Yes, CA Final coaching is necessary to understand the concepts better and get guidance to clear the exams. However, you also need to focus on self-studies after the coaching hours.
Ques. When should I start coaching for the CA Finals, during the 1st year or the 2nd year of articleship?
Ideally, you should start your CA Final coaching from the 2nd year of articleship. This will give you enough time to focus on the articleship and do the tasks practically with complete focus. In the 2nd year, you can join classes for the CA Final preparation.
Ques. Which coaching institute is the best for CA Finals?
VSI Jaipur is the best CA Final coaching institute in India that has the best teaching faculty for providing classes and guidance. Furthermore, the institute also conducts regular mock tests till the exams. In May 2022, our 6 students got All India rank under 50. Also, VSI provided 7 All India Rank 1 in the last 10 years.
Ques. What is the duration of VSI CA Final coaching?
The duration of the CA Final coaching at VSI Jaipur is for 5 months. Apart from that, we also conduct 3 mock tests that cover the 100% syllabus.
Ques. Where is the VSI institute located in Jaipur for CA Final?
The CA Final coaching of VSI is provided at its Durgapura centre. It is located near the located near the Durgapura bus stand.
Ques. Is it better to give both groups of CA Finals together or separately?
Students giving a single group at a time do not have much exam pressure. However, giving both groups will increase the chances of clearing the CA Final exams. So, it totally depends on the student's capability and hard work whether they should prepare for single or both groups.
Ques. Can I clear CA Final exams in 2 months?
Due to vast syllabus and complex topics, it is not possible to clear the CA Final exams in 2 months.