CMA has become a popular career option among 12th students in the last few years. The primary reason is the high salary of CMA. The average CMA salary in India offered in the ICMAI campus placement is Rs 10 lakhs per annum. This year, we have also seen a hike of 30% in the packages offered to fresher CMAs.
The salary of a Cost and Management Accountant depends on many factors such as job profile, location, expertise, and industry in which they work. If you have additional degrees of CA or CFA, then you can even earn Rs. 15-20 lakhs per annum.
In this article, you'll know the annual and monthly salary of CMA in India 2023, including the starting, average and highest salary. Moreover, you can also check the scope, the best industries to work in as a CMA, and their job roles.
---
Average CMA Salary in India Per Annum

The CMA salary in India ranges from Rs 3 lakhs to Rs 40 lakhs with an average salary of Rs 10 lakhs per annum (Rs 83000 per month). The annual salary is based on the 500 newly selected CMAs in the ICMAI campus placements in 2022.
Furthermore, the highest package to a fresher CMA given in the off-campus placements is Rs 27 lakhs per annum. With experience and knowledge, the highest salary of a CMA can reach up to Rs 55 lakhs per annum.
The table below mentions the CMA salaries in India on annual and monthly basis in 2023:
| | | |
| --- | --- | --- |
| Particulars | CMA Salary per Annum | CMA Salary per Month |
| Starting Salary | Rs. 6.5 Lacs | Rs. 54,000 per month |
| Least Salary | Rs. 2 Lacs | Rs. 16,000 per month |
| Highest Salary of Fresher | Rs. 22 Lacs | Rs. 183,000 per month |
| CMA Average Salary in India | Rs. 10 Lacs | Rs. 83,000 per month |
| Highest CMA Salary | Rs. 55 Lacs | Rs. 458,000 per month |
The attempts and time needed to complete the CMA course and the rank secured (if secures) in the CMA Final exams will also impact your salary. So try to crack the CMA Final exams on the first attempt with a rank.
---
How much does a CMA Earn Abroad?
Nations worldwide offer a huge salary to Cost accountants in response to the current market need. The annual package of a CMA working in abroad is $85,000 per year.
Pondering can a CMA earn in crores?
Then the figures are apparent. An experienced CMA can make up to $125,000 in management positions.
Particularly in the USA, a Certified Management Accountant enjoys various perks and higher incomes than traditional accountants. Additionally, CMAs are offered more attractive compensation packages than Non- CMAs and have advancement chances in senior financial management jobs.
---
CMA Salary in India Based on Different Factors
The salary of Cost Management Accountants depends on many factors such as their job profile, job location, industry, experience and organization. In the following section, you'll know the earnings of a CMA on the basis of different factors.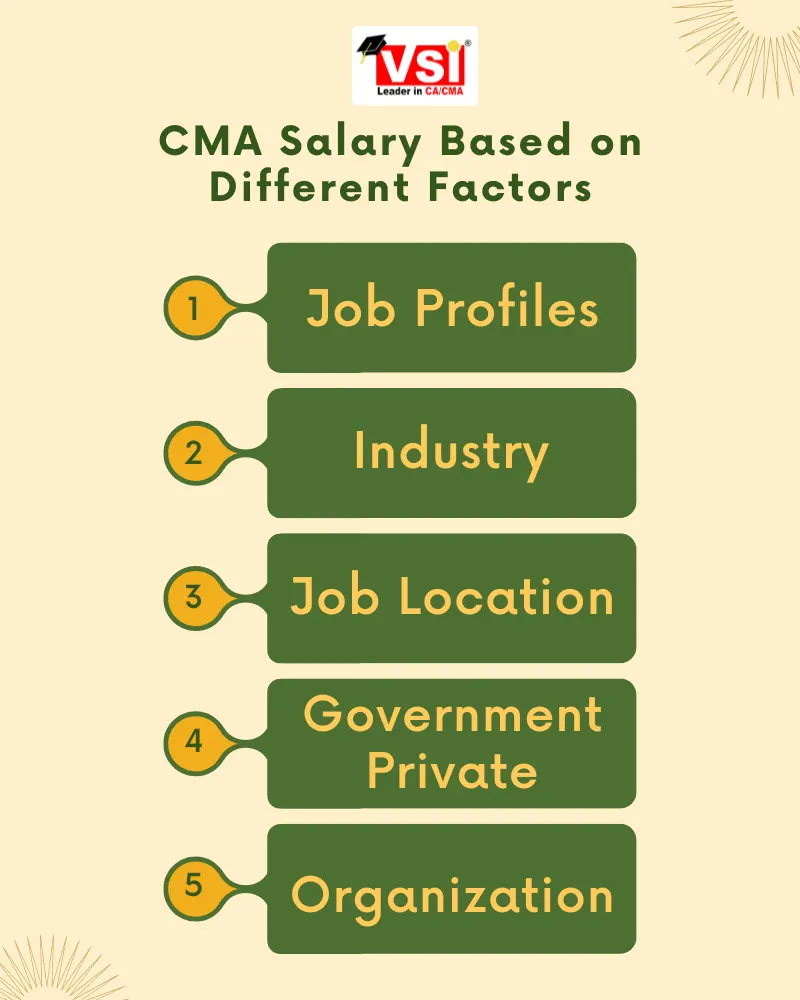 Cost Management Accountant Salaries for Different Job Profiles
The CMA income varies according to their job profiles. In the below table, you can check the salary of a CMA for various job profiles.
| | |
| --- | --- |
| Job Role | Average CMA Salary |
| Financial Analyst | ₹5.45 Lacs |
| Senior Financial Analyst | ₹7.73 Lacs |
| Finance manager | ₹11.22 Lacs |
| Senior Finance manager | ₹20.48 Lacs |
| Chief Financial Officer | ₹36.33 Lacs |
| Accountant | ₹3.08 Lacs |
| Cost Management Accountant | ₹05 Lacs |
The different job profiles for Cost and Management Accountants are:
1. Financial Analyst – They play a significant role in analyzing future abilities and financial value and keeping track of the company's economic performance. They work in junior and senior positions in the company.
2. Finance Manager – The finance manager's role is to oversee the company's financial functions.
3. Chief Financial Officer – CFO is one of the top positions of the company. They are considered the right hand of the CEO. Their job is to keep a keen eye on financial forecasting and reporting.
4. CMA – CMA's role is to perform finance services such as pricing of goods, costing, certification, and verification of taxation and cost records.
5. Cost Accountants – Their job role is to analyze and record every profit and cost earn by an enterprise.
---
CMA Salary Based on Industries
Every industry is different and offers different CMA packages in India and growth opportunities. While the standards have changed after the pandemic, here are what top industries are paying to the CMAs in India:
| | |
| --- | --- |
| Industry | CMA Salary |
| Oil & Gas | ₹ 19 Lakhs |
| Engineering/Construction | ₹ 7.8-8.5 Lakhs |
| Education & Training | ₹ 6.3-8.1 lakhs |
| Clinical research | ₹ 3.9 Lakhs |
| Analytics/KPO | ₹6.6 Lakhs |
| FMCG companies | ₹ 5.7-7.3 Lakhs |
| Financial Services | ₹3.5 Lakhs |
| IT services & consulting | ₹ 10.1 Lakhs |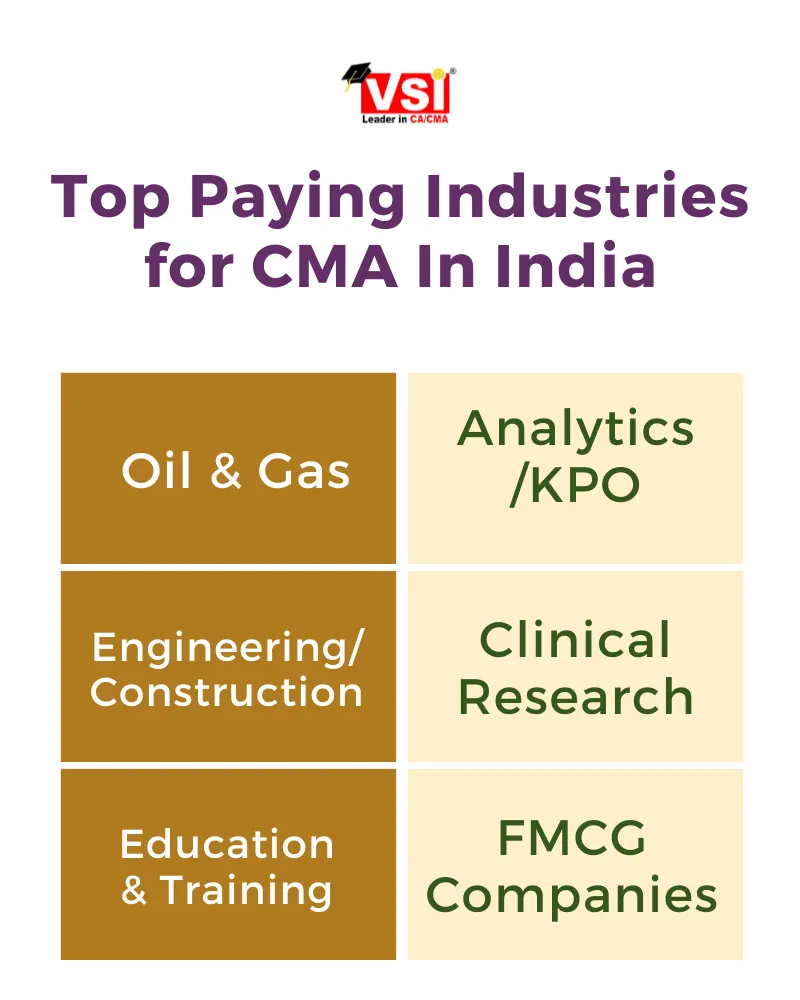 When we talk of abroad, the first country that comes to our mind is the USA. The CMA salary in the USA also varies on the industry, and the same is mentioned below:
| | |
| --- | --- |
| Industry | CMA Salary in USD |
| Educational Industry | $103000 |
| Medical | $94500 |
| Retail and wholesale | $106000 |
| Finance | $90000 |
| Manufacturing | $100000 |
| Government Sector | $94500 |
| Public Accounting Sector | $85500 |
---
Average Salary of CMA in Various Countries
The work location of a CMA also influences their compensation significantly. Now, over 100 countries recognize CMA as a profession, yet the Middle East and the USA are where it is most popular. The average compensation for employment after completing the course is likewise high in the United States, making it the most excellent location to work as a CMA.
Now, let us check various top-paying countries for Cost Management Accountants:
| | |
| --- | --- |
| Country | CMA Average Salary |
| USA | USD $109,119 |
| Dubai | USD $111,000 |
| Canada | USD $100,000 |
| United Kingdom (UK) | USD $69,426 |
| European countries | USD $81,403 |
| Asian countries | USD $40,354 |
| The Middle East | USD $40,722 |
If you work in a nation that is economically affluent with a huge market for CMAs, you will make more money than it would be if you work in a nation that is still growing with low demand for CMAs.
Before deciding where you wish to work and reside, you must also evaluate each nation's living expenses and benefits. As it will be the most crucial career choice, ensure that you consider every perspective before making your ultimate decision.
---
Average CMA Packages in Different Cities of India
CMA salary in India also varies on the job location. The average package in India is based on the cost of living in the city and other factors.
The below table mentions the salaries of CMA in different cities:
| | |
| --- | --- |
| Indian Cities | Salary Per Annum |
| CMA salary in Mumbai | ₹2.5-14 Lacs |
| CMA salary in Kolkata | ₹6-10 Lacs |
| CMA salary in Bangalore | ₹6-9 Lacs |
| Kerala | ₹6.5Lacs |
| Jaipur | ₹3-6 Lacs |
| Delhi | ₹6.5 Lacs |
Also Read: CA salary in Hindi
---
CMA Annual Package in Government Jobs
Cost management accountants can also work in government jobs. Here is the CMA salary offered by government companies or PSUs:
| | | |
| --- | --- | --- |
| Government Companies | Job Profile | CMA salary |
| NAFED | Manager of Accounts | ₹6.5 Lakhs |
| Regional Centre for Biotech | Senior Accounts Assistant | ₹8.5 Lakhs |
| IWAI | CFO | ₹12 Lakhs |
---
Average CMA salary in India in Top Private Companies
The CMA salary in India in Big 4 firms is ₹10.5 Lakhs per annum.
| | | |
| --- | --- | --- |
| Private Companies | Job Profile | CMA salary |
| Hyundai Steels | Senior Cost Accountant | ₹8.5 Lakhs |
| Malabar Gold & Diamonds | Costing manager | ₹6 Lakhs |
| Kanodia Global | Cost Accountant | ₹7 Lakhs |
---
CMA Internship Training Salary in India
As per the ICMAI rules, the minimum CMA training stipend or salary every organisation has to pay is:
| | | |
| --- | --- | --- |
| Employer | Practising CMA / CMA Firm | Corporate/Organization |
| Year – 1 | Rs. 2,000 | Rs. 8,000*/Rs. 10,000** |
| Year – 2 | Rs. 3,000 | Rs. 10,000*/ Rs.12,500** |
| Year – 3 | Rs. 4,000 | Rs. 12,000*/Rs. 15,000** |
** Metropolitan and 'A' Grade Cities
* Other Places
---
Working Role of a Cost Management Accountant
As a CMA, he is responsible for keeping track of the company's finances, including income and expenses. He can work in private, public, or government companies. The day-to-day tasks of CMA include strategic planning, decision-making, budgeting, recording numbers, and preparing data.
The various roles of a CMA are:
1. Cost Management – Their responsibility is to manage and control the planned budget. They help businesses with expenditures, control them, and minimize the risk of over-budgeting.
2. Performance Management – Analyzing the financial sector and the firm's performance in the market and improvising the performance. Their role is to assign responsibilities according to the organizational structure.
3. Internal Control – They are responsible for ensuring financial integrity and accountability and averting fraud. CMA's role is to manage conformity of laws and regulations and thwart employees from committing fraud or stealing.
4. Analyze Profitability – CMA's role is to conduct analyses by determining specific ratios. They determine profitability by dividing equivalent values or profits by assets, expenses, and revenues. The knowledge of profit margin, equity return, assets return, and capital returns is a must.
5. Investment Decision – They are also responsible for making financial decisions and allocating funds to business/investment opportunities. Their job is to look for investment proposals that will benefit the company in the long term while analyzing the potential risks and uncertainty of the proposal.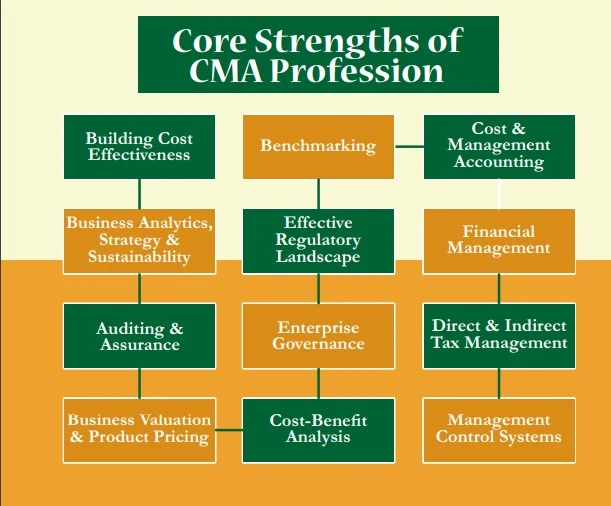 ---
Areas for Recruitment for CMA
The demand for CMAs is increasing rapidly worldwide, especially in India. Most companies prefer to work for them as they are skilled in their sectors. CMAs can be found in various industries and fields. Some of the flourishing industries are-
Finance
Research
Management
Accounting
---
Various Types of CMAs in India
There is a range of subdisciplines from which students may select to become qualified management accountants. A Cost management accountant is a viable job option for college students. The subdisciplines that comprise a profession as a Cost management accountant are listed below.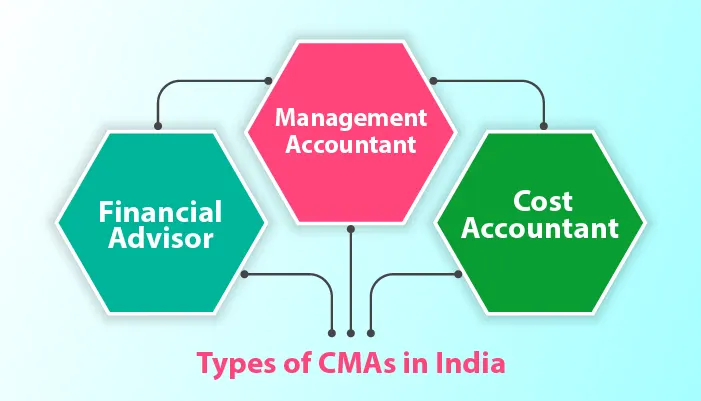 1. Financial Advisor
A financial manager is accountable for assuring the financial viability of proposed investments. He is also responsible for advising corporations on issuing corporate bonds and doing financial analysis and research that provides insight into a company's profitability, stability, and liquidity.
2. Management Accountant
The management accountant is an important subcategory for a career as a CMA. This profession demands students have planning and strategy skills. Yet, accountants will require budgeting, planning, and strategic thinking skills. Further, it will assist management in making long-term financial choices for the organization.
3. Chartered Accountant
Like Cost Management Accountant, Chartered Accountant is also a respected profession. Furthermore, it is one of the most recognized professions in India. The position includes auditing financial accounts, preparing business tax forms, and providing financial guidance.
4. Cost Accountant
The role of a cost accountant is to monitor and analyze all costs incurred by a business. This enables the organization to uncover the areas incurring losses and enhance its financial management.
5. Chief Financial Officer
A CFO position is regarded as a prestigious position that everyone would desire. A person may excel in business and be considered the CEO's right hand. Usually, the CFO is responsible for all financial reporting and forecasts. It is a profession that can help you get a high CMA Salary in India.
---
Top Companies offering CMA Jobs in India
All prestigious organizations seek CMA professionals. Compared to businesses with and without CMA experts, those with CMA professionals often have excellent financial planning.
So the top companies that are hiring CMA including the top four big firms:
Some other leading companies where CMA professionals can work are:
Amazon
HPE
Accenture
Larsen & Toubro
Wipro
Cyqurex
---
CMA Campus Placements List 2022
Check the list of companies that took part in the CMA campus placement 2022:
Indian Oil Corporation
Tata Motors
Accenture
CEAT Ltd.
CAPITA India Pvt. Ltd.
Dupont
ICICI Bank
Tata Motors
GAIL Limited
Invenio Solutions
Check the full list of CMA campus placement 2022, here.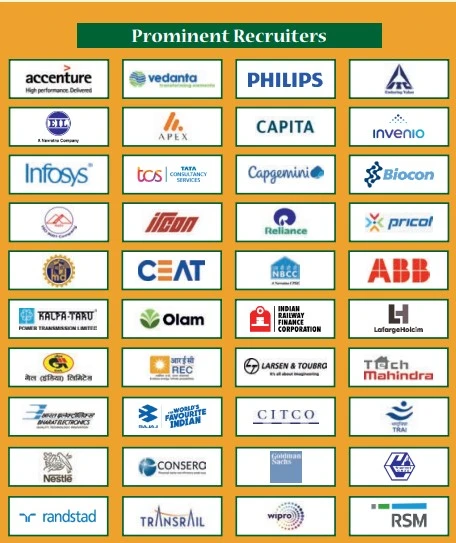 ---
CA vs CMA Salary in India
Even though both CA and CMA are accounting-based qualifications, CA is centred on taxation, auditing, and accounting, while CMA is based on management accounting. The main focus of the CMA program is strategic management accounting.
The average CA salary in India ranges from Rs. 8-9 lakhs per annum, which grows with experience and skill. On the other hand, the average salary given to CMAs in campus placement is Rs. 10 lakhs per annum.
Must Check: CA vs CMA
---
FAQs
Ques 1. What is the salary of a CMA in India with experience?
Ans. The average yearly compensation for a CMA with an experience of 4 to 9 years is 21.8 lakhs.
Ques 2. What are the top skills required by a CMA?
Ans. The top skills required by a CMA in India are:
Knowledge of accounting fundamentals, generally accepted accounting principles (GAAP), and tax fundamentals
Theoretical understanding and practical use of cost accounting
Excellent knowledge of financial concepts
Knowledgeable in topics like capital investment, operational structure, and core risk assessments
Soft skills like presentation and communication abilities, writing, and interpersonal skills
Ques 3. Can CMA earn in crores?
Ans. Yes, CMA can earn in crores. Further, your chances of earning crores increase when you work as a CMA in foreign countries like the USA.
Ques 4. Can CMA get a job easily?
Ans. Completing the CMA course doesn't guarantee that you'll get a job. It will totally depend on the candidate's knowledge, skill, and performance in the exams.
Ques 5. What is the US CMA salary in India?
Ans. The average US annual pay for a CMA is approximately $85,000 in India.
Ques 6. Is CMA better than CA?
Ans. According to the future career scope, job demand, knowledge, and salary, we can conclude that CA is better than CMA.
Ques 7. Can CMA become CFO?
Ans. Yes, a CMA can become CFO. He has to complete the three levels of the CFO exams. Furthermore, it will be easier for the CMA candidate as he has good knowledge of finance.
Ques 8. Can CMA do a tax audit in India?
Ans. No, according to section 288 of the IT act, 1961, a CMA is not an authorised person to do the tax audits.