CA Final Rankers
CA Final Nov 2022 Rankers From VSI Jaipur
---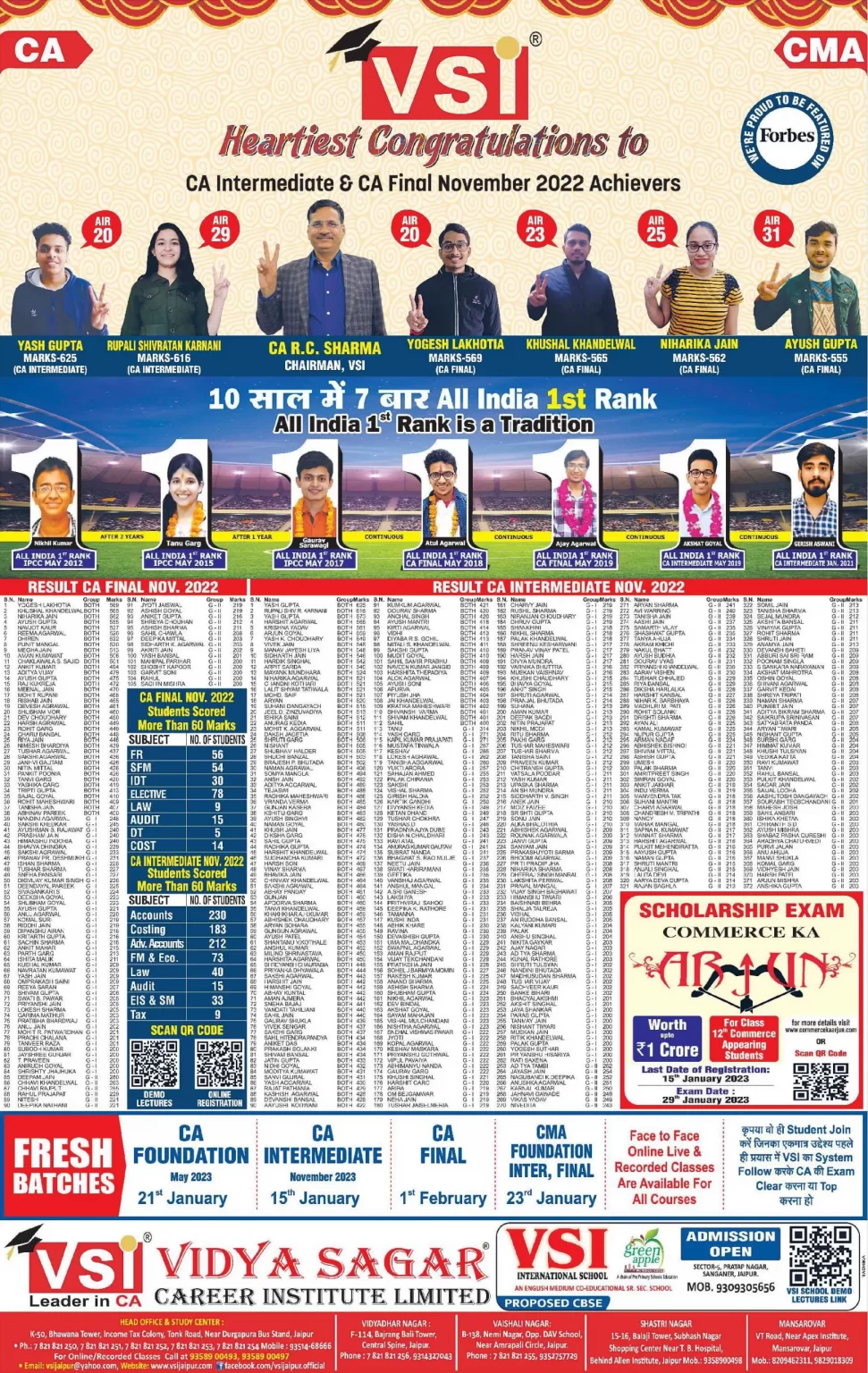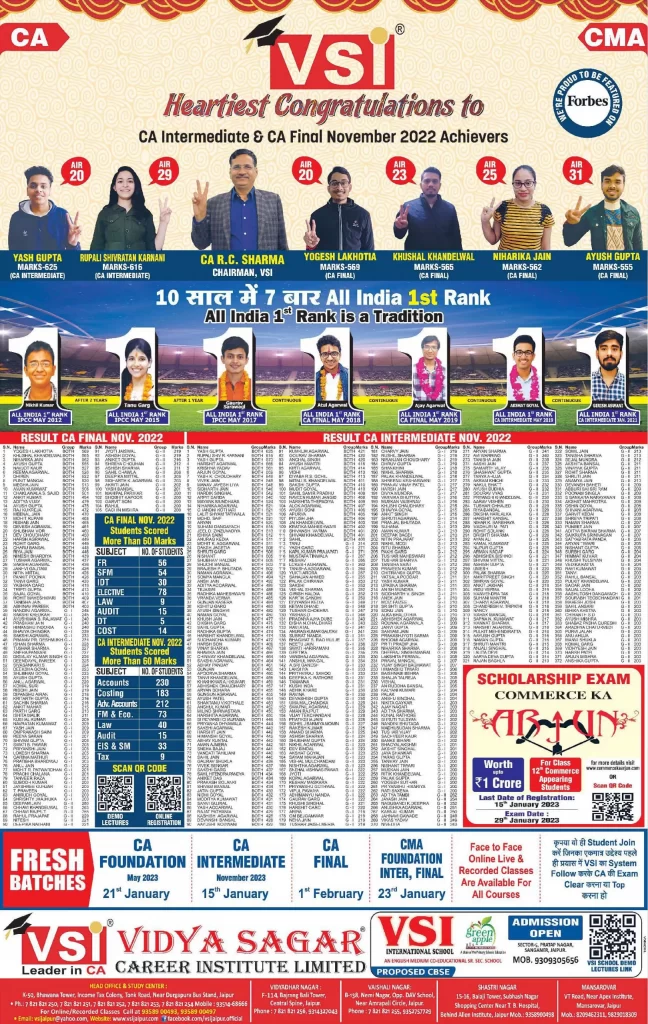 ---
VSI All India Rankers of CA Final May 2022

---
---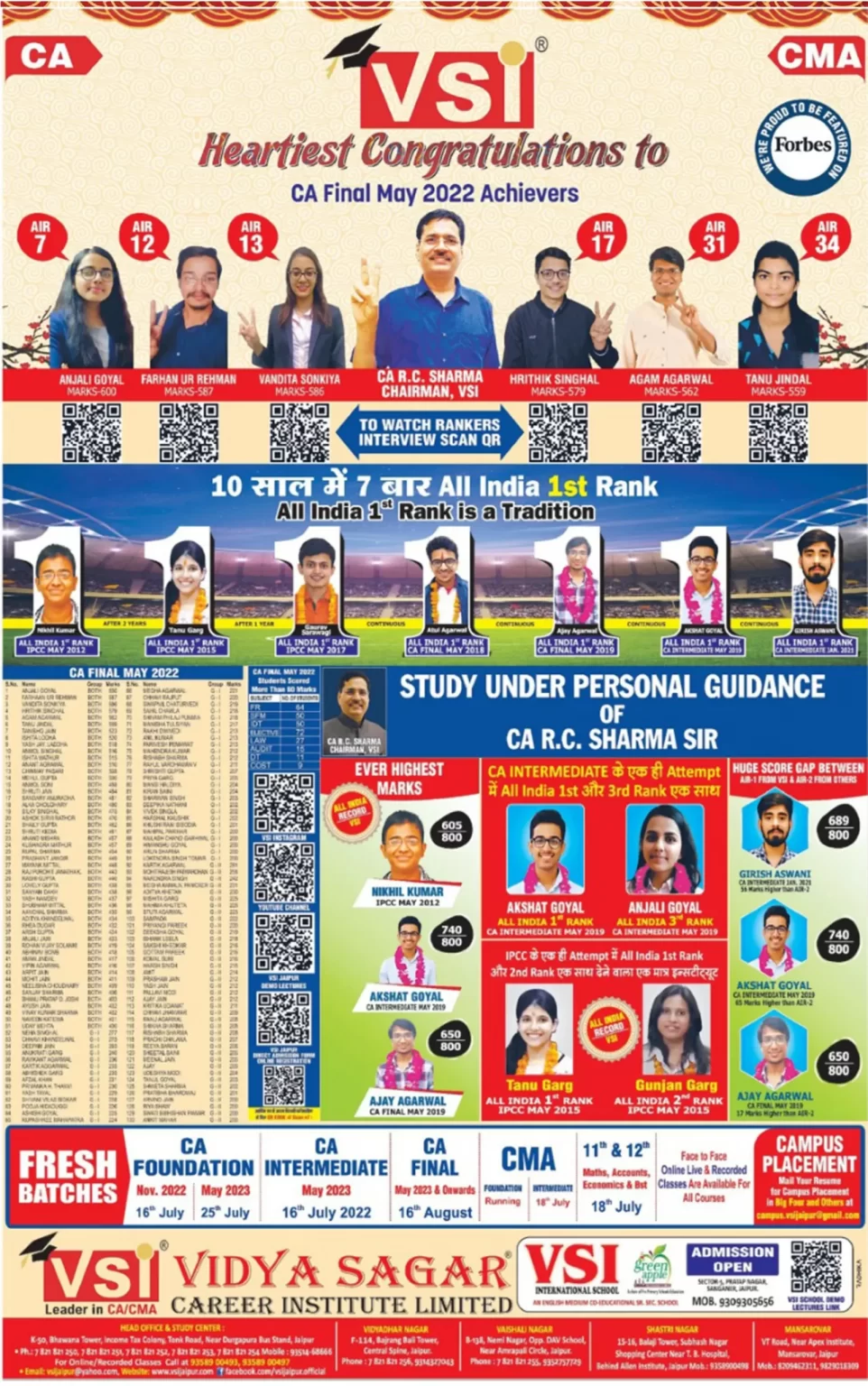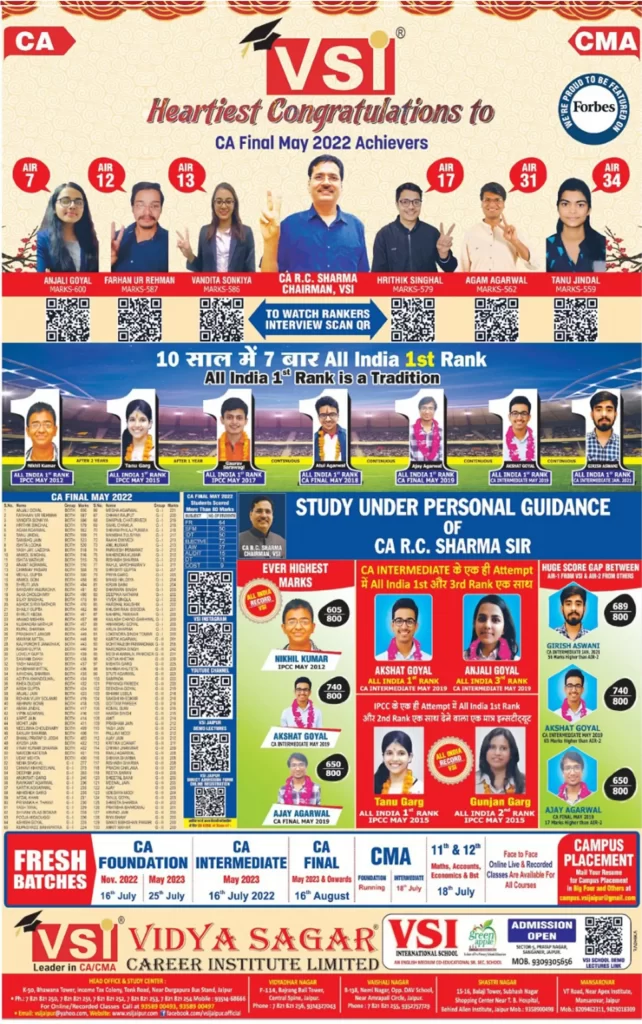 VSI CA Final Rankers May 2022
VSI Students Only

Total Students Appeared
164
Students Passed
133 View All Students List
All India Rank
7, 12, 13, 17, 31, 34
---
Register Now: CA Final Coaching
---
Interviews of VSI Final Rankers May 2022
VSI All India Rank in CA Final Dec 2021 (New scheme)

VSI CA Final Rankers Dec 2021

---
VSI CA Final Result of Dec 2021
VSI Students Only

Total Students Appeared
100
Students Passed
74  View All Students List
All India Rank
10, 24, 28, 29, 41, 44
More Than 60 Marks

SFM

80 Above marks
7 students
70 Above marks
19 students
60 Above marks
56 students
FR

80 Above marks
3 students
70 Above marks
12 students
60 Above marks
31 students
Audit

70 Above marks
4 students
60 Above marks
10 students
Law

70 Above marks
1 student
60 Above marks
8 students
Cost

70 Above marks
2 students
60 Above marks
9 students
DT

70 Above marks
1 student
60 Above marks
9 students
IDT

80 Above marks
2 students
70 Above marks
10 students
60 Above marks
26 students
Elective
80 Above marks
1 student
70 Above marks
16 students
60 Above marks
37 students
---
Admission Open
| Batch for | Date |
| --- | --- |
| CA Final 2023 Onwards | Admission Open |
| VVMP Program for CA Final Nov 2023 Onwards | Admission Open |
---
Interviews of VSI CA Final Dec 2021 Rankers
---
---
VSI CA Final Result July (New scheme)

---
Result of VSI for CA Final July 2021
VSI Students Only

Total Students Appeared
100
Students Passed
81 View All Students List
All India Rank
8th
Garima Kothari
586/800
Highest Marks in SFM
98
Highest Marks in IDT
84
---
VSI CA Final Result Nov/Jan (New scheme)

All India 42nd Rank CA Final Nov 2020

---
VSI CA Final Result Nov 2019
---
All India Rank 11th from VSI in CA Final Nov 2019

---
2 times All India 1st Rank in CA Final in 2 Years 2018 & 2019
Once again VSI has proven that it is the best institute for CA throughout India by giving All India First Rank in CA Final May 2019. VSI has beaten its own record by giving 7 All India 1st Ranks in the past 10 years. It indicates that VSI is the best CA Coaching Institute.
Again VSI has proven that nothing is impossible if studied in proper guidance by giving 2 times All India First Ranks in CA Final after giving hat-trick of AIR-1 in CA IPCC and two AIR-1 in CA Intermediate. Where everyone is running just to crack this exam, VSI is preparing each and every student for the All India Rank. It says that "Until and unless your dreams are bigger, you could not plan them to achieve. VSI spreads a positive attitude among students which motivates them to be India's next CA topper.
The director of Vidya Sagar Institute R.C.Sharma Sir said that if students study with proper planning and under proper guidance then every student even an average student can also be India's next Topper in CA Final Examination.
---
May 2019 Results


---
November 2018 Results


---
May 2018 Results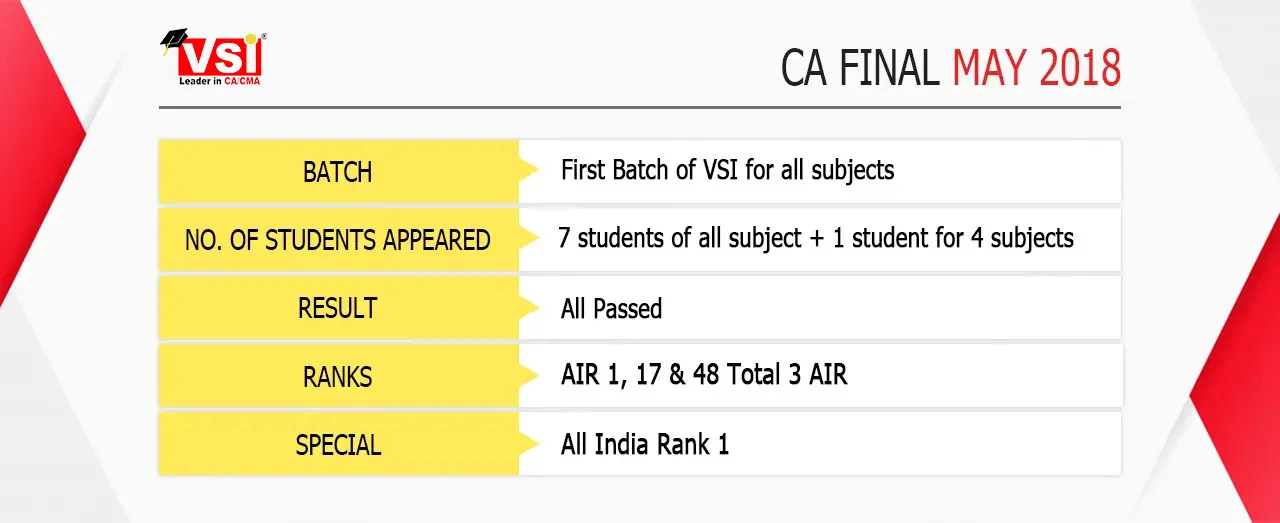 ---
VSI Topper's Interviews
---
Who Should Join VSI?
Join only if you are passionate about CA, want to be a Ranker & Pass Exam in 1st Attempt.
---
How to Join VSI Jaipur?
You Can Join VSI in 3 Ways.

At Jaipur Center
Other than Jaipur Center
At your Home
Face to Face
Video Classes
Online Classes
---
Our Study Pattern for CA
 
Jaipur Centre
Other than Jaipur Centre
Online Classes

 

(Study at your Home)

Expected Role in CA Results
(i) Classes
Face to face
Video Classes
Video Classes
10%
(ii) Mock Test
Conducted
Conducted
Conducted
40%
(iii) Personalized Guidance
Provided Telephonically
Provided Telephonically
Provided Telephonically
50%
---
How does VSI Give the Best Results in CA?

Know How
---
IPCC/Intermediate Exam में Appear होने के बाद Students का Target होता है CA Final Exam First Attempt में ही Clear करना | लेकिन CA Final के Past Results को देखने पर यह डर रहता है की CA Final Top करना तो दूर इसे Pass भी कर पायेंगे या नहीं | आपको डरने की आवश्यकता नही है क्योकि अभी तक CA Final का जो Low Result रहता है उसका कारण यह नही है की Students मेंहनत नहीं करते, उसका एक मात्र कारण यह है की उनको Proper Guidance नही मिल पाता है | गलत दिशा में मेहनत करने का मतलब Wastage of Time होता है |
VSI ने गहन Research करने के बाद ऐसा Strong System तैयार किया है की उस System को Follow करने पर Result आयेगा ही आयेगा |
VSI ने System तो तैयार कर दिया अब जो Student उसको जितना Follow कर लेता है उसके उतने ही Marks आ जाते है |
May 2018 तथा  May 2019 में CA Final की परीक्षा में VSI ने All India 1st rank दी है, तथा पिछले 6 वर्षो में CA IPCC/CA Inter में 4 All India 1st Rank दी थी|
जो यह दर्शाता है की VSI का System तथा Guidance इतना Strong है की Students इसे Follow करके Top पर पहुँच सकता है जबकि India में ऐसा कोई और Coaching Institute नही है जिसके CA IPCC में एक से ज्यादा बार All India First Ranks आयी हो जो By Chance ही होता है |
तथा ऐसे कई Students जिनके IPCC/Intermediate में काफी कम मार्क्स थे उनको भी All India Rank पर पहुँचाया है जो अपने आपमें एक चमत्कार है |
अगर आप भी Top करना चाहते है तो हम आपका स्वागत करते है, आप VSI System को Follow कीजिये एवं CA Final Top या Pass कीजिए |
With profound regards,
CA Ramesh C. Sharma
---