CA Intermediate Coaching – Complete Details 2022
All India 1st Rank Girish Aswani CA Intermediate (New Scheme) Jan. 2021

All India Rankers of CA Intermediate Nov/Jan (New Scheme)

---
VSI- Where All India 1st Rank is a tradition

VSI congratulates our Champion Akshat Goyal and Anjali Goyal for securing All India 1st and 3rd rank in CA Intermediate May 2019 exams. Akshat Goyal has scored Ever High Marks 740 marks out of 800. VSI has again proven to be the Best CA Intermediate Coaching Institute in India. VSI is proud of giving the highest CA results in India.
---

---
---

---
---
How to Join VSI?
To join the CA Inter Coaching from VSI Jaipur, students can choose any of the 3 ways mentioned above. For students living in Jaipur, they can take the offline classes or online classes if they want. However, for students who are living elsewhere, they can take the VSI Jaipur's video classes. For more information, you can click on the given link(in the table). 
Admission Open: Face-to-Face and Online Classes
| Batch for | Classes | Batch Date | Status |
| --- | --- | --- | --- |
| CA Intermediate Nov 2022 | Online/Face-to-Face Classes | 17th Jan 2022 | Join Now |
| CA Intermediate Fast Track Batch May 2022 | Online/Face-to-Face Classes | 22nd Dec 2021 | Join Now |
Best Online Classes for CA intermediate for a complete syllabus of Institute of Chartered Accountant course. We developed our online classes for CA Intermediate by using the best and latest technology. We are dedicated to render our proven teaching methodologies in the most user-friendly interface that will help our students to save time and enjoy an uninterrupted learning experience. Thus, helping students in getting the best CA Intermediate Results. 
You can easily download CA intermediate study videos for 2022 exams along with a free pdf of the Mock test paper, MCQ test, online question paper for practice and free demo sessions on regular intervals. Our dedicated schedule helps our students prepare for CA intermediate examination in less than 7 months.
Our CA inter online classes will cover the entire 2022 syllabus of ICAI for group 1 and group 2 papers. We provide CA Intermediate online coaching for all the subjects at affordable fees. Enroll now for CA Intermediate online classes of:
Paper-1: Accounting
Paper-2: Corporate and Other Laws
Paper-3: Cost and Management Accounting
Paper-4: Taxation
Paper-5: Advanced Accounting
Paper-6: Auditing and Assurance
Paper-7: Enterprise Information Systems & Strategic Management
Paper-8: Financial Management & Economics for Finance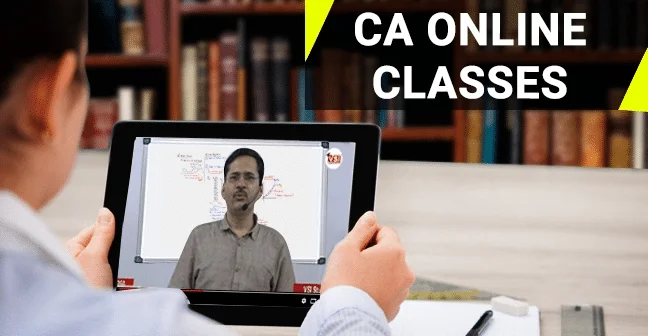 Enroll now to get the best video classes, pen drive classes, online classes, face-to-face classes for CA Intermediate for the record-breaking performance.
---
VSI Study Pattern For CA
 
Jaipur Centre
Other than Jaipur Centre
Online Classes

(Study at your Home)

Expected Role in CA Results
(i) CA Intermediate Classes
Face to face
Video classes
Video Classes
10%
(ii)VSI CA Mock Test
Conducted
Conducted
Conducted
40%
(iii) Personalized Guidance
Provided Telephonically
Provided Telephonically
Provided Telephonically
50%
---
How VSI Gives Best Results in CA?
---
Coaching for CA Intermediate Examinations
---
CA Intermediate / IPCC Course Details
Eligibility
Foundation/Graduate Cleared or Attempted
Object
To Develop the understanding of the subject according to ICAI Pattern.

To improve answer pattern according to the exam.

To indicate the missing and leakage from exam pattern.

Students can improve 20 marks per subject by appearing in Mock Test.

Medium
Separate Batches for Hindi & English Medium Students.
Course Duration
5 Months
Course Material
Hindi & English Module as per the medium of students provided by VSI
CA Intermediate Classes at
Durgapura, Vaishali Nagar, Vidhyadhar Nagar, Jaipur (Rajasthan)
Mock Test
3 Mock Test series for each subject
CA Intermediate Coaching Fees Structure 2022
CA Intermediate Fees

Both Group
83,000
First Group
45,000
Second Group
42,500
---
Additional Charges

S. No.
Gateway Payment Mode by Student
Charges Debit Rs.
1.
Net Banking
18 per 1000 rupees
2.
Debit Card
None
3.
Credit Card
1.2% per 100 rupees
---
Selections
Till Now VSI JAIPUR's More Than 4031 Students Have Cleared IPCC exam.
---
In Jan 2021
In Jan 2021 attempt our student Girish Aswani has secured All India First Rank  (689/800). .
---
In Nov 2020
In Nov 2020 attempt our student Ankush Sanjay Chirimar has secured AIR 5(688/800). Our student Tikendra Kumar Singhal has secured AIR 8, Rohan Garg has secured AIR 27(645/800),  and Vikas Kalani secured AIR 44 (625/800).
---
In May 2019
In May 2019 attempt our student Akshat Goyal has secured All India First Rank with Every Highest Marks (735/800). Our student Anjali Goyal has secured AIR 3, along with this our students have also secured 9 other All India Ranks in the top 50 Ranks.
---
In Nov 2018
Our Students Gaurav Garg secured All India Rank 7th, along with our 3 students in top 50 All India Ranks.
---
In May 2018
Our students Surendra Pal and Saloni Mittal have secured AIR 5 and AIR 10 in CA Intermediate May 2019 and our students have also secured 9 All India Ranks in Top 50 All India Ranks.
---
In May 2017
Our Students Gaurav Sarawagi secured All India Rank 1st, along with our 3 students in top 50 All India Ranks.
---
In November 2016
Our 1 students ranked in Top 10 All India Ranks Meenu Jain ( AIR 7 ), along with our 5 students in top 50 All India Ranks.
---
In May 2016
Our 2 students ranked in Top 10 All India Ranks Amit Dadhich ( AIR 5 ) and Arpit Chittora ( AIR 7 ), along with our 10 students in top 50 All India Ranks.
---
In May 2015
VSI Again Made a Record of Being The Only Institute Giving 2 Students Tanu Garg (All India 1st Ranker) and Gunjan Garg (All India 2nd Ranker) with 7 other All India Merit Takers.
---
In May 2014
Where the Ratio of All India Rank From Each Institute was Institute 1: 1, VSI JAIPUR was The only Institute to Give 4 All India Rank Together
Our Institute has Always Given Top ranks in All CA –IPCC Attempt, Because we know Learning is only Based on the understanding of Each Topic clearly and completely and That is why our Focus is Always On Our Student That They Understand Each Topic Completely And Taking Additional Classes To Solve Their problems.
---
VSI India's No. 1 CA Coaching Institute
---

---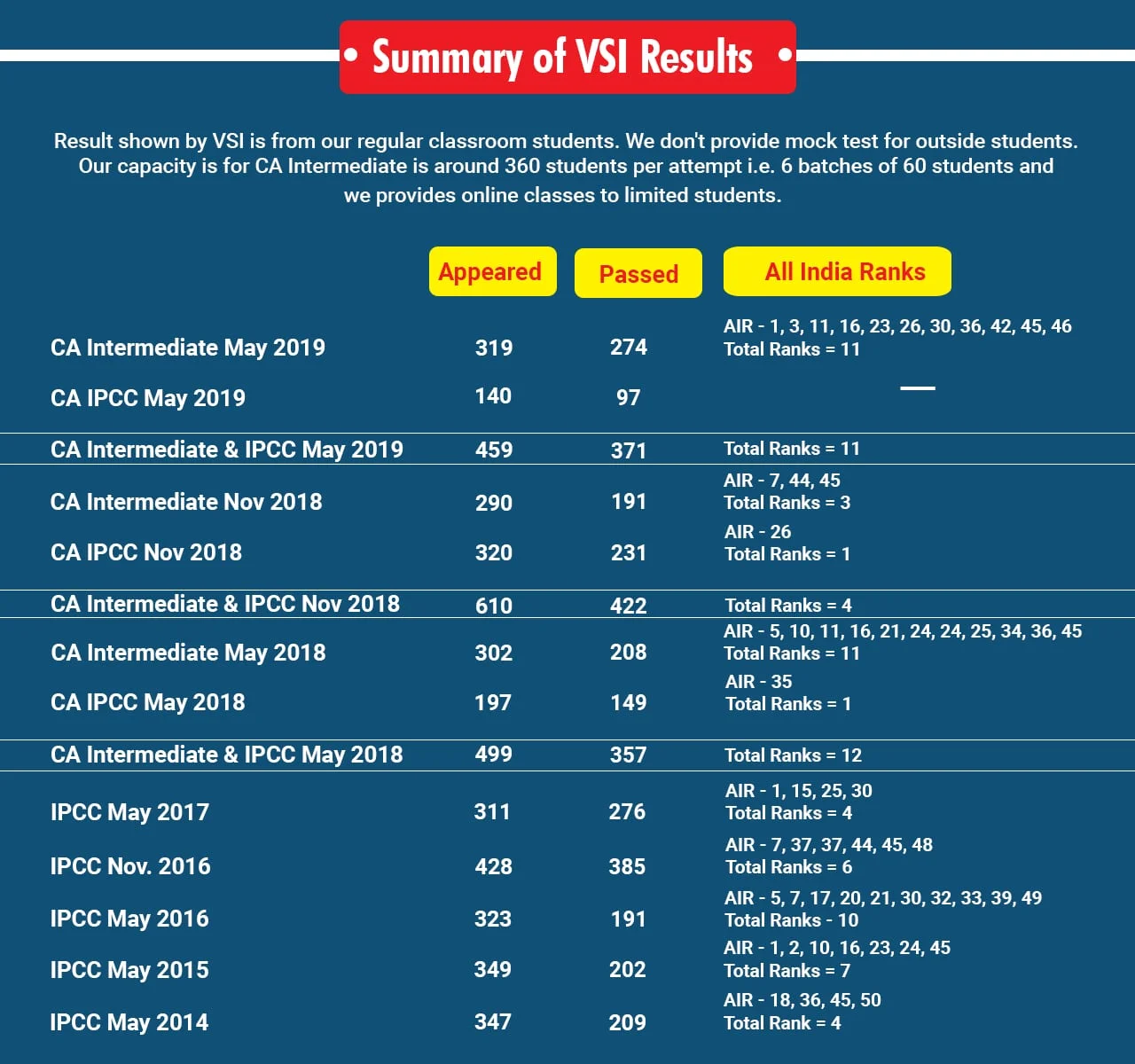 ---

---

---

---
CA Intermediate Toppers May and Nov 2018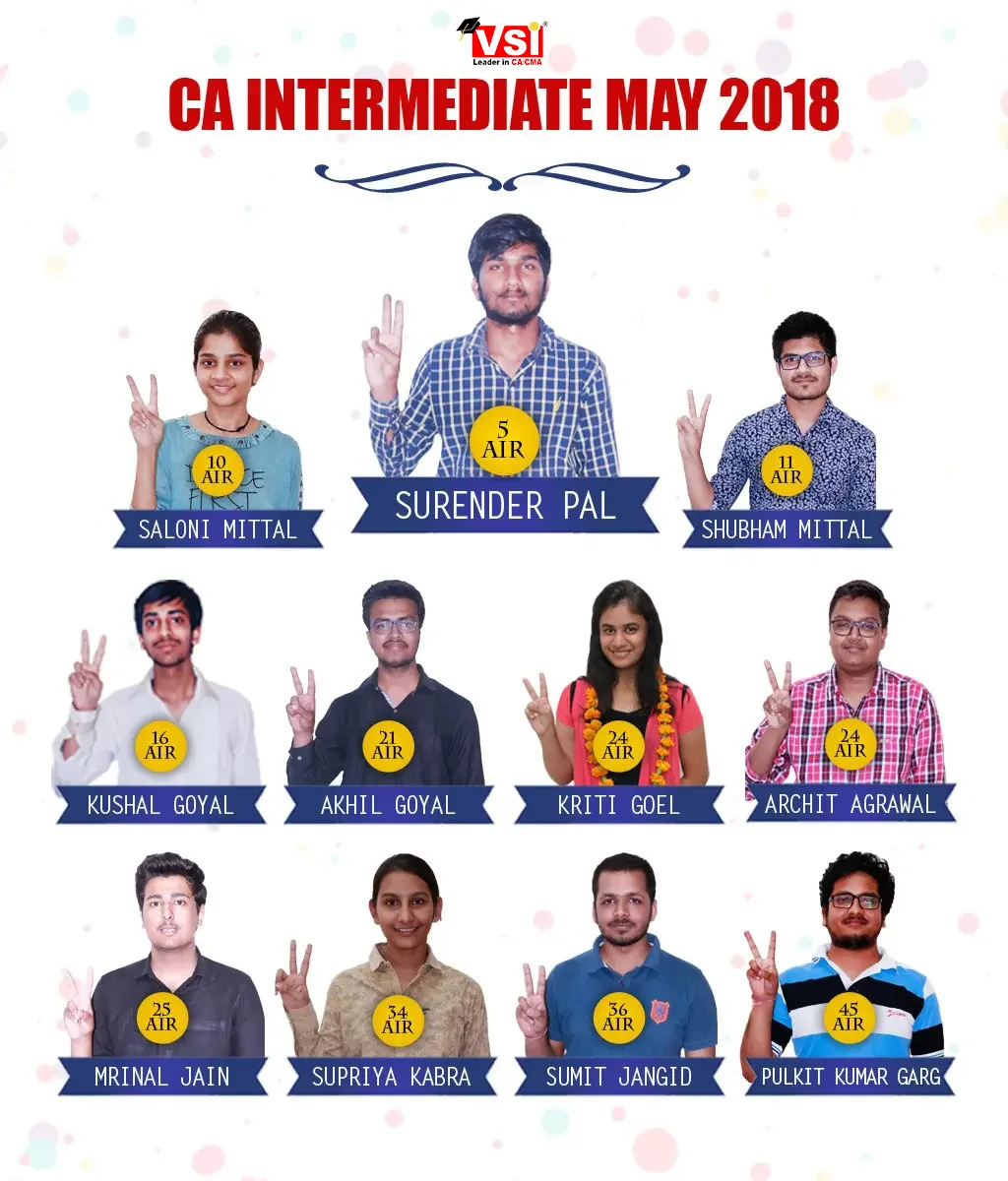 ---
IPCC RESULT MAY 2017



---
6 ALL INDIA RANKERS IN CA IPCC NOVEMBER 2016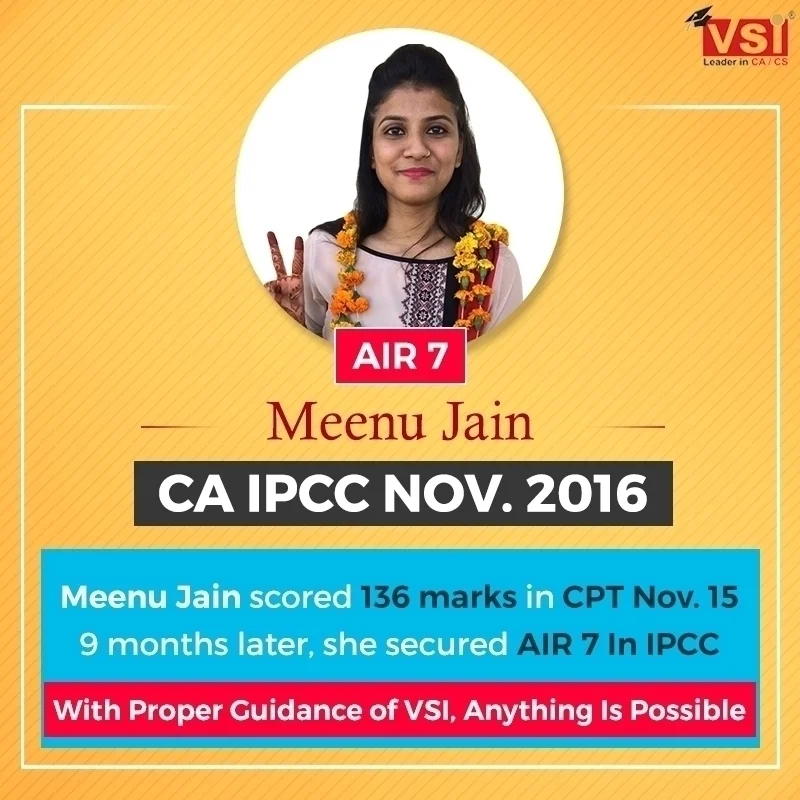 ---
10 ALL INDIA RANKERS IN CA IPCC MAY 2016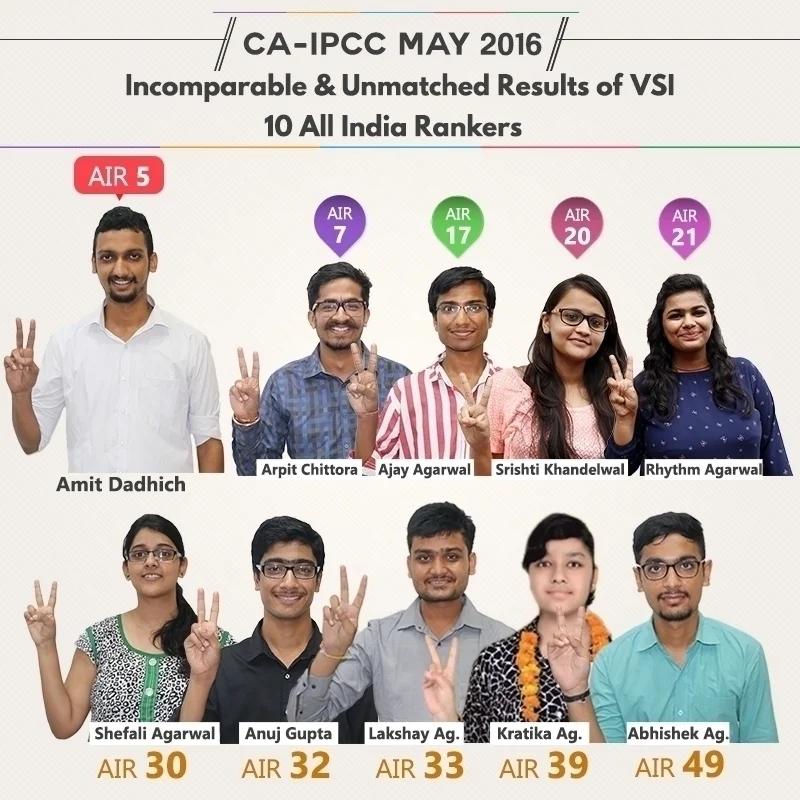 ---
7 ALL INDIA RANKERS IN CA IPCC MAY 2015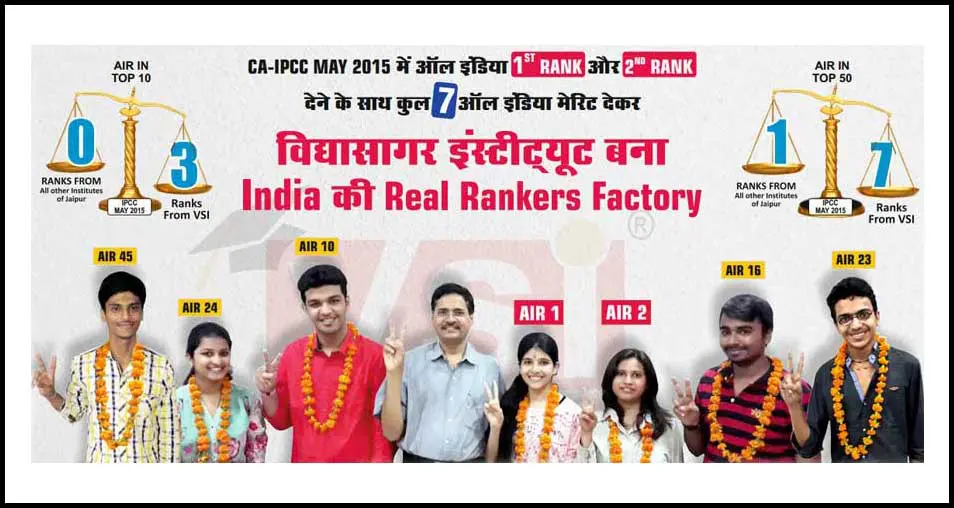 ---
4 ALL INDIA RANKERS IN CA IPCC MAY 2014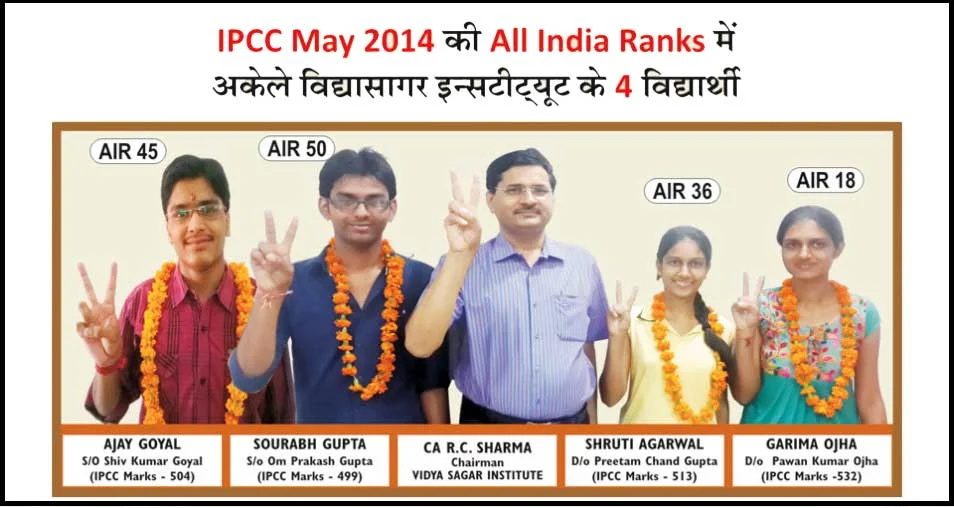 ---
ALL INDIA RECORDS CA IPCC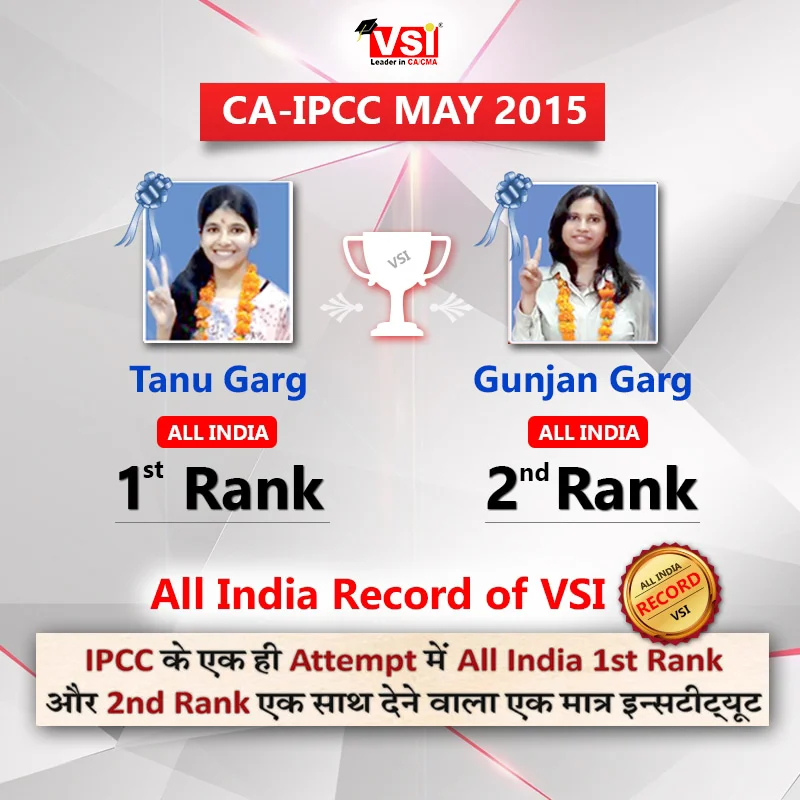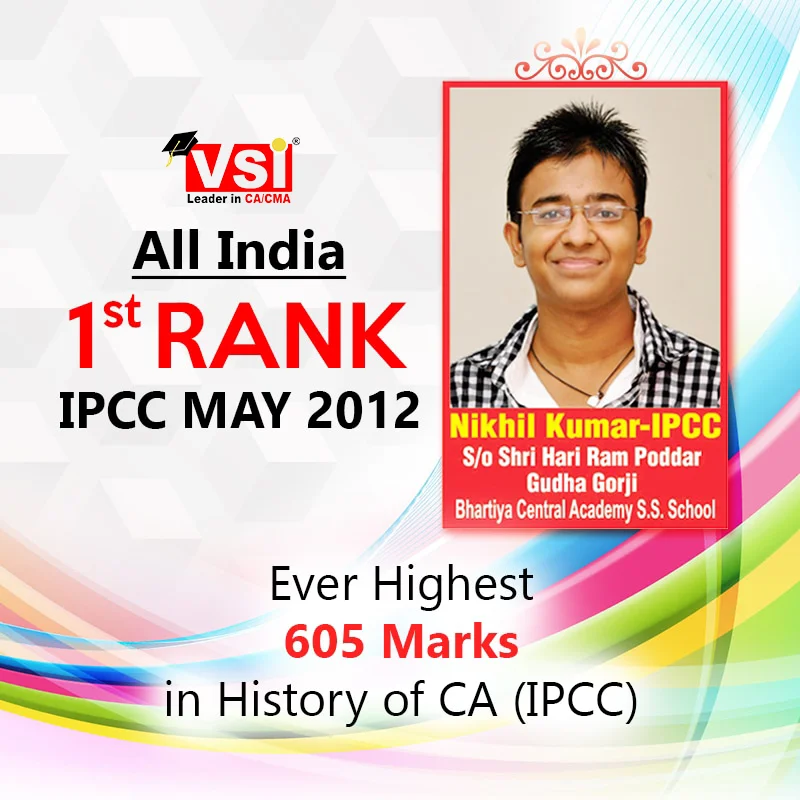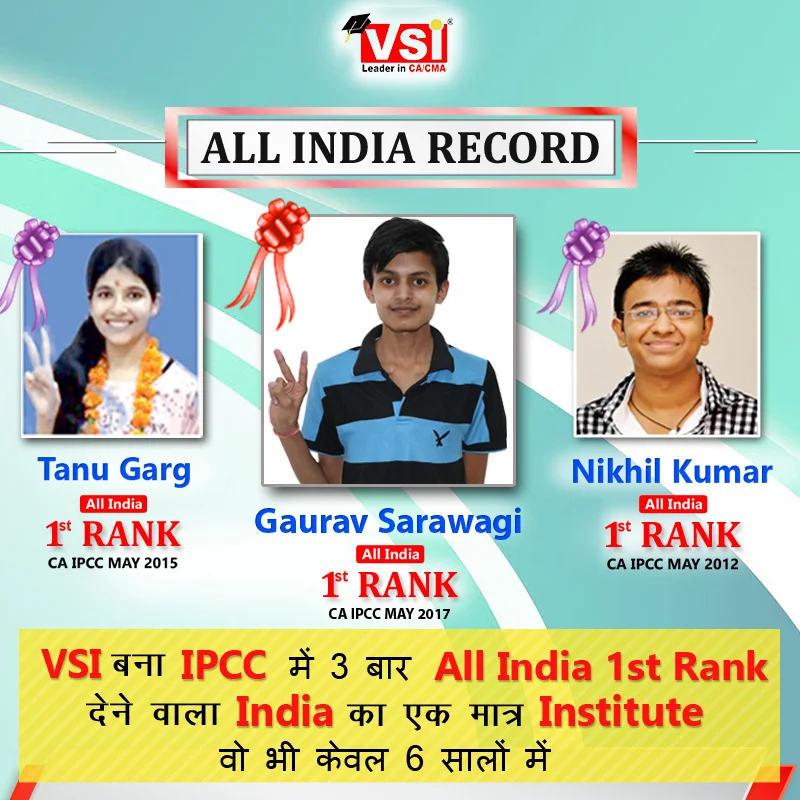 CA Intermediate Course Guide 2022
VSI provides complete guidance for the CA Intermediate course 2022. VSI provides all the latest information and updates on the CA Intermediate course guide. It has all the important dates that students must keep in mind. VSI also provides all the important information that ICAI has declared. Here you will also get to know the eligibility criteria for the CA Intermediate exam. It is very important to know the candidates what are the eligibility criteria for the CA Intermediate exam. From VSI, candidates also get to know the CA intermediate fee structure and what all documents are required.
CA Intermediate Syllabus 2022
VSI provides a detailed syllabus for the CA Intermediate syllabus and it also provides a download link to download the CA Intermediate syllabus 2022 for future reference. The topics which are added and deducted from the CA Intermediate syllabus by the ICAI is also mentioned. For best CA Intermediate coaching students should enroll now with VSI.
CA Intermediate Study Material 2022
VSI also provides the best CA Intermediate study material of all the subjects. Students can refer to these study material for better performance in the CA Intermediate exam 2022. The study material provided by the VSI is of easy language for a better understanding of the course. 
FAQs
Ques. Should one take coaching for CA Intermediate or do it themselves?
Ans. There is no substitute of self-study. However, CA Intermediate Coaching is crucial as they will learn the concepts properly from the experienced teachers. Also, the guidance, study material and mock test will make your preparations even better.
Ques. How many months should I dedicate to CA Intermediate exams?
Ans. It totally depends on the student. In general, 7 months study period given by ICAI is sufficient to clear the CA Intermediate Exams.
Ques. When is CA Intermediate examination be held?
Ans. Examination for CA Intermediate is held twice a year, i.e. in May and in November. The next exams will be conducted in the month of May 2022. 
Ques. Which is the best CA-Intermediate coaching in Jaipur?
Ans. VSI Jaipur is one of the best CA Intermediate Coaching in India. It has provided 7 All India Rank 1 in the last 10 years. It provides complete guidance for the CA intermediate syllabus and detailed study material for students.