CA Foundation Result Nov 2019 – Pass Percentage and Merit List
ICAI has organized the exam of CA Foundation in the month of November 2019. The CA Foundation Result of Nov 2019 Exams is going to be announced by ICAI on 3rd or 4th February 2020 in Evening. Students can analyze their performance with the help of the Suggested answer key for CA Foundation and CPT comprehensively compiled by VSI and provide free download just after the examinations are over. Just like every year, ICAI has also made arrangements for the students to get their results through the email address and SMS.
Now you can check all the further details about the ICAI CA Foundation Result like pass percentage, toppers, verification of marks procedure, statement of marks, merit list, pass certificate, etc from this page.

---
We Don't Maintain Records,  We Break Records!!

VSI again breaks the record of giving highest marks and top ranks for CA MAY 2019 Examinations. Our winners Akshat Goyal has secured All India 1st Rank in CA Intermediate May 2019 exams and Ajay Agarwal has secured All India 1st rank in CA final May 2019 exams with ever highest marks in the history of ICAI. VSI is proud of giving the highest CA results in India.

---
ICAI CA Foundation Nov 2019 Result Date
Below mentioned are some of the important dates of CA Foundation examination and results you should keep in mind-
CA Foundation Nov 2019 Important Dates
CA Foundation Nov 2019 Examination
13, 15, 17 and 19 November 2019
CA Foundation Result Date for Nov 2019
On 3rd or 4th February 2020
Start Date of Email Registration
From 30th January 2020
---
---
---
---
How to Check CA Foundation Result
The result can be checked through the SMS/ Email/ ICAI website. The process for each is mentioned below-
Steps to Check Result Nov 2019 Online
CA Foundation 2019 result websites –
https://icaiexam.icai.org
http://caresults.icai.org
https://icai.nic.in
1. Visit any one of the above-mentioned websites and then click on "Results"
2. Now click on the link of "Results"
3. Under the announcement section of the page find the CA Foundation Result 2019 link.
4. This link will land you on the result for Nov 2019 attempt.
5. Enter your roll no. along with Registration No. or PIN.
6. Now a new window will appear with your result.
Take a print out of the result for future reference.
---
CA Foundation Nov 2019 Result through SMS/ Email
To facilitate students from all the result day hassle, ICAI avails their SMS and Email services for the students to see their Result of CA Foundation Nov 2019 Exam. All students who want their results through SMS or Email can register from 30th January for getting their exam results on phone or on Email. To register for this facility, you have to use your CA Foundation registration number or Pin number along with your exam roll number.
---
ICAI CA Foundation Result Nov 2019 through SMS
Step 1.) Write a new text message as follows CAFND (Space)XXXXXX (Where XXXXXX is 6 digit Foundation exam roll number of the candidate), E.g. CAFND 000171
Step 2.) Send the message to 57575 – for all mobile services – India Times.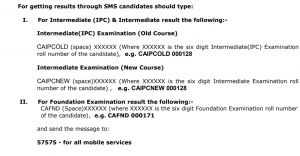 ---
Result via Email for CA Foundation Nov 2019
Find your CA Foundation result right into your mailbox. Simply follow these steps to get your result
Get yourself register through your roll number, pin number or CA Foundation registration number on ICAI official website.
You will get your  ICAI CA Foundation 2019 exam Result in your inbox.
---
CA Foundation Nov 2019 Region Wise/Center Wise Result
Will be available after ICAI declaration.
Western region
Southern region
Eastern region
Central region
Northern region
Overseas
---
CA Foundation Pass Percentages May- June 2019
You can check the pass percentages for May – June result through the below-mentioned table –
| | | | |
| --- | --- | --- | --- |
| Gender | Appeared | Passed | Pass Percentage |
| Male | 17844 | 3296 | 18.47% |
| Female | 13127 | 2457 | 18.72% |
| Total | 30971 | 5753 | 18.58% |
---
CA Foundation Toppers of Nov 2019
ICAI will released the toppers list for CA Foundation Nov 2019 exam and you can check the CA Foundation toppers 2019 through the above-mentioned link.
---
CA Foundation Merit List
For CA Foundation examination, ICAI will release a merit list of students up to 50th rank in Nov 2019 examinations. Students can check the CA foundation merit list from the ICAI website by following these steps – 
1. First, visit the ICAI result page (link mentioned above).
2. Now can you see "Foundation" under "CHECK MERIT LIST", click on it.
3. Enter your roll number/ registration number and captcha code here.
4. Now this click on "Check Result"
5. After this CA Intermediate merit list for Nov 2019 exams will appear on your screen.
---
Details Given in CA Foundation Result 2019
CA Foundation 2019 Result mark sheet includes
Students name
Paper wise minimum and maximum marks
Total marks obtained
Result Status of the candidate.
You just have to enter your roll no. and Pincode or your registration number and then click on check results.
---
CA Foundation 2019 Result Passing Marks/ Cut off
Students who scored a minimum of 40 % marks in each individual subject, as well as 50 % aggregate of all the 4 subjects within a single attempt in order to pass the exam and declare yourself as Qualified.
Pass with Distinction- Students scoring more than 70% marks receive their result card with Pass with Distinction mentioned.
---
Statement of Marks /Mark Sheet for CA Foundation Nov 2019
CA Foundation Nov 2019 result card/mark sheet will be issued to all the qualified students with more than 50 % aggregate. The CA Foundation Nov 2019 Statement of marks will be sent to the registered address within 2 weeks after the result declaration. The result card will be issued to all the appeared candidates.
---
CA Foundation Rank Certificate
The rank certificate is issued only to those students who have secured a minimum of 60 % marks in aggregate of all the subjects. If you need your result card earlier then you can download it from the website that result card is also valid enough to proceed further in CA.
---
Verification Procedure CA Foundation Nov 2019 Answer Sheets
In case you are not satisfied with your result then you can apply for verification of marks. The correction window is open for one month after the result date. You can apply for verification of marks within one month after the result declaration. If the verification results in the revaluation of the marks then your verification fees will be refunded.
Application Process for CA Foundation Result 2019 Verification
For CA Foundation Nov 2019 Result verification, there is no standard application form. A simple hand-written application to the Institute of Chartered Accountants of India is acceptable. Only handwritten application will be considered for the Verification of marks in case of Foundation. Students must write the application in the same medium in which they appeared in the CA Foundation Examination (Hindi or English). The application must be duly signed by the candidate and send it to the ICAI with the requisite fees.
Your Name
Your roll number
Your Student Registration Number
Mention Paper/Papers name you want Revaluation
Examination Name – CA Foundation
Month and year of exam – Nov 2019
Your Address for communication
Note – Don't write mobile numbers or email address or landline numbers in your application form.
Offline Procedure for Verification of Marks
Send your handwritten application with application fee ₹200. The mode of offline payment is through Demand Draft(DD) drawn in the favor of The Secretary, The Institute of Charted Accountants of India to be payable at New Delhi and send it to the official address of ICAI The Joint Secretary (Exams), Examination Department, The Institute of Chartered Accountants of India, ICAI Bhawan, Indraprastha Marg, New Delhi – 110 002. The application should reach within one month after the result declaration. ICAI Foundation Exam Result for verification declares within 6-8 weeks. But it can be late. You can see your verification result on your dashboard at the ICAI website by login into your account. In case you do not see your verification result on your dashboard 15 days prior to CA Foundation next attempt, you can write an email to foundation_examhelpline@icai.in.
---
CA Foundation Nov 2019 Inspection of Certified Copies
If a student wants to inspect its answer key then they can apply online or offline after the declaration of the CA Foundation result of Nov 2019 attempt. Remember that the application must reach the ICAI within one month of the result declaration. Candidates can apply for the certifies copies for CA Foundation Nov 2019. Send the application form within one month from the date of the declaration of the CA Foundation Nov 2019 result with the application fees of ₹500. No fees for the inspection of certified copies shall be refunded in any circumstances. If you find any problem you can send an email to foundation_examhelpline@icai.in.
---
What After CA Foundation Results 2019?
After clearing the results you are eligible to apply for CA Intermediate examination. You have to register on the ICAI official website i.e. www.icai.org After the result declaration you will get a Statement of marks and pass certificate from ICAI.
---
FAQs Regarding CA Foundation 2019 Result
Q1. What are the different modes of result declaration?
Ans. Result of CA foundation will be declared through 3 modes which are mentioned below –
Online through the ICAI websites.
Via SMS.
Via Email.
Q2. Is there any negative marking in CA Foundation?
Ans. Yes. Negative marking will be applicable for Objective papers and for subject papers there is no negative marking.
Q3. Can I apply for verification just after the result declaration?
Ans. Yes, students can apply for verification just after the result declaration but before applying for verification student should understand his/her score first and then make a decision of verification.
Q4. What is the minimum criteria to become a topper?
Ans. The candidate who will score the highest marks in the first attempt of the CA Foundation.
Q5. What to do if I forget my roll number, Please help me.
Ans. If the student forgets their roll number while checking their result, then he can view his/her roll number on the admit card. In case if the student doesn't have Admit card and has forgotten his/her registration number then he/she needs to contact ICAI on 0120 3054, 851, 852, 853, 854 and 835 or 0120 4953, 751, 752, 753 and 754.
Q6. I am not able to check my result?
Ans. If you are not able to check your CA Foundation results then there are chances that ICAI might have hold your result. There may be several reasons why ICAI has withheld your result like issues with your eligibility or any indulgence for unfair means may also be the reason.
---
CA Foundation Previous Year Pass Percentage/ Result Analysis
CA Foundation June 2019 Pass Percentage
| | | | |
| --- | --- | --- | --- |
| Gender | No. of Candidates appeared | No. of Candidates passed | Pass Percentage |
| Male | 17844 | 3296 | 18.47% |
| Female | 13127 | 2457 | 18.72% |
| Total | 30971 | 5753 | 18.58% |
CA Foundation Nov 2018 Pass Percentage
| | | | | |
| --- | --- | --- | --- | --- |
| CA Foundation | Gender | No. of Candidates Appeared | No. of Candidates Passed | Pass Percentage |
|  November 2018 | Male | 27734 | 11935 | 43.03 % |
| | Female | 20968 | 9553 | 45.56 % |
| | Total | 48702 | 21488 | 44.12 % |
CA Foundation May 2018 Pass Percentage
| | Total number of candidates | Total number of pass candidates | Pass Percentage |
| --- | --- | --- | --- |
| Male | 3877 | 682 | 17.59% |
| Female | 2438 | 533 | 21.86% |
| Total | 6315 | 1215 | 19.24% |