CA Course
is one of the most promising courses in India. The finance professional course is comprehensive, globally recognized, and offers ample job opportunities for the students. The
salary of a CA
starts from 5 lakh per annum and can reach up to 25 lakh per year. The eligibility of the CA course begins soon after completion of senior secondary 12th exams from the central board or any state board. The minimum
duration of the CA course
is 5 years. If you are willing to enrol for a CA course then read this article carefully.When Student compares this course with any other professional course, like
CS, MBA, BBA, BTech,
CA surely wins some bounties on the ground of eligibility and duration. The other point scorer is its affordable fee structure. The
total CA course fees
are below Rs 80000!!ICAI is the official governing body for CA courses in India. The students need to register with ICAI to commence the course. The registration or enrolment for the CA course is now done online with ICAI. CA courses can now be enrolled as
CA online classes
. This blog will help all our readers to save time and know the most updated and advanced way to enrol for CA courses.
Who can Enrol for a CA Course Online?
As per the
CA Foundation eligibility
, all the students who appeared or cleared the students for the the12th exams can enrol for the CA foundation course. Students from Nepal, Dubai, and Australia can also apply for the course. After joining the MOU with the Australian education board, and Dubai educational board, CA is recognized as equivalent to CPA in these countries.
How to enrol for a CA Course Online?
CA is a progressive course. The introduction of the international financial system, GST, practical training for students, the introduction of 30:70 assessment patterns are all gaming up in building a bright future for students. The other major breakthrough is the self-service portal. Students are comfortable with technology and prefer to communicate over the internet. The self-service allows students to register for the course in no time.
Students who are enrolling in the course for the first time
If you are enrolling in the course for the first time then you can either
register for the Foundation course
or the Intermediate course.
Students who have just cleared the 12th exam will enroll for foundation course entry.
Students who have cleared graduation or post-graduation from commerce stream with 55% or Students who have cleared graduation or post-graduation from other streams with 60%, or students already enrolled for the intermediate course from other institutes like CS will enroll for Intermediate course through direct entry system.
Foundation course entry system
The foundation course entry system will allow students to register for the first level of the CA course. CA Foundation is the door to enter the CA course. The student can register for the course till 30th June to appear for the November exams and on 31st December for the May exams.
| | |
| --- | --- |
| May 2023 Exams | Registration to be done by 31st December 2022 |
| Nov 2022 Exams | Registration to be done by 30 June 2022 |
should also remember that these registration dates are only to fill out the registration form to enter the CA course. Students again have to fill out an exam form to appear for exams. The CA Foundation exam form is available only 1-2 months prior to the exams.
17 Step by Step process to
Enroll

for CA Course 1)

Go to the ICAI official website.

2)

Click on the E-services tab at the top of the screen(mark e-services)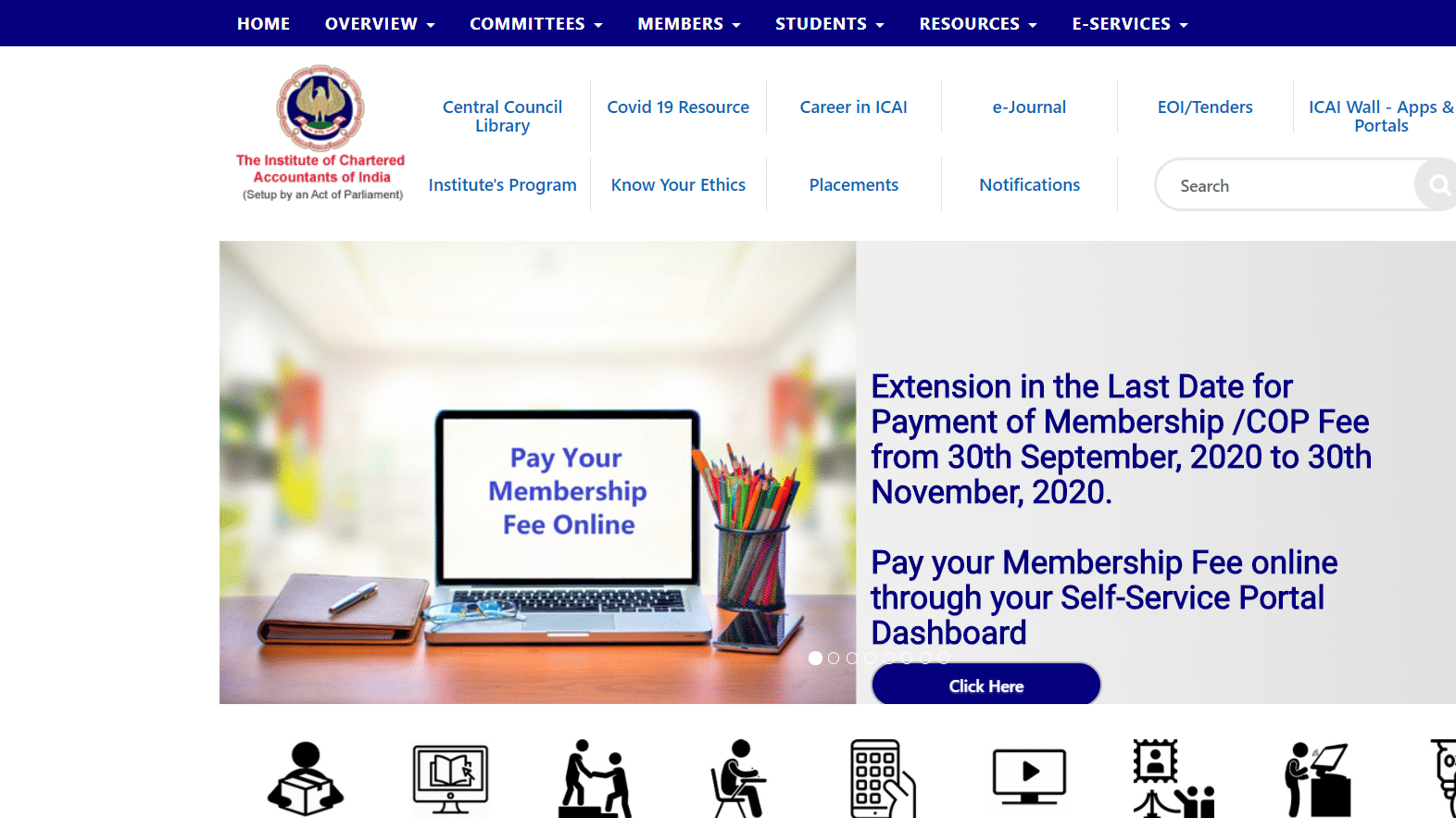 3)
Click on the student services tab from the next page(mark student services)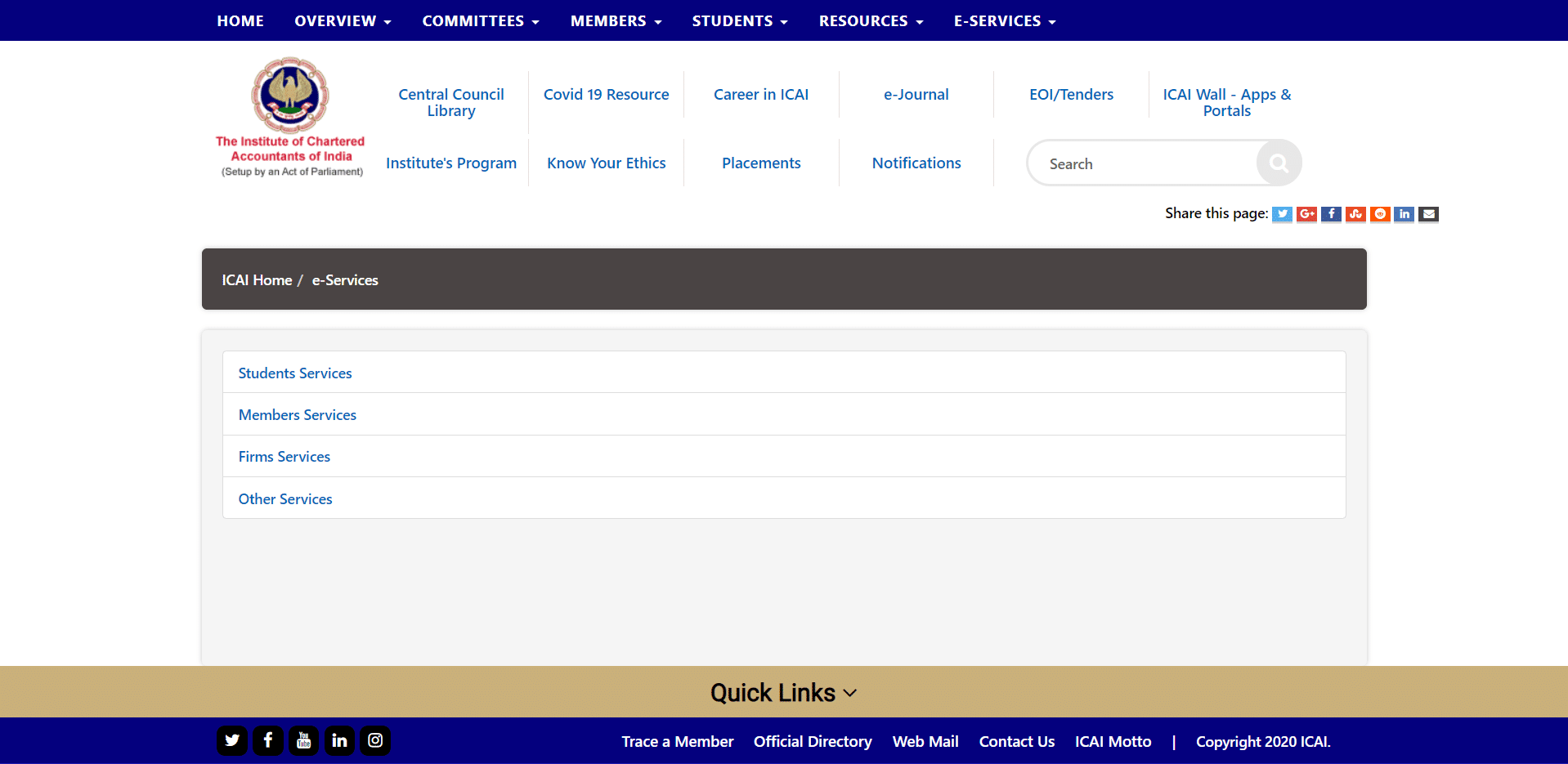 4)
Choose the Entry Level form for Foundation entry or Direct entry for the next page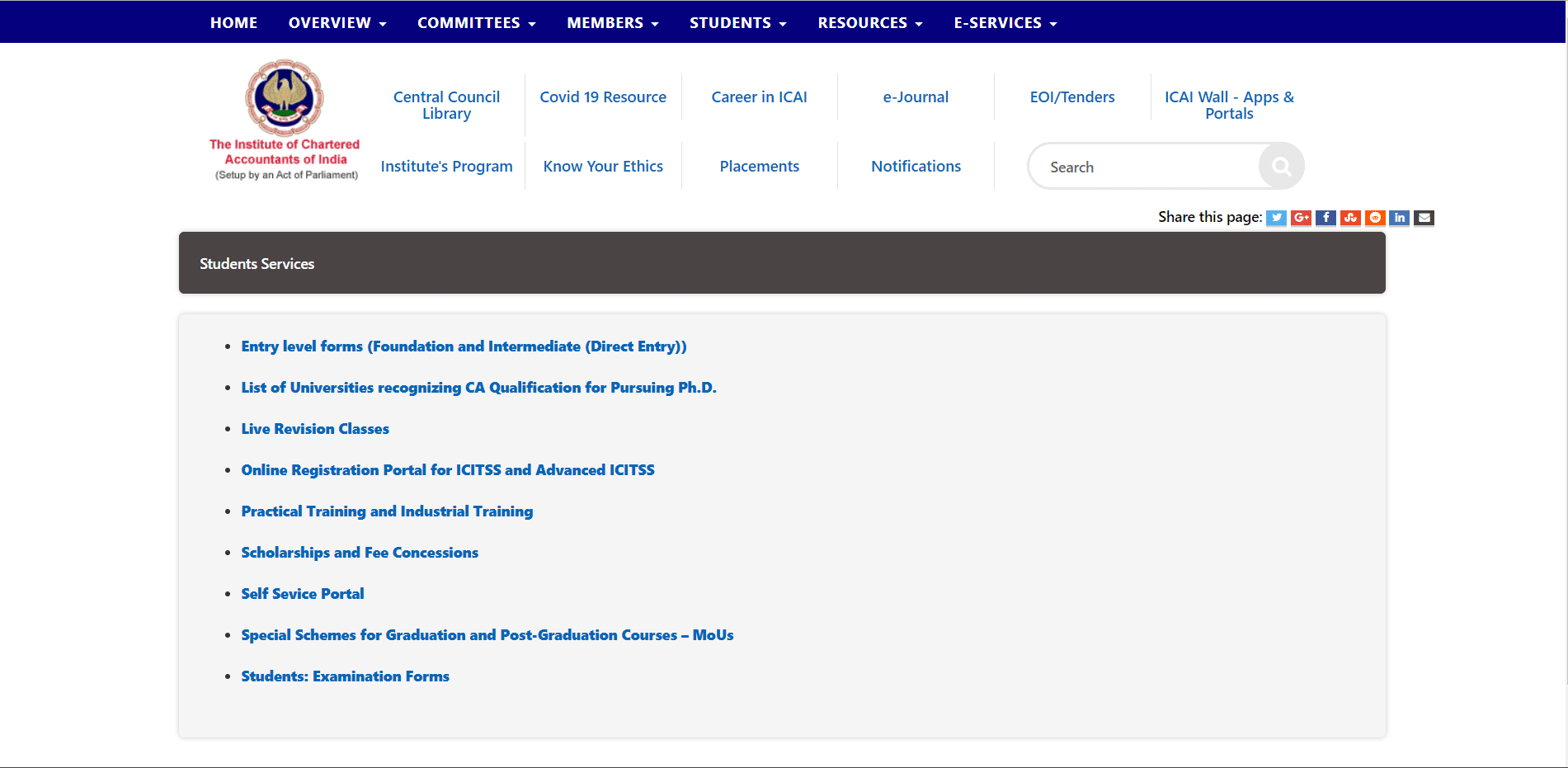 5) You will come to the registration form window. The first window will ask for all your personal details like Name, address, phone number, email id, date of birth, and nationality. Please use the same salutation, date of birth, name, surname as printed on your 10th and 12th marksheet. In case of any discrepancies, your registration will be declined.
6) After filling the blank fields, click on generate OTP. You will be asked to fill the captcha given. After submitting the captcha OTP will be sent to your registered mobile number. Submit the OTP and validate it.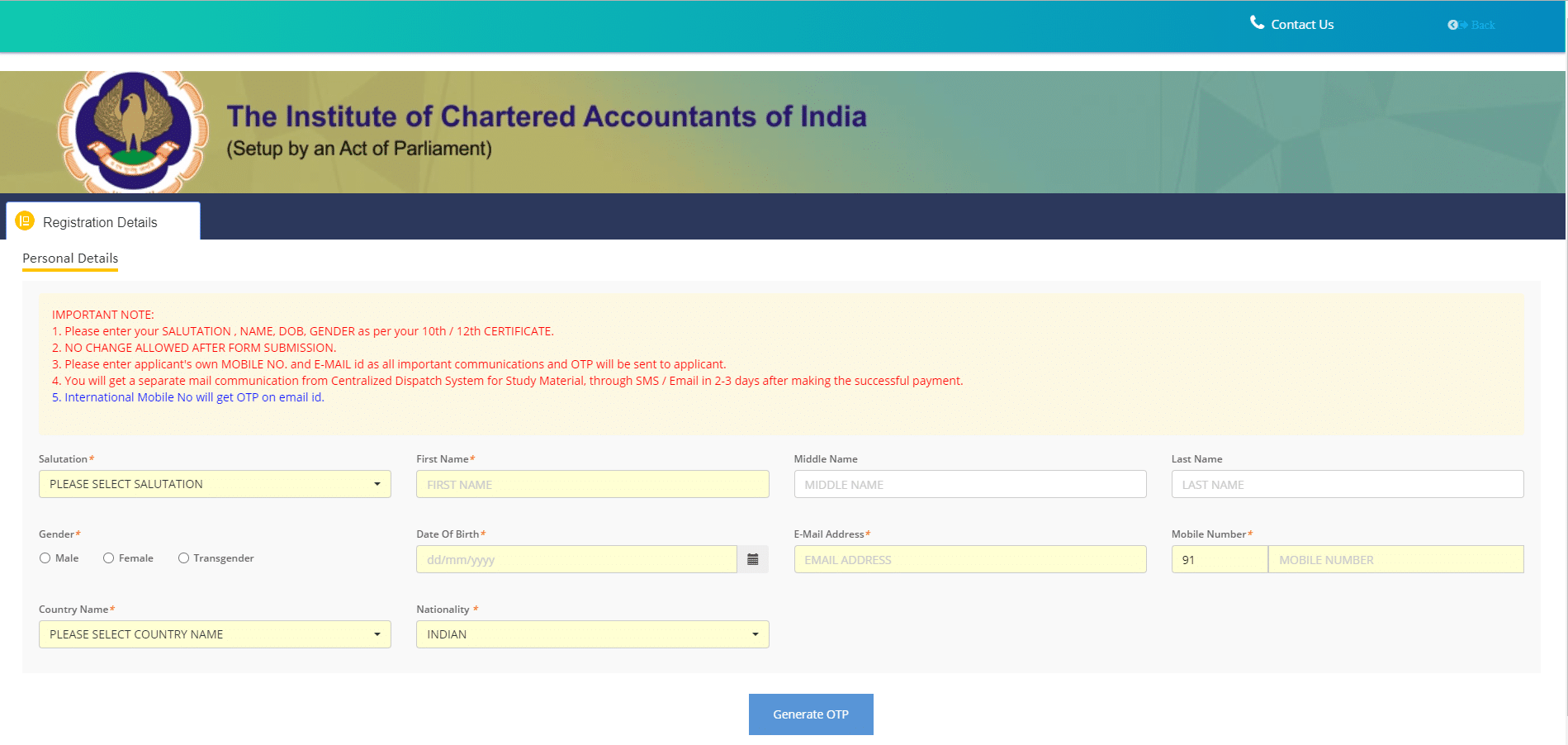 Students need to take care of a few things before submitting this form.
No changes would be allowed after the submission of this form, so students should concentrate and focus while giving all the details.
Please use your own personal email id and phone numbers as this number will carry all the necessary information and message from ICAI in the future.
In case you are registering from some other country, OTP will be sent only to your email id.
7) Once the registration for the website is completed students will be routed to their personal dashboard. This dashboard will contain all the necessary information related to students throughout the course. Students can set their own personal username and password for further use. On this dashboard, students will see 2 options: Student cycle or articleship cycle. Students who are enrolling for the first time should click on the student cycle icon.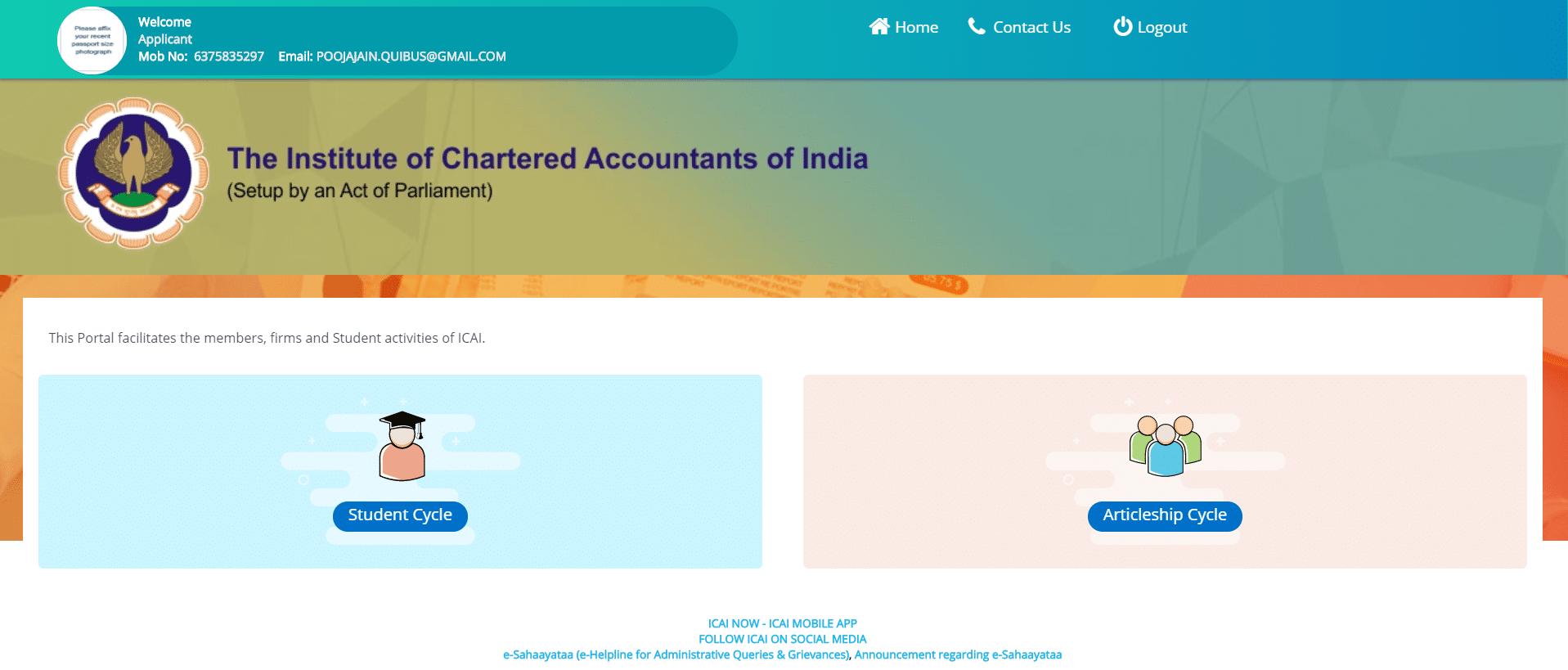 8) Students will again have the personal details window on the next page. Some of the fields will be auto-filled from the previous page, the other details need to be submitted here.
Fields of Personal details tab
Salutation: Mr for boys, Miss for unmarried girls, and Mrs for married women, MX for people who don't identify with any gender.
Name Your name as printed on the 10th and 12th marksheet.
Middle name: in case if you use any middle name like Kumar, kumari, Bala.
Last name: Your surname or last name.
Gender: Male for boys, female for girls.
Marital status: Are you married or unmarried need to be declared here.
Maiden name: Parents surname in case of a married woman who otherwise now uses her husband's surname.
Father name: Student's father's name.
Mother name" Student's mother's name.
Guardian's name: If you are living with some other relatives or guardians.
Husband's name: Married women students will mention husband name
Mobile number: The mobile number you have registered with ICAI.
Email id: Email id you have registered with ICAI.
Phone number: Permanent landline number with STD codes.
Date of birth: Date of birth as written on the 10th and 12th marksheet.
Aadhar number: Fill in your Aadhar card number if any.
Pan Card Number: Fill in your Pan card number if any.
Passport number: Fill in your passport number if any.
Blood group: Fill your blood group if you
Visa number: Fill in your Aadhar card number if any.
Correspondence Address will cover your address with Pincode
In case of permanent address is different students should also provide their permanent address in the next fields If the correspondence and permanent address are similar then you can tick the dialogue box and the permanent address fields will be automatically filled.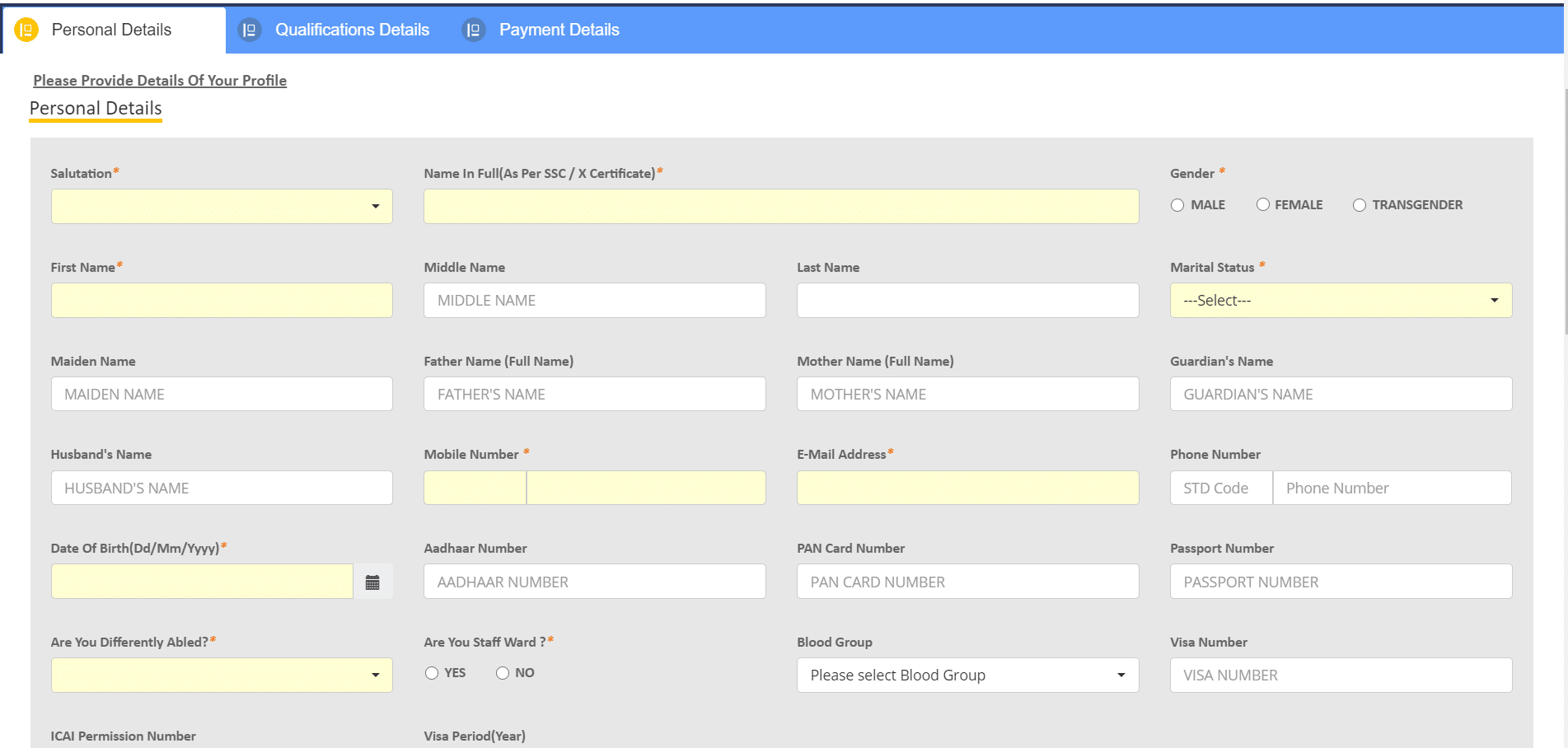 9) Submit the details by clicking on Save and Next. If there are no compulsory fields pending, you will be directed to the next window, "Qualification Details".
10) Submit all your self attested scanned qualification certificate along with marks obtained here. Students need to provide their roll number, marks, percentage along with the PDF file.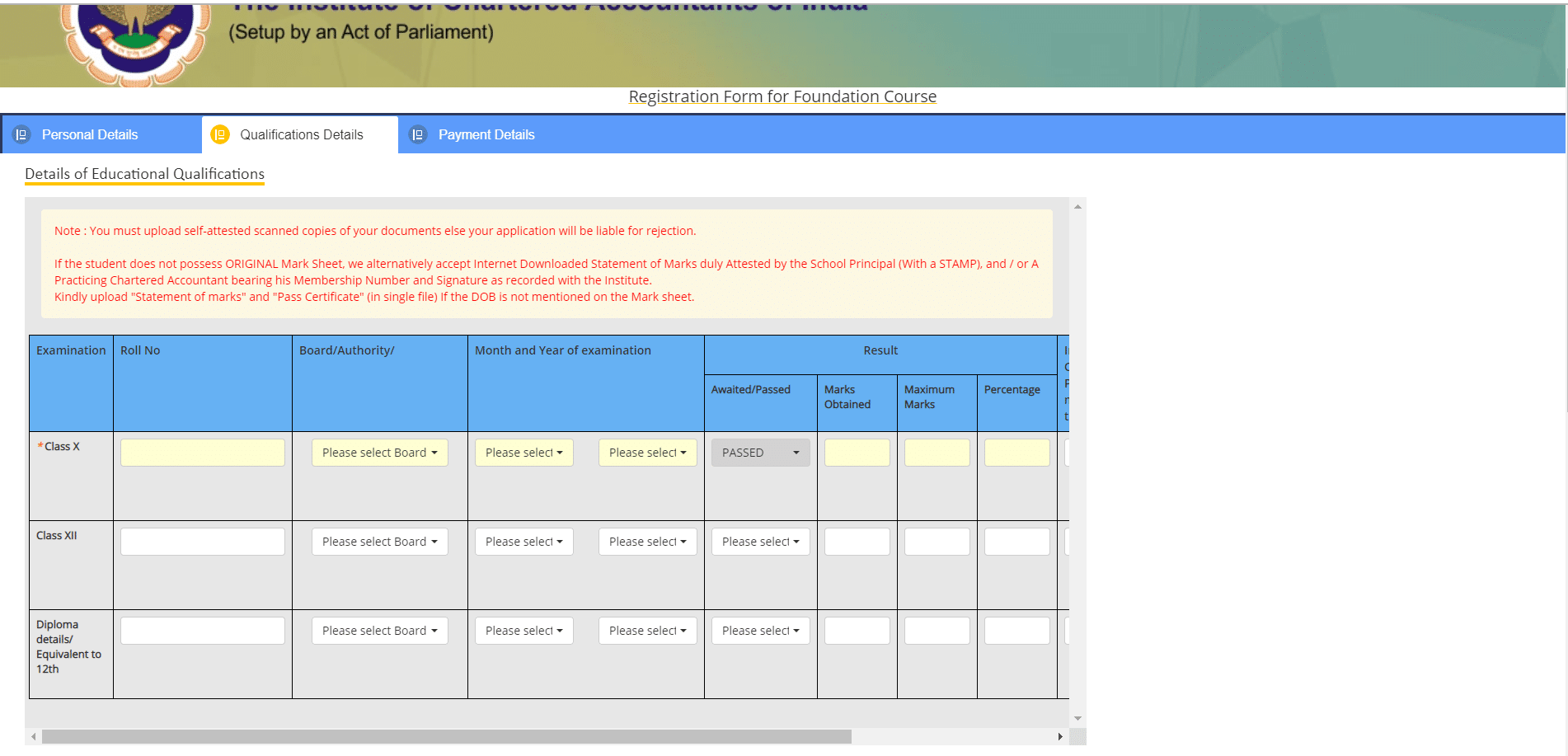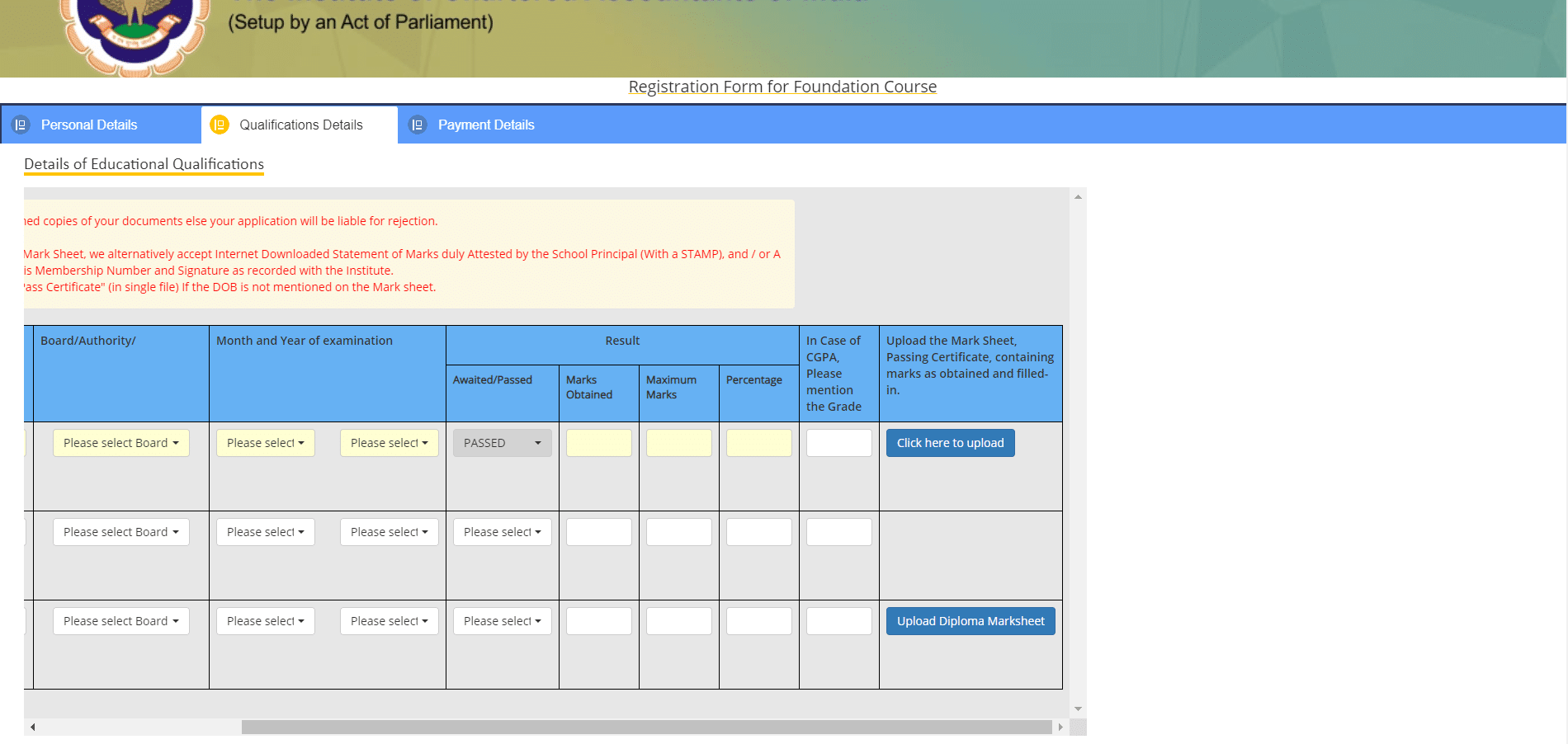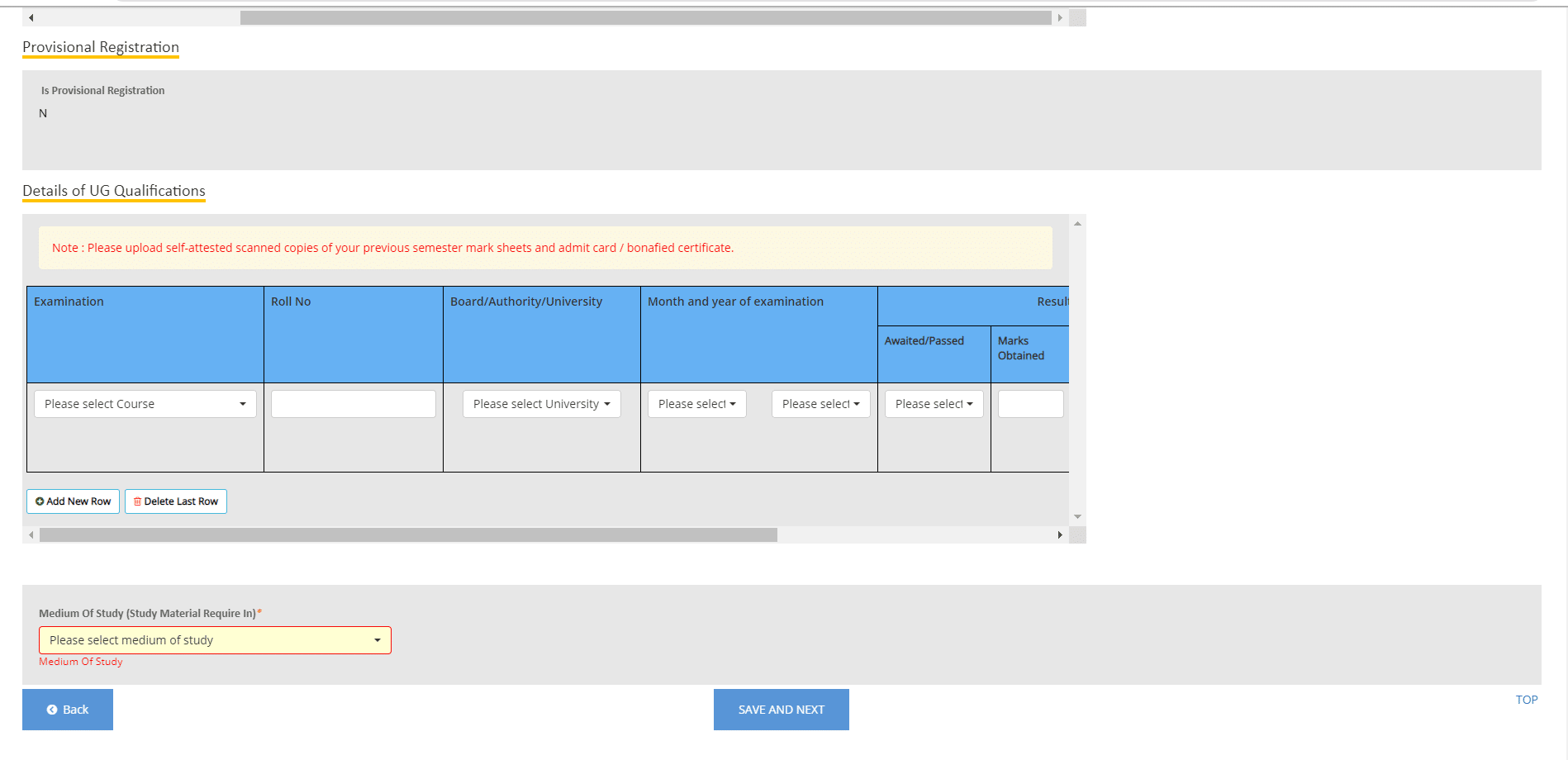 11) Once all your qualifications are uploaded, select Hindi or English as your medium of the exam. The study material will be provided according to your chosen medium. Once you finish submitting all the details, click on save and next button.
Important Help:
In case you are not having a physical marksheet you can get the signature of your school or college principal with a stamp on the internet download marksheet or you can ask any ICAI member to attest your internet copy.
In case your 10th or 12th marksheet doesn't have a date of birth, you can upload an attested statement of marks or pass certificate.
12) The next page open will be for payment details. Before submitting payment details students need to upload the necessary documents.
Photo
Signature
Marksheets
Aadhar card copy
VISA copy (in case of international students)
Passport Copy (in case of international students)
Important Help:
The photos should be scanned properly. The images captured from mobile or camera won't be accepted and your application will be rejected. The maximum size of the image in width must be 21cm and 27cm in length. Your application can be rejected in case If images are blurred and not cleared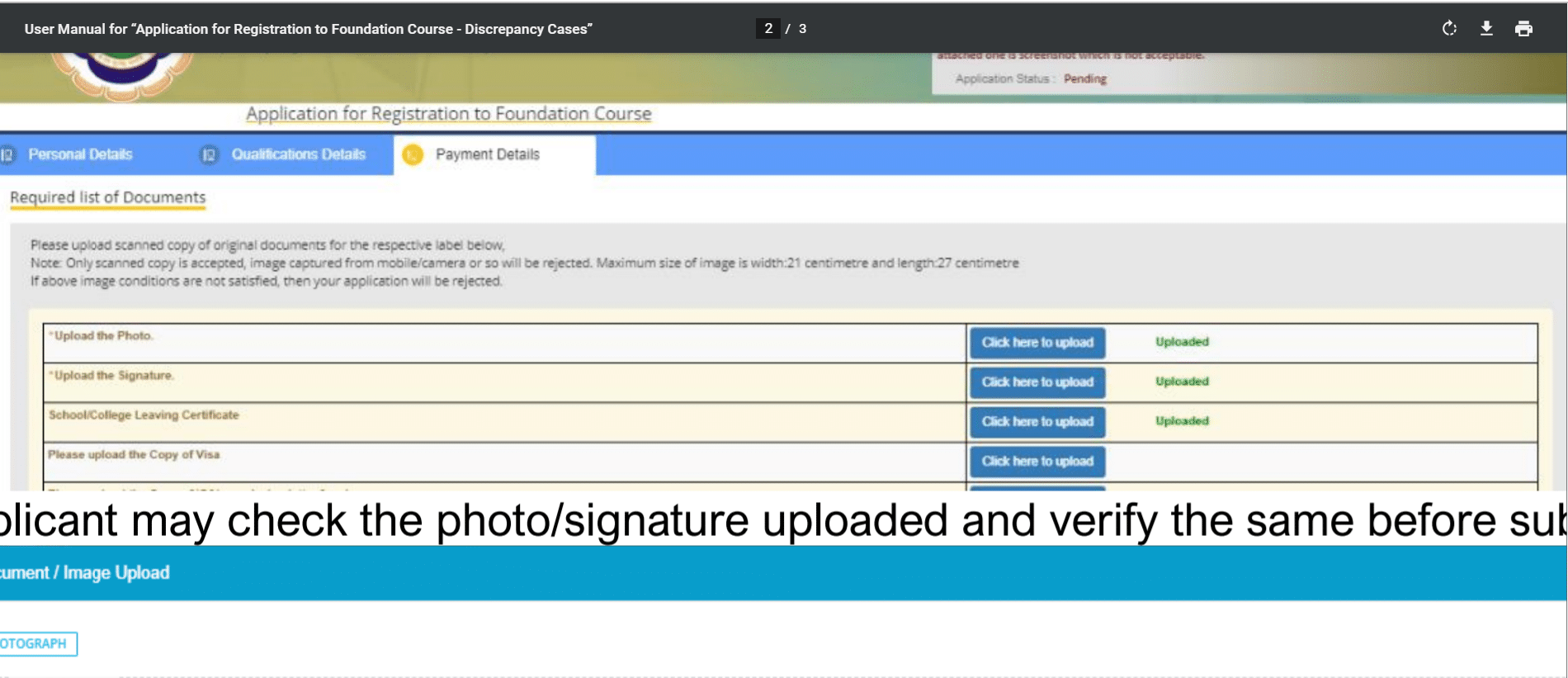 13) Submit your account details and initiate the payment for the CA foundation course or intermediate course under the direct entry system.
The total fee you will pay for the entire CA foundation level is RS 10900. Registration fees prospectus fee and journal fee will be paid at the time of registering for the course while examination fees will be paid while filling the application form and getting an admit card to appear for exams.
Direct Entry Route candidates have to register for both the groups of Intermediate level. The registration fee to be paid for Intermediate level entry will be RS 18000. This amount includes Rs 15000 registration fee for both groups, which will be paid only once, Rs 2000 as students activity fees, and Rs 1000 for registration as an assigned article.
Important Update regarding Registration Fee: ICAI has made an exception in the Fee structure of all 3 levels i.e. CA Foundation, CA Intermediate, CA Final. Through a recent announcement on their official website, ICAI has allowed a 75% fee concession. The important point is that this relaxation is made ONLY for the newly formed Union Territories of Jammu & Kashmir and the 8 North-Eastern states of India- Arunachal Pradesh, Assam, Manipur, Meghalaya, Mizoram, Nagaland, Sikkim, Tripura.
14) Before making the payment do check all the details and validate the OTP. Once the payment is done you will receive an intimation message on the phone and dashboard about successful payment. Download the screenshot of payment acceptance for future references. Once payment is done your documents will be checked and you will receive a message for registration on email id. A message regarding registration will also be shown on your dashboard.
15) Student registration number will be assigned to students on completion of registration. Till the time the application having any discrepancies will be shown pending. You then need to follow the instruction flashed on the dashboard and submit the required documents again.
16) Once all the documents and information are checked, ICAI will register your application for the CA course. You can use the SRN number to login into your dashboard in the future.
17) You will receive Mail from CDS (Centralized Dispatching System) regarding study material after you make the payment.
Must Read – How to become CA in India (Complete Guide)
What to do After Enrolment In the CA course?
After following these 17 steps your enrollment for the CA course will be finished.
If you have a registered CA foundation course then you have to complete a 4-month study period and appear for the CA foundation exam.
After passing the CA foundation register for the Intermediate level. Clear both groups of Intermediate and complete 4-week ICITSS training.
After clearing the Intermediate exams, register for the CA Final course. This includes 3 years of articleship registration. Complete the CA articleship and 4 weeks of AICITSS training.
Clear both groups of CA Final and become a member of ICAI. You are CA now!!!
If you have registered for the CA Intermediate course under direct entry then first you have to complete a 4 week of ICITSS training.
Register for 3 years of practical training. Complete 9 months of practical training and appear for CA intermediate exams. Clear both groups together.
After clearing the intermediate level, register for CA final level. Resume your remaining practical training.
Clear both groups of CA final and 4 weeks of AICITSS to become a member of ICAI. You are CA now!!!
Take away from the Blog
This blog will help you to know the simplest and shortest way to enroll for CA course. If you read this blog before registering for the CA course you will be aware of the date of registration, fees to be paid during registration, steps to follow while enrolment, documents required to submit for registration. You will also come to know the important points you should consider while submitting the enrollment form. It will help you to avoid mistakes and complete the task on time.
Vsi is the leading CA coaching institute in India. We take immense pleasure in providing the most updated and authentic information regarding CA courses to our students. We also provide online coaching, pen drive class, video classes for CA foundation, CA intermediate, and CA final level students.
Students Also Asked
Q-1: Am I eligible to register for the Foundation Course after 11th std?
Ans: Yes, you can enrol for the CA course under provisional registration. Vsi provides coaching to 11th and 12th class students to prepare for the CA exam. You can enrol with us to prepare for CA exams in an easy way.
Q-2: I am a Class XII student. Can I enrol for ca Foundation Course?
Ans: Yes. You can enrol in the CA foundation 2021 course. The last date of registration is on 31st December 2020.
Q-3: Is it easy to enrol for a CA course?
Ans: ICAI self-service portal has made enrolment for CA an easy job. It only takes 17 steps and half an hour to complete the registration. If you keep all your documents pdf and details ready it is an easy job to do.
Q-4: Is it possible to enrol for a CA course after graduation?
Ans: A graduate or post-graduate who has cleared commerce subject with 55% or any other stream with 60% can enrol for CA course under the direct entry scheme.
Q-5: Do we have the same enrolment window for both the CA Foundation entry and direct entry system?
Ans: Yes, any fresh registration is made through the same window.
Q-6: Do I need to send physical forms to ICAI for enrolment?
Ans: You have to upload all the documents For Registration at the ICAI website. You don't need to send physical copies to the ICAI. students may visit https://eservices.icai.org/