---
Many times students used ask why CA has been given so much priority. Why is every commerce student dreaming to be a CA instead of being the toughest course in India?
Here we have an answer to all your questions. Chartered Accountancy is a recognized profession by industry mainly focuses on Finance, Auditing and Accounting. Chartered Accountants are the only person who enjoys the monopoly of auditing the Financial Statement of an organization. Without a CA's signature, Financial Statements could not be presented in the AGM before shareholders. Chartered Accountants enjoys a high reputation in society besides fascinating incentives. Follow the link and know everything you need to know about becoming a chartered accountant in India.
Let's start why CA course is better than other Professional Courses –
CA v/s CS
Company Secretary is responsible for the Corporate Governance of the company. CS has a wide knowledge of Company Law hence they are needed to handle the Legal Matters of the Company.
Let Understand why CA is better than CS
CA also contains a wide knowledge of Company Law and resultant CA can handle the work of CS as well.
The earnings of CS is much lower as compared to CA. Where the average package of CA stands between 7-12 Lakhs, the average package of CS stands for only 3-5 Lakhs. The top CA Firms in India offer up to 15 to 20 lakhs to CA toppers.
CS has less Training Experience as compared to CA. This makes CA getting preference while searching for the Job.
CA are highly knowledgeable in every aspect. CA's are not limited to Audit and Accounts only. They handle the taxation matters as well, provide the Financial consultancy and also handles the cost accounting matters. Whereas all such things could not be possible for a person pursuing CS only.
The scope of CS is getting limited with the passage of time. Companies have started hiring Chartered Accountants in place of Company Secretaries who are capable to handle the overall work.
Also check: CA vs CMA
CA v/s MBA
Once upon a time, an MBA was one of the most sought courses in the Commerce stream. MBA seems to handle the management of the Company in the most appropriate manner. Earlier, Most of the reputed companies' CEO was MBAs. But the trend has been changed. In today's scenario, more and more companies are hiring CAs to handle their Financial matters and management as well due to the expert knowledge of CA in every field.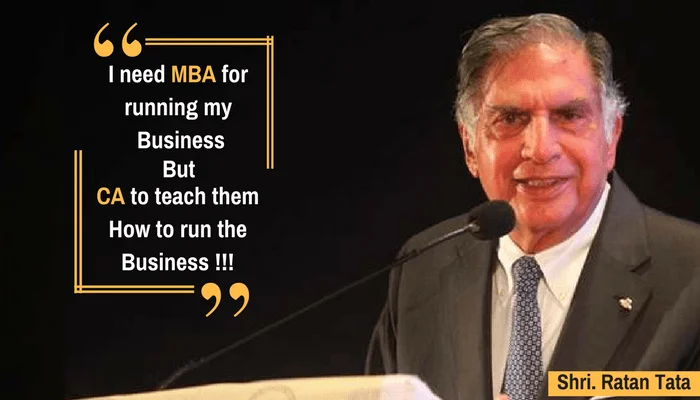 Let's understand Why CA is better than an MBA
There is a number of colleges or institutes which offer you the degree of MBA but there is only one regulatory body i.e. ICAI which conducts the Chartered Accountancy Exam which increases the reputation of this course.
For the multiple tasks and greater responsibilities, Chartered Accountants are preferred as compared to MBA.
MBA is an expensive course while CA is much cheaper as compared to MBA.
The average salary of an MBA ranges between 5-6 lakhs while the average salary of a CA goes to 7-8 lakhs.
CA vs CFA
CFA stands for Chartered Financial Analyst which is basically focused on Finance covering Investment Management, Ethics, Equity Investments, Derivatives, Portfolio Management, Research, Investment Banking, etc. CFA is also recognized as one of the toughest courses in India. CFA Institute is the only recognized body that is authorized to conduct the exams of CFA. There are three levels in this course consisting of a minimum duration of 3 years.
Let's Understand Why CA is better than CFA
Even CFA is a globally recognized degree but still in India CA is preferable as compared to CFA.
CFA is considered tougher as compared to CA.
The CA course fees is lower than CFA. The CFA course has high exam fees even higher than its registration fee. And every time you get fail, you have to deposit such an exam fee. This is the reason why most of the students afraid of registering themselves for the CFA Course.
CFA is mainly preferable for the Finance and Investment Management while CA persists high knowledge of Finance besides accounting, auditing, taxation, and Company Law.
Read More: ACCA vs CA
Conclusion – In the above article, we have discussed why the Chartered Accountancy course is better than other professional courses such as MBA, CS, and CFA. We have also discussed the average salary offered by such professions after completing the courses.
We hope that you like the above article and it must help you in choosing the best course. You can ask your queries in the comment section given below.
You May also Like to Read: Courses after B.COM
Frequently Asked Questions
Q1. Is doing CA in India is worthy?
Ans: Yes, CA is a reputed career option in India with a good salary package.
Q2. Is pursuing a CA a stressful job?
Ans: No, pursuing CA is not a stressful job. Candidates opted for CA has to do hard work for preparing for the CA exams. They need to devote more of their time to preparations.
Q3. How much time is consumed after completion of class 12th and graduation to become a CA?
Ans: The duration of the CA course after class 12th and graduation is explained clearly on the given link.