How to Prepare for Class 12 Board Exams 2022-23?
Studying for class 12 board exams is challenging if students don't know the right methods, especially if students are preparing for other professional exams like Chartered Accountancy with 12th class. It is important to balance the studies for all papers to complete the class 12th syllabus on time.
If you are also afraid that the 12th exams are coming soon and you have not prepared enough, do not stress anymore. Here we have shared some effective tips that will give the right direction to your class 12 board exam preparation.
But there is one piece of advice that every student must follow. Don't just look for tips on how to prepare for class 12 boards; read and implement these tips today. All these points will help you make a clear roadmap before you start your preparation and help in getting the best CBSE Class 12th result.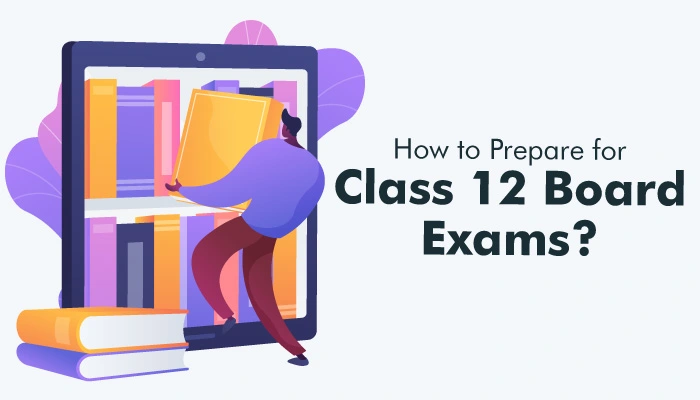 ---
---
Tips to Prepare for Class 12th Board Exams
1. Focus on Time management
Have you ever felt that if you were given more time to prepare for the exams, you could have performed better? You can be in this situation after your 12th board exams if you do not manage your time during exam preparation.
Time management is a key factor in exam preparation. So, try to prepare a study timetable for yourself. Moreover, cover those topics first that has more weightage and but easy to study. This will help in covering a major portion in the least time and build your confidence.
2. Learn Concepts, not the Bookish Language
The best way to prepare for the 12th board exams is to understand concepts instead of cramming up the textbooks. You have the liberty to write answers in your own words, so make the best of it.
By understanding and learning the concepts, you can memorize them for a very long time. Furthermore, recalling them during the exams will be easier. Don't worry about writing key points or words in your exams. It will come naturally to you.
3. Do Written Practice
When you write and learn, it makes a greater impact on your preparation. This way, you are not only learning but also improving your written presentation and writing speed. You should do writing practice in every subject.
Most students only practice practical subjects, but writing practice in theory subjects is equally important. You can analyze which topics can look good with flowcharts and diagrams.
4. Make Notes on Each Topic
When you are reading your chapters, you should mark the important points and questions. Highlight those points in your book or write separate notes. These self-made notes are one of the best ways to prepare for 12 board exams. They will also help in revising the syllabus in the examination days.
5. Learn from the Best Teachers
The teachers from whom you learn matter a lot. If you feel that you are not getting clarity in your classroom studies, take online classes from other tutors. It is important to get a clear understanding of the concepts.
6. Learn with Visual Presentation
There are some topics that can be easier to learn with the method of visual presentation. For example, processes in the BST subject can be understood better with visuals. So while making notes, you should also make flowcharts and diagrams for that topic.
These visual representations are the fastest way to revise and remember a particular topic. And they are very helpful in Economics and BST subjects.
7. Study from NCERT Course Books
For the preparation of the 12th board exams, you must refer to NCERT course books. Why will this help you in scoring marks?
Because the topics covered in the course books cover the complete syllabus. The explanation in the course books is simple and easy to understand. These books' questions are good, and there are higher chances of them coming into your exams.
Must Check: Class 12 Economics Books PDF
8. Identify Weak and Strong Subjects
Every student cannot be good at all the subjects. All students have their own strong and weak subjects. You must also identify the subjects in which you are good, average, and weak. This step will help you know which subjects need more practice.
Because in the end, all the subjects have equal importance and marks in the board exams. English or Business Studies is as important as Maths subject in the board exams.
9. Do Regular Revisions
Among the most crucial study tips for the 12th board, you will always find revisions. So why does everyone emphasize regular revisions?
The class 12 syllabus is very vast, and you have a lot to study. It is because the revisions help in recollecting all the concepts that you have studied so far.
10. Learn Formulae
There are many formulae in 12th practical subjects, so write them separately. The best way to memorize the formula is a regular practice. While solving questions, always write the formula in the starting. This way you'll not only understand the usage of these formulas but will also remember them.
11. Solve Practice Papers
Practising the sample papers and last year's papers is one of the best ways to prepare for the class 12 board exams. These question papers will give you an understanding of the format of questions asked in the exams. There are many more benefits of solving the practice papers. You can do a self-assessment and see which topics you have improved on and which topics require more hard work.
12. Answer Presentation
The answer presentation can get you rewarded with more marks in the 12th exam. So when you are preparing for the class 12 board exams, you need to see how well you can present an answer. You can do this while you are doing written practice or solving practice papers.
How to improve your answer presentation in the class 12 exams?
Write the answer in points and number them properly.
Keep the paragraphs short.
Use neat diagrams, flow charts, and tables wherever required.
Keep sufficient space in between the words.
In subjects like Accountancy and Maths, write the working notes neatly.
Indicate the question number clearly in front of every answer.
Start the long answer from a fresh page.
Leave a few lines between all answers.
Do all the parts of a question together.
Check Out High Salary Jobs in India after class 12.
---
How to Prepare for Class 12 Board Exams Commerce Subjects?
Accountancy
Cover the theory of the initial chapters.
Before doing the practical practice questions, read the small theory sections to understand the concepts.
Learn the formulae and understand their logic; it will help you solve difficult-level questions.
Regularly solve class 12 Accounts sample papers for the 2023 exams.
---
Maths
For each topic, solve the questions by writing them.
The class 12 Maths syllabus is very difficult and vast, so you should start with the topics in the order of the highest weightage in the marking scheme.
You should do interrelated topics together. It will save time and give you more clarity.
---
Economics
The Macroeconomics section requires your time and understanding of the concepts because the topics are inter-connected. If you don't understand the topics clearly, you will face problems in solving the questions.
The theory part, i.e., Indian Economic Development, is easy as compared to the Macroeconomics part. If you understand the topics and learn the main points, you will not have any problem with this section.
The hypothetical and application-based questions asked in the Economics paper make it difficult. So be prepared to answer such questions if you want to score 90+ marks.
---
Business Studies
Book 1 of this chapter focuses on business management. The topics are similar and can create confusion, but you have to learn the points if you want to score well in this paper.
The second part is interesting but at the same time has a more practical approach.
Business Studies is a theory paper, but you will find application-based questions in the exam. So practice such questions during your preparation.
---
English and Other Language Papers
Give a few hours each week for this paper, and you will be ready for the exam.
Understand the meaning of the lessons/poems in your literature books. It is very important for the exams.
If you are weak in grammar, work on it. Your grammar knowledge will be tested in all sections of the English paper.
Practice questions for reading and writing sections. You will never know what questions can come in the exam.
Learn and use the correct formats in the writing section, and you will score some without much effort.
We hope all these tips shared in this article will help you prepare for class 12 board exams. Before you start your studies, you should have a clear mindset and study plan. Don't waste more time, and start implementing these tips today.
---
About VSI Jaipur
VSI Jaipur provides the best 12th commerce classes for Accounts, Maths, BST and Economics subjects. By taking tuition from VSI, you can build solid concepts and get high grades in your 12th board exams. Further, if you aspire to become a CA, you can join our coaching classes and clear the CA exams on the first attempt. VSI Jaipur is the best CA Coaching in India and our students have scored the ever-highest marks in CA IPCC, Intermediate and Final exams. Moreover, our 7 students got AIR 1 in the last 10 years.
Further, we also provide the best CMA and ACCA coaching classes for all levels. So, join VSI Jaipur's online or offline classes to get the best class 12th result and build a strong foundation for CA/CMA/ACCA.
---
Frequently Asked Questions
Ques 1. Are Ncert books enough for the Class 12 board exams?
Ans. Yes, the NCERT books are enough for the 12th board. However, you can refer to some reference books to understand the concept in detail and practice advance level questions.
Ques 2. How many hours should I study for my 12th exams?
Ans. Students must study for at least 4-5 hours daily if they want at least 90% marks in the 12th exams.
Ques 3. How to start the preparation for the class 12 exams?
Ans. Class 12th students should first make a proper schedule. Then they need to strictly follow their study plan.
Ques 4. Are the 12th exams easy?
Ans. Yes, if you have prepared well for the exams, then you can easily score more than 90% in class 12.