Science vs Commerce: Which Stream is Better? Salary, Scope, Courses
Science vs Commerce? Most class 10th students are confused about which one to choose for their bright career. Science and Commerce are the most popular streams after the 10th, having a good career scope and high salary packages. It also increases the chances of being influenced and choosing the wrong field.
So, to make an informed decision, you need to consider many factors like subjects in 11th/12th, career scope, salary, interests, etc.
In this article, we have mentioned the comparative study between science and commerce streams. It is a step-by-step guide that will help you explore their major differences. By the end of the article, you will be aware enough answer which stream to choose between Science and commerce.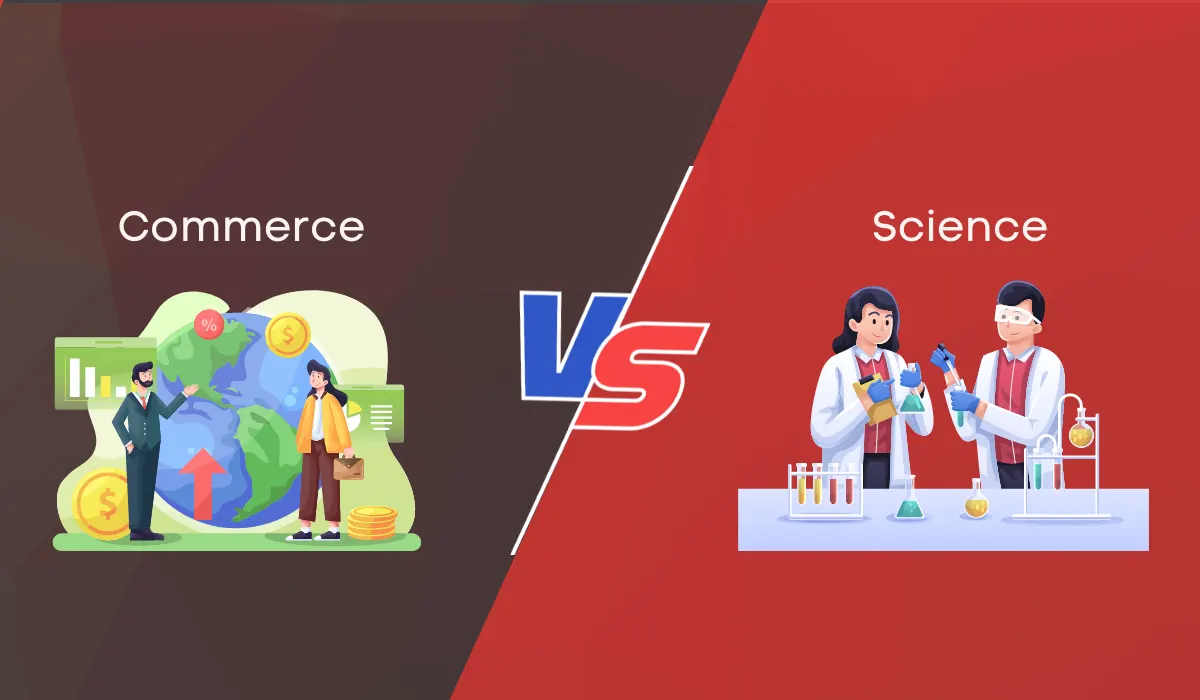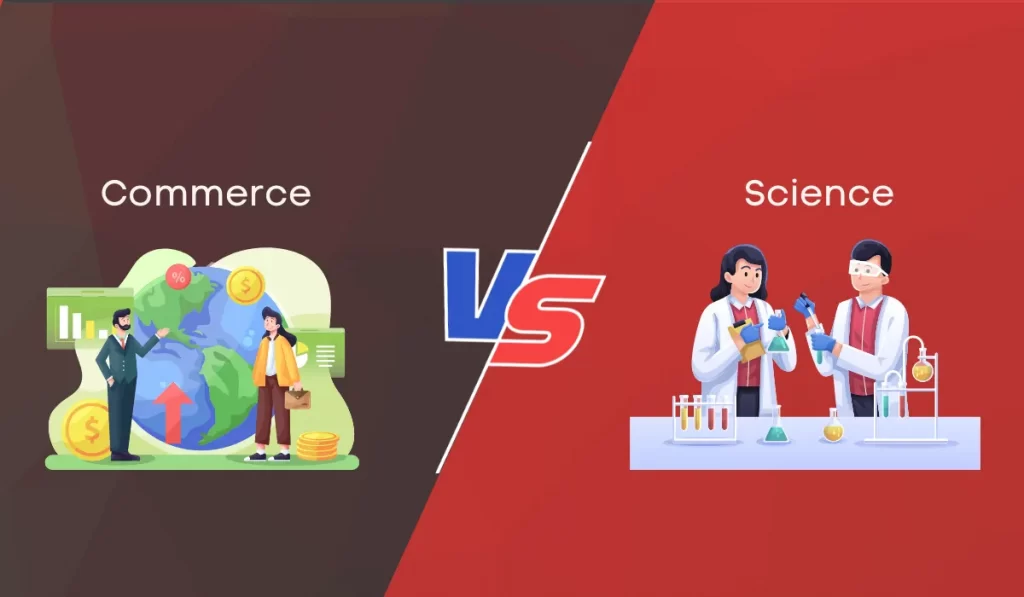 ---
Science vs Commerce – Comparison Table
The science stream is inclined toward the technical and medical aspects such as physics, chemistry and biology. On the other hand, the commerce stream will teach you about business, management, finance and accounting.
Check the table below to know the major differences between Science and Commerce streams:
| | | |
| --- | --- | --- |
| Criteria | Science | Commerce |
| Subjects | Physics, Chemistry, Biology | Accounts, BST, Economics |
| Best For | Engineering, Medical, Tech | Business, Entrepreneurship, Finance |
| Difficulty | More Difficult | Less Difficult |
| Ease to Shift stream | Can opt for commerce and arts courses | Can shift to only Arts stream |
| Courses/Career | Doctor, Engineer, Scientist, Pilot, etc. | CA, CFA, Manager jobs, Investment Banker, etc. |
| Fees of UG/PG Courses | Very expensive | Less expensive |
| Commerce vs Science Career Scope | Excellent opportunities but limited | Abundant opportunities |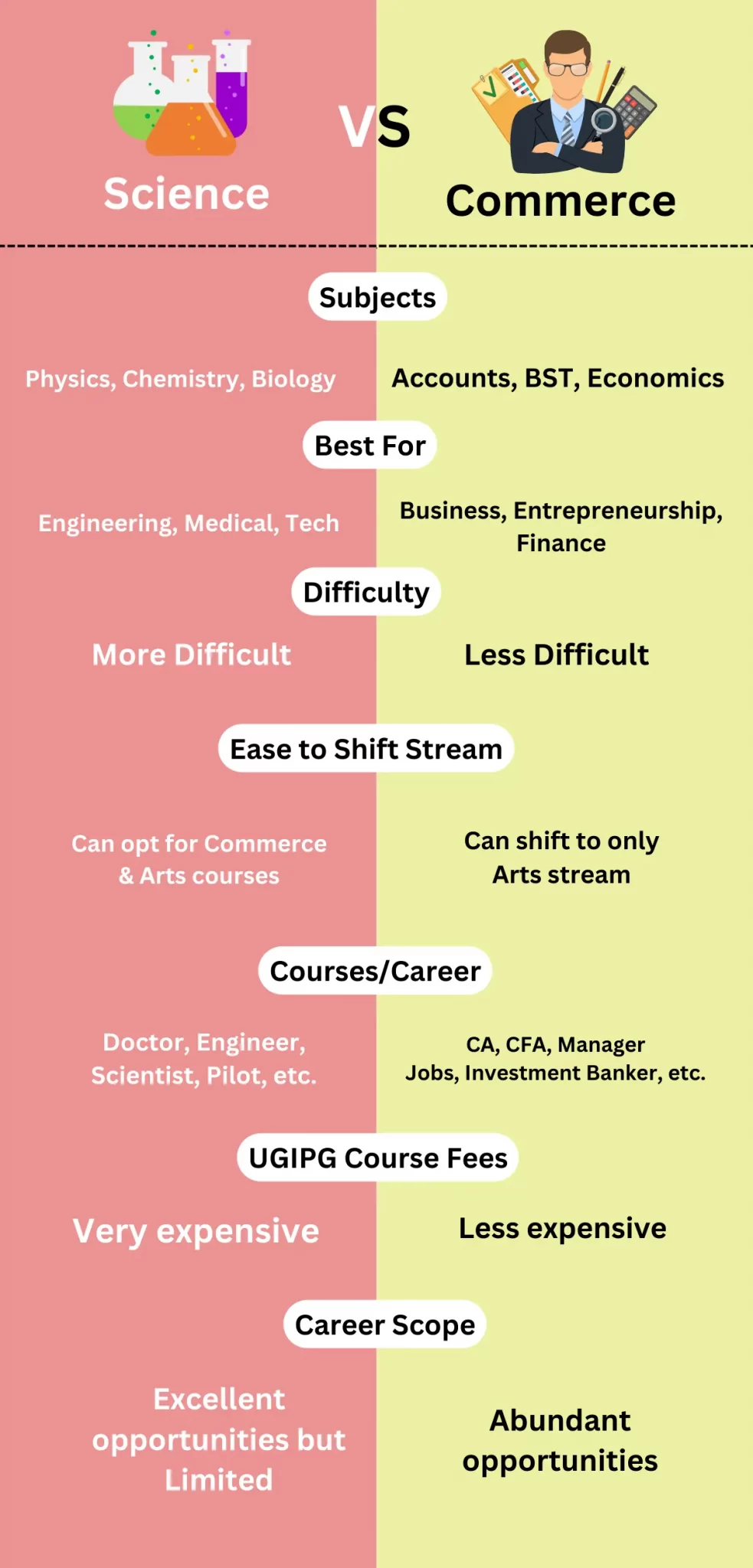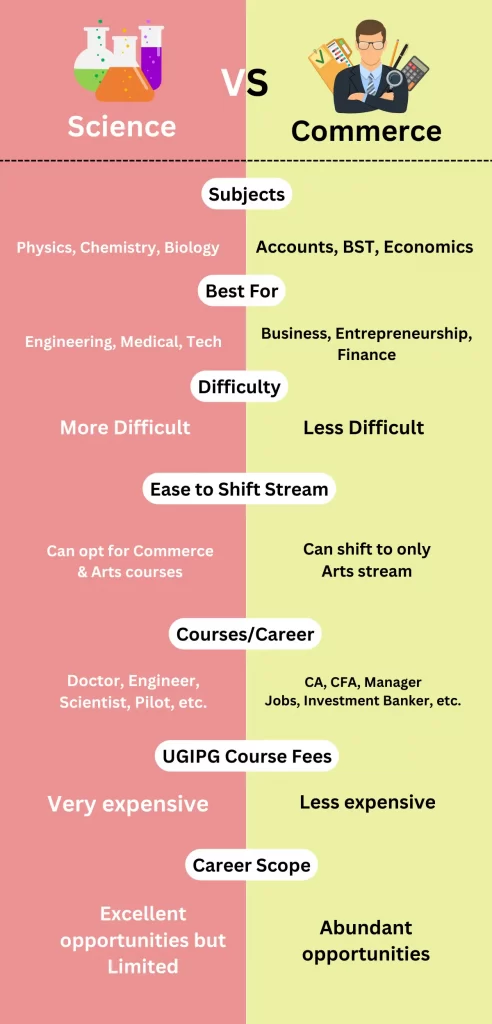 ---
What is Commerce Stream, and Who should Choose it?
The Commerce stream revolves around accounting, economics and the basics of business. Opting for this stream will help you in developing a deeper understanding of the business and money aspect.
The commerce stream is best for students who want to start a business or launch a startup. However, even the students who wish to be involved in accounting, business management, economics, or other administrative jobs can also take the commerce stream.
Students who are good in management, decision-making, and evaluating profit & loss will do well in this stream.
Benefits of Choosing Commerce Stream
Studying commerce will make you job-ready with the necessary knowledge and skills like communication, problem-solving, analytical, etc.
Commerce students have ample courses and career options after 12th or graduation.
Gives you practical and real-world knowledge of how businesses and market works.
Easy employment opportunities.
---
What is Science Stream, and Who should Choose it?
Science as an education stream deals with physics, chemistry, mathematics, and biology at the core.
The science stream is best for students who are fascinated by natural sciences. Students keen to pursue a career in natural sciences in any form should opt for Science in Class 11th. Moreover, students who want to become doctors, engineers, pilots, etc, have to choose this stream.
Benefits of Choosing Science Stream
Packages in the science stream are higher.
The ever increasing demand for Engineers and Doctors increases job security.
With the advancement in technology, new careers are coming up like AI, Machine learning, and Data science. These careers have large demands and high salaries.
Improves your problem-solving and analytical skills which are crucial for a successful career.
---
Difference Between Commerce and Science
Let's check the detailed comparison of Commerce vs Science so that you can decide which one is better for you.
Commerce and Science Subjects in Class 11th-12th
The commerce stream and science stream are worlds apart. From the subjects to the complete learning experience, everything is different.
In class 11th commerce, you will have three main subjects: Accountancy, Economics, and Business Studies. As the name suggests, you'll learn about Accounting principles, the fundamentals of Economics, and the basics of Business and its working.
In the science stream, you have two main subjects, i.e., Physics and Chemistry. Then, for the third core subject, you have to choose between Mathematics and Biology.
Which is Tough between Science and Commerce?
Science is believed to be tougher than commerce. The primary reason is that the science subjects include the technical and practical subjects that are considered difficult to study by many students. Whereas, in commerce, there are theoretical subjects that are scoring for many students.
Here is an overview of the commerce vs science subjects and study experiences for students.
| | | |
| --- | --- | --- |
| Basis | Commerce Subjects | Science Subjects |
| Conceptual Clarity | Conceptual clarity & practical implication for all subjects. | Science subjects need conceptual clarity & experimental study. |
| Coaching | Required for Accounts and Economics. BST is a self-study subject. | Need coaching for all the core subjects. |
| Time Consuming | Accounts is time-consuming, while Economics and BST require less time. | All science subjects require a significant amount of study time. |
---
Skills Required
To study the commerce stream, students must be good at numbers and have analytical skills. They should also have the ability to connect the concepts studied with real-world situations.
On the other hand, science students must have problem-solving skills, analytical skills, and the zeal to learn and experiment new things. Medical students must have empathy and compassion.
---
Courses after 12th
Commerce courses after 12th
Commerce students after completing their class 12th can go for:
BCom
BBA
CA
CMA
CFA
CS
Hotel Management
Banking courses
The best thing about commerce courses is that a degree enhances your profile, but it does not limit you to a specific field. For example, you can do your graduation and simultaneously pursue the CA course. After doing CA, you don't have to do a job necessarily; you can start your own CA firm. If you have done a management course, you can still give banking exams.
Must Check: Best courses after 12th commerce.
---
Science Courses after 12th
Science students after completing their 12th can go for:
B.Tech.
MBBS
BSc in Nursing
B.Sc in Computer Science
Biotechnology
Physiotherapy
Bachelor of Pharmacy
Furthermore, they also have options to take courses in commerce or arts fields because most institutions don't have rigid criteria. Students can explore variety courses after 12 for both science and commerce stream with detail on this page.
But the drawback of the science stream is that it is difficult to switch fields. For example, a student who takes a course in medicine cannot easily switch to engineering.
---
Fees
Most of the commerce UG or PG courses are done in 1-2 lakhs. Even if you take admission in top institutes, the fees are as high as 5-10 lakhs on average.
However, the fees for the Science course are higher. Most of the science UG or PG courses can be done in 4-5 lakhs on average. But if you enrol in top colleges, the fees are as high as 15-20 lakhs.
---
Commerce vs Science Salary
Here is an overview of the remuneration you can earn for your knowledge and skills in different commerce or science background careers.
Salary of Commerce Courses
Jobs in the commerce stream enable you to earn a good salary package. Although, remember the below-given data is on an average basis, so you may make below or above this salary bracket. Not only that, but if you become an entrepreneur or business owner, you can earn more. Jobs have a limited pay scale, but entrepreneurs and business owners have unlimited potential for earning.
CA Salary: 8-9 lakhs p.a. and up to 60 lakhs or even higher
Investment Banker: 9-10 lakhs p.a.
HR Manager: 7-15 lakhs p.a.
Chartered Financial Analyst: Around 12 lakhs p.a.
Certified Public Accountant: 7-9 lakhs p.a.
Company Secretary: 6-7 lakhs p.a.
Hotel Manager: 4-5 lakhs p.a.
---
Salary of Science Students After Professional Courses
Science stream jobs enable you to earn very high-paying salary packages. It's the main reason why there is so much craze for the science stream amongst students. Although, note that the below-given data is on average. You can expect such high salary packages only if you have the best skills and job at a highly reputed organization.
Engineering Courses- 20-25 lakhs p.a.
Architecture: 40-50 lakhs p.a.
Computer Science: 8-20 lakhs p.a.
Commercial Pilot: 40-50 lakhs p.a. and can go as high as 90 lakhs p.a.
MBBS: 50-70 lakhs p.a.
BDS: 20-40 lakhs p.a.
Nursing: 29-34 lakhs p.a.
So, seeing the annual salary of both streams, it can be said that the science stream has a higher salary than the commerce stream.
---
Which Stream has more Scope in India?
Both science and commerce streams have a good career scope and offers high salary. The major jobs in the commerce stream are in the banking, finance and business sectors. In the science stream, the major jobs are in the technology, coding and AI sector. Class 10th students can choose any of them in which their interests lie.
Scope in Commerce Stream
The commerce field is growing faster than ever. The future of commerce background students is bright indeed, thanks to the growth in online marketing and sales. As a commerce student, you will have multiple career options, such as:
CA
CMA
CS
CFA
Business Analyst
Digital Marketing
Investment Banker
Business Consultant
With the growing economy, jobs in the public and private sectors are increasing, presenting new opportunities to commerce students. Commerce provides variety of high salary courses after B.Com, BBA and other specialization, by pursuing them students can unlock the new opportunities for themselves.
On the positive side, commerce students have the knowledge to start a business or startup. So you can even be a 'job creator' instead of a 'job seeker'.
Scope in the Science Stream
There are many new career opportunities that are booming like machine learning, AI, robotics, Data science and a lot more. After the covid-19 pandemic, the demands in the medical industry are also rising. Career options for science students are:
Engineering
Medical
Nursing
Architecture
Information Technology
Data Science
AI and Robotics
As you have read above, you can pursue many courses in the science stream and even earn well from high-paying jobs. But the competition is so much that not everyone from a science background makes a good income.
Reports show that more than 70% of science students remain jobless after completing their education because of a lack of job opportunities. That being said, if you work harder, then you'll also earn higher.
There are many new career opportunities that are booming like machine learning, AI, robotics, Data science and a lot more. After the covid-19 pandemic, the demands in the medical industry are also rising.
To make the right decision about their career, students can check the detailed article on career guidance after the 12th.
Check out High Paying Jobs in India for both Science and Commerce
---
Science vs Commerce: Which is Better?
The answer will be different for each student. Some students want to become entrepreneurs, CA or CMA while others want to become Doctors, Engineers, or Developers. Some students might like accounting, economics or BST while others might like physics, chemistry or biology. However, it is certain that both Commerce and Science stream has a good scope in the future.
So, students should choose between Science and commerce while taking into consideration all the factors mentioned here including subjects, career, salary, scope, benefits, and difficulty level. Students must keep their interests and passion in mind while choosing the best field for themselves. Don't blindly follow anything; choose the subjects that interest you and have more career scope.
---
How VSI Jaipur helps Commerce and Science Stream Students?
It doesn't matter whether you have chosen science or commerce in class 11; VSI Jaipur helps prepare you for competitive exams as a CA, CS, and CMA. We know these streams are for commerce students, but even science students who want to shift to commerce can pursue these courses. VSI Jaipur will help you throughout your journey.
Whether you are a class 11-12th student or a graduate, we can help you prepare for a successful career as a Chartered Accountant, Company Secretary, or Certified Management Accountant.
VSI Jaipur aims to provide the best coaching to students for CA, CS, and CMA courses. So if you choose to take do CA, CMA, or CS course, connect with us for the best guidance.
---
Also Read: What to do after 12th in Hindi
---
Frequently Asked Questions
Ques 1. Which stream is easier between Science and Commerce?
Ans. The commerce stream is easier as it includes non-technical theory subjects that are scoring in exams.
Ques 2. What are the disadvantages of the commerce stream?
Ans. Commerce students have to keep themselves updated regularly with new changes in Accounting practices, economic principles and on business matters. Furthermore, the salary in the commerce stream is mediocre, if a candidate doesn't have a good skill set.
Ques 3. Can I shift from the science to the commerce stream after the 11th?
Ans. Yes, students can change their stream after their 11th class. But they have to do it before registering for the class 12th.
Ques 4. Does the commerce stream have maths?
Ans. Yes, the commerce stream has an optional subject of mathematics.
Ques 5. Can a Commerce student become Doctor?
Ans. No, a commerce student can not become Doctor, as they do not have the required knowledge and eligibility.