ICAI CA IPCC Result July 2021 Announced (19 Sept)- Check Now


The CA IPCC Result of July 2021 Exams has been announced by ICAI on 19th Sept, along with CA Intermediate results. Students can check the results and the merit list on the official website of the ICAI (provided below).
ICAI has organized the exam of CA IPCC in the month of July 2021. Students can analyze their performance with the help of the Suggested answer key for CA IPCC comprehensively compiled by VSI and provide free download just after the examinations are over.
Students can check the results online. To check the CA IPCC result July 2021, students can visit any of the official websites mentioned below:
ICAI in its latest notification declared the CA IPCC result dates i.e., on 19th(Evening)/20th September, 2021.
To read the official notification, you can click on the link here: ICAI Notification
The result along with the merit list comprises of candidates securing a minimum of 55% and above marks and up to the maximum of 50th Rank on all India basis. Students are advised to keep their roll number and registration number safely. you can check your result online or through Email or SMS.
Read further to get details about CA IPCC Pass percentage/ result analysis, how to get the result through SMS/ Email, July 2021 Toppers, Statement of marks, Rank certificate/ Merit list, Revaluation/ Verification of marks, FAQs, and possible reasons for the withholding of IPCC July 2021 result.
---
Click/Tap the link to directly jump to the section.
---
CA IPCC Result July 2021: Important Dates
ICAI has released the dates of  CA IPCC Result July 2021. The CA IPCC results are declared on 19th September, 2021 along with the intermediate results. The IPCC exams of May session 2021 were conducted from 6th July to 18th July, 2021. Also, ICAI released the CA IPCC and Intermediate exam form dates for the December session. Check the table for more information.
Events
Dates
Admit Card
June 2021
CA Intermediate Exam Date
Group 1 – 6th, 8th, 10th, and 12th July 2021

Group 2 – 14th, 16th, 18th, and 20th July 2021

CA IPCC Exam Date
Group 1 – 6th, 8th, 10th, and 12th July 2021

Group 2 – 14th, 16th, and 18th July 2021

IPCC Result Date
19th/20th September, 2021
Pass Percentage
19th September, 2021
Next Inter/Final Attempt
December, 2021
Exam form (for Dec 2021)
16 to 30 Sept, 2021
---
How to Check CA IPCC Result July 2021?
Here we are sharing with you the procedure to check your IPCC July 2021 Result. Just follow the steps given and you can easily get your results on 19th September. An important tip for students is to keep all your required details with you while checking the results. Result websites provided by ICAI are:
https://icaiexam.icai.org,
http://caresults.icai.org, and
https://icai.nic.in
Click on the above-given link to directly land on the ICAI Official page from where you can download your CA IPCC Result July 2021 .
Here you enter your "Roll No." and "Registration No." or "PIN" which you have submitted while submitting your Exam Application form.
Enter the captcha image.
Click on the submit button.
System will generate your result page and here you can take the print out for future use.
Download your IPCC  July 2021  mark sheet within 7 days from the declaration of the result.
During IPCC Nov 2017 attempt at the time of result announcement, students faced severe server errors. Many students complained about it and as a result to reduce last moment students rush on the website, offline result services are launched by ICAI for students. students can access their IPCC July 2021 Result through SMS or E-mail. To get the result through e-mail student need to register themselves on the ICAI main website. Then Your result will be provided by ICAI on your registered email address. The registration process to get the result through SMS is given in below section.
---
Check your IPCC Result through SMS
ICAI has facilitated CA students to check their result on their phone through SMS or Email to avoid the last minute inconvenience on the result page.
To get your result through SMS, you have to send an SMS on 57575 in the following manner –
CAIPCOLD(space)XXXXXX (Here XXXXXX refers to your six-digit roll number). For ex – CAIPCOLD 058985.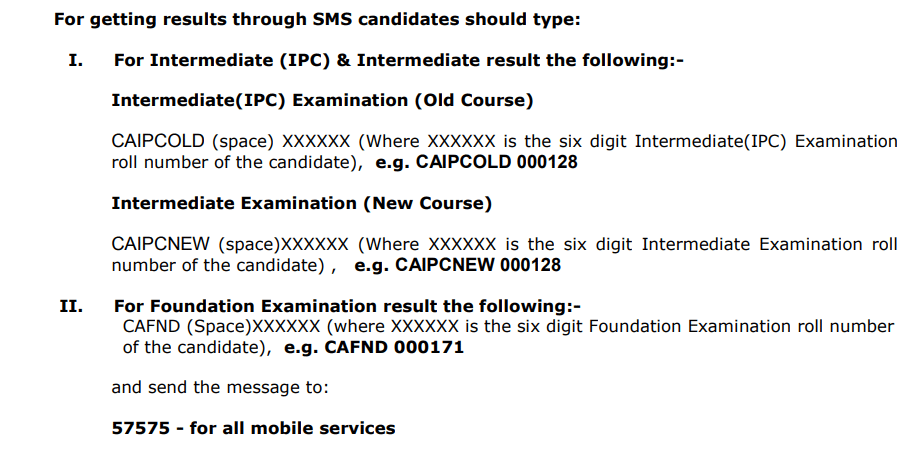 ---
ICAI CA IPCC July 2021 Result Through E-mail
For getting your CA IPCC result July 2021 through Email, visit the website – icaiexam.icai.org and register yourself for Email service.
ICAI has availed the email registration link on their website from 17th September, 2021 to the result date.
How to register for the email service?
To register for the email service, follow these simple steps:
Visit the ICAI website and login through your email id and password. However, if your email id is not verified, then first verify your email id.
You'll see an "email registration" link, click on it.
While registering your email id, you faced any difficulty, then you can contact the ICAI helpline number. These are: 0120 3054 851, 852, 853, 854 and 835 0120 4953 751,752, 753 and 754.
---
What to do if You Forgot Your Credentials?
If the student forgets their roll number while checking their IPCC result, then he can view his/her roll number on the admit card. In case if the student doesn't have Admit card and has forgotten his/her registration number then he/she need to contact ICAI on its helpline number. The ICAI helpline numbers are mentioned below.
ICAI helpline numbers – 0120 3054, 851, 852, 853, 854 and 835 or 0120 4953, 751, 752, 753 and 754.
---
IPCC Result July 2021 Center-wise
Soon after declaring the result for CA IPCC July 2021 attempt, ICAI will release CA IPCC center-wise or region wise result. The link given below will be active once the organization will officially release the region-wise result out.
Western Zone
Southern Zone
Eastern Zone
Central Zone
Northern Zone
Overseas
---
---
CA IPCC Statement of Marks
Statement of Marks will be sent to the students through the post soon after the declaration of ICAI CA IPCC result. However, in case the student do not receive the same within 4-5 weeks from the date of declaration of IPCC results, you may write to [email protected]
If a student clear IPCC July 2021 exams in one attempt with 70% total for all papers will find the statement of marks mentioning that the student cleared the exam with distinction.
---
Pass Certificate After CA IPCC Result July 2021
A pass certificate will be issued to the students who clear both the groups of IPCC July 2021 Examination either together or group-wise within 60 days of the date of declaration of the result. However, in case the students do not receive the same for any reason within 8 weeks from the date of declaration of the IPCC July 2021 result then the students may write to [email protected]
A student who passes group 1, as well as group 2 exams of IPCC July 2021, will be qualified for CA Final. After clearing IPCC, the Institute of Chartered Accountants of India will issue the pass certificate to all the passed students that will reach you on your registered address within 2 months of the result announcement.
---
CA IPCC July 2021 Rank Certificate/Merit List
If you clear the July 2021 IPCC exam in one sitting with a minimum 55% aggregate marks and you obtain any of the 50 All India Ranks then you will receive a rank certificate from ICAI by post. However, Top 3 holders will receive their rank certificate from ICAI President during ICAI annual day function in February.
The Process to Check IPCC Merit List July 2021
1. First, visit the ICAI result page (link mentioned above)
2. Now you can see "Intermediate (IPC) (Old) Examination" under "CHECK MERIT LIST", click on it.
3. Enter your roll number/ registration number and captcha code here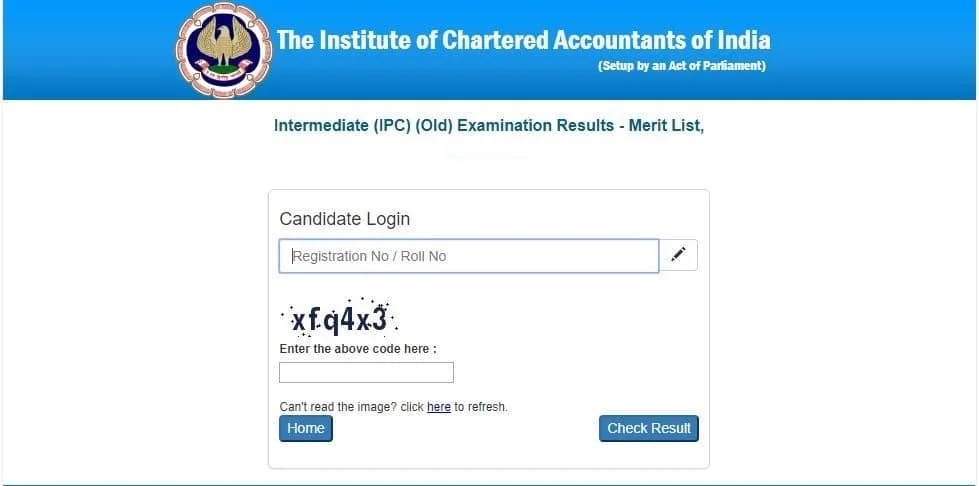 4. Now this click on "Check Result"
5. After this IPCC merit list for July 2021 exams will appear on your screen.
---
Inspection of Certified Copies
The students who are not satisfied with their IPCC result, can apply for the Inspection of evaluated answer sheets online only, the physical application is not acceptable.
Those who have applied for the Inspection need not apply for the verification as before dispatching your certified answer sheets, verification is carried out by examinees Suo moto.
Follow the below mention steps to apply for the inspection online –
Land on the ICAI official site www.icaiexam.icai.org.
There you have to log in to your account through your user id and password.
There you will have to fill the requisite information including the selection of certified copies for inspection.
You need to upload a scanned copy of your handwritten request duly signed by the candidate and in case you are a Hindi Medium student then the application must be in Hindi only.
If any discrepancy arises between the papers mentioned in the scanned image and those mentioned in the form, a latter will prevail. You can make the corrections in the application before making the payment.
The payment can be made through Net Banking, Credit card, Debit card (Master/ Visa/ Maestro/ Rupay).
After the successful payment, a confirmation page will appear on your screen showing the details you have mentioned in the form. But remember that your application will get successfully submitted only Control Number is correctly appearing which is not zero or null.
You are advised to keep a print out of this confirmation page which will work as acknowledgment.
Institute endeavors to provide you the certified copies within 30 days from the receipt of application at ICAI which must be completed in all respect.
Candidates have to make a payment of Rs 500/- per copy for the number of copies applied for inspection. Fees will not be refunded in any situation.
In some circumstances, students are not satisfied with the evaluation of their answer sheet or the marks awarded but still, they cannot apply for the revaluation as it is not permitted under the CA Regulations 1988.
---
Revaluation Verification of Marks
Revaluation of IPCC July 2021 Answer Book is not permitted under the Chartered Accountants Regulations, 1988. So if students are unsatisfied with IPCC July 2021 result, they can go for verification of marks.
Read all the instruction carefully about Verification on marks
Verification of Marks
Once the result will be published you will have one month of time in hand to apply for verification of marks, according to ICAI guidelines. Now:
What exactly happens under verification of marks
The Process includes checking:
Any unchecked question.
Totaling Error in any question or on the cover page.
What is the procedure for Verification of Marks in IPCC July 2021
ICAI open their verification portal where students can apply for verification of marks. Students have one month to apply for verification of their answer sheet. In case there is change in your result after verification the fee will be refunded by ICAI.
Applications after the final date will be rejected. follow the steps while applying for verification.
The verification process for IPCC July 2021 is completely online. 
Log in to your student dashboard using your User ID and Password.
From the dashboard find the link to Apply for Verification of answer books.
Upload a scanned copy of your handwritten verification request.
Into your handwritten Application form do mention all of the following details

Name
Registration Number
Exam –  IPCC
Month and Year of exam
Paper/s subject/s details  you want revaluation
Address for communication

At last sign the application form.
Now scan the application form as a jpg file with size limit 8-200 kb
Now open the ICAI Exam website. You will find the link there.
Fill the details as instructed on the website and upload your handwritten application form
You need to select subjects for verification while applying through the online portal. The subject you will select will be considered for verification, not the subjects you mentioned in your application form.
The payment will be made online through Master/Visa/Maestro Credit/Debit Card. 

The verification fee is Rs 100/- per papers and Rs 400/- for all the papers of a group or both the groups
After successful payment, you will see the screen shown below. Take a print out of it to keep a record.
 In a case of money deducted and failed transaction, your amount will be back in your account within 45 days after the closing of the window.

The application will take around 1-2 months for processing. You will be revert back by ICAI about your request. You can also check status of your request online on ICAI official exam website.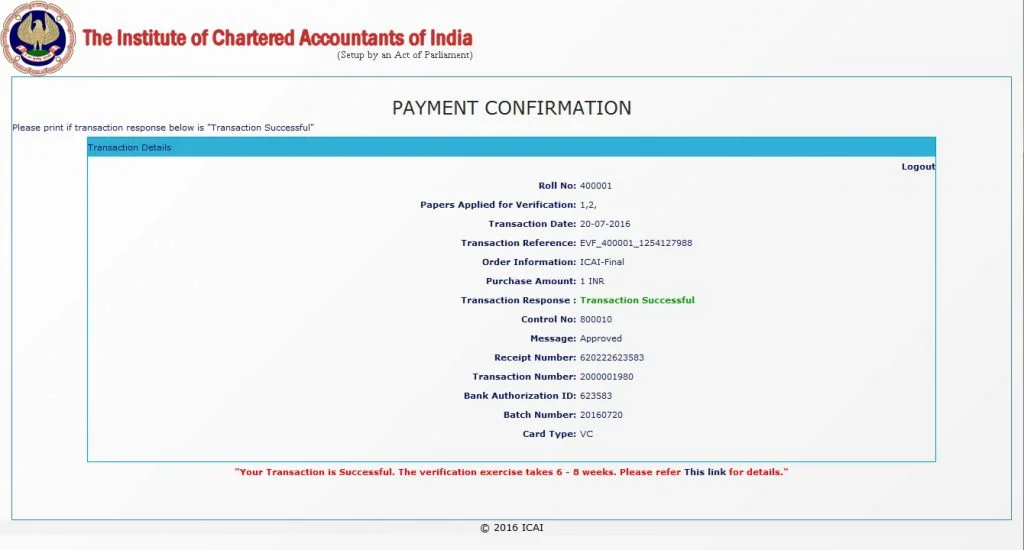 ---
ICAI CA IPCC July 2021 Verification Result
Once a candidate application for verification of marks is received by the institute, It usually takes 6-8 weeks for Verification results to come. Students can quickly check their July 2021 verification result online on http://icaiexam.icai.org.
In case of any changes in marks after verification, ICAI will send a revised statement of marks on the registered address. However, there will be no communication from the Institute if the marks remain unchanged after the verification result. In this case, the student has to see it online.
---
Reasons for Withholding of CA IPCC July 2021 Result
Reason for the withholding of result is mentioned below:
Eligibility of a student is in doubt and could not raise sufficient satisfactory evidence on time.
Candidates who indulge in unfair means is also liable to be withheld.
---
Pass Percentage of July 2021
The pass percentage of CA IPCC July 2021 examination has been declared by ICAI along with the result. Check the details below.
| Group | Appeared | Pass | Pass % |
| --- | --- | --- | --- |
| Group I | 8873 | 385 | 4.34% |
| Group II | 26413 | 7957 | 30.13% |
| Both Group | 3798 | 25 | 0.66% |
You can also check the pass percentage of Jan 2021 examination below.
Pass Percentage of Jan 2021
| Group | Appeared | Passed | Pass % |
| --- | --- | --- | --- |
| Group 1 | 8215 | 420 | 5.11% |
| Group 2 | 19807 | 1575 | 7.95% |
| Both Groups | 3749 | 14 | 0.37% |
You can visit this page of CA IPCC pass percentage, to know the data of past 10 years.
---
Toppers of CA IPCC July 2021 Exam
The toppers list is released by ICAI after the result declaration. You can see the toppers list from our website. 
| Particulars | AIR I |
| --- | --- |
| Name | Priti Nandan Kamat |
| City | Mumbai |
| Marks | 388/800 |
| Percentage | 55.43% |
---
FAQs Regarding CA IPCC July 2021 Result
Ques 1. How to check CA IPCC name-wise exam results?
Ans. Every candidate wants to know name-wise results but ICAI will not provide the results name-wise and if ICAI will provide name-wise results of the CA IPCC July 2021 exams we will update you. We suggest every candidate that not to search for name-wise. Best of luck for your CA IPCC July 2021 Results.
Ques 2. When IPCC result will be declared?
Ans. CA IPCC result of July 2021 is out on 19th September, 2021. 
Ques 3. I forget my login credentials, what to do?
Ans. If you forget your roll number or registration number, then you can check your admit card. Another way is to call the ICAI helpline number.
---
What After IPCC
After clearing IPCC exams you can register yourself for 3 years of CA Articleship Practical training. You can apply for Practical training after clearing single of both groups of IPCC however to apply for CA Final registration you have to clear both groups of IPCC. After clearing both groups of CA Final you will become a member of the Institute of Chartered Accountants of India.
---
People Also Read:-
ICAI CA IPCC Previous Years Papers
How to select coaching for IPCC Preparation