CA Intermediate Advanced Accounting: Classes, Syllabus, Papers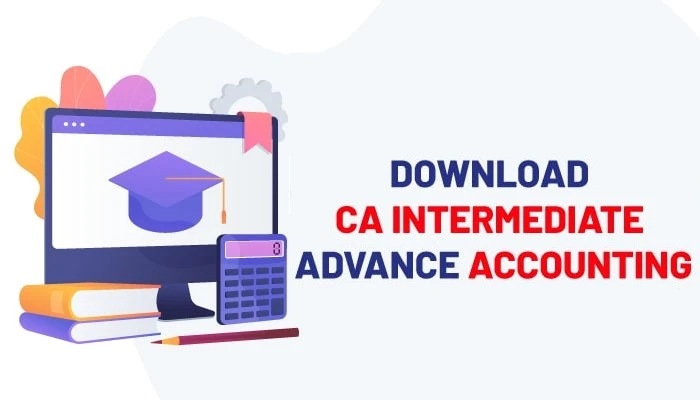 Advanced Accounting is paper 5 of the CA Intermediate course. This subject will teach students how to resolve the accounting issues of unique business entities. It also helps students to develop skills to understand the different financial treatments of NBFC and banks.
If students understand the CA Inter Advanced Accounting syllabus, it will become easier for them to solve the complex problems related to account statements. Hence it is crucial to focus on this subject from day one and practise questions regularly.
In this article, we'll provide you with the complete compiler for the CA Intermediate paper 5, including the latest syllabus, study material, marks weightage, previous year's question papers and mock test papers of Advanced accounting. We have also mentioned the VSI coaching classes details of CA Inter Advanced Accounting.
The CA Inter May 2023 date sheet is out now. And according to the date sheet, the paper for CA Intermediate Advanced Accounting will conduct on May 12, 2023.
VSI provided the best online to prepare for intermediate exams. You can also download our Pendrive classes at the most competitive prices.
Check out the complete details of CA intermediate admit card 2023
---

---
CA Intermediate Advanced Accounting Coaching Classes
If you are looking for the best CA Intermediate Advanced Accounting offline or online classes, then you can join VSI Jaipur. VSI offers the best CA Intermediate coaching classes for Advanced Accounting by well-qualified and experienced teachers known for their best results.
You can also apply for CA Intermediate Advanced Accounting Online at pocket-friendly prices. Online classes are the best way to save a lot of time in your day, by saving travelling time to a coaching institute, the additional time that students take out to talk to friends, and in many other ways.
Click on the link below to watch the demo lecture for the CA Inter Advanced Accounting subject.
---
CA Intermediate Advanced Accounting Syllabus
You require to see your CA Intermediate Advanced Accounting syllabus thoroughly to acknowledge any new updation or revision in accounting standards.
Click here for the CA Intermediate Advanced Accounting syllabus
---
Marking Scheme & Exam Pattern of CA Inter Paper 5
CA Intermediate Advanced Accounting paper is under the 30:70 assessment pattern. So 30 marks questions will be MCQ based and 70 marks will be subjective.
The marking scheme for the CA Intermediate paper 5 is as follows:
The Question Paper will be in two separates – Part I and Part II.
Part I will be for 30 marks MCQ types and Part II will be of the descriptive type for 70 marks.
You need to complete part I on OMR Sheet and Part II on the descriptive answer sheet.
Part II will comprise 5 questions from which Question no.1 is compulsory and any 3 questions you can do.
The duration of the exam will be of 3 hrs, you need to manage your time accordingly.
Submit it on time to the invigilator.
Write answers in the language you have opted for while filling out the CA Inter exam form.
Check the CA Intermediate exam pattern for the Nov 2023 exams.
---
---
CA Inter Advanced Accounting Chapter-wise Weightage
The below table mentions the CA Inter Advanced Accounting chapter-wise weightage for the 2023 exams:
Chapter
Topics

Weightage

Chapter 1

Accounting Standards (AS – 7, 9, 14, 18, 19, 20, 24, 26, 29)
Application of Guidance Notes on specified accounting aspects.

20%-26%
Chapter 2-3

Special aspects of company accounts (ESOP, buyback, Underwriting)
Reorganisation of companies (Amalgamation, reconstruction and Liquidation)

33%-38%
Chapter 4
Financial Reporting of Banking, Financial Services and Insurance (BFSI) (Insurance co, Banking Co, Non Banking Co, Mutual Funds).
12%-16%
Chapter 5-6

Consolidated Financial Statements
Dissolution of Partnership

25%-30%
---
CA Intermediate Advanced Accounting Study Material 2023
ICAI Study Material is the best study material to help CA students clear their exams and get good CA Intermediate results. They are sufficient by themselves and students need not buy any more books after that. Although, the language is a bit complicated but the teachers will help the students to understand it and improve their aptitude.
Check below the ICAI CA Inter Advanced Accounting study material for 2023:
Module-1
Module-2
Module-3
Check the complete CA Intermediate study material for all the subjects for the Nov 2023 exams.
---
Previous Year Question Papers with Suggested Answers for ICAI Inter Paper 5
CA Intermediate is the second level of exam for cracking CA. The result of the Intermediate exams is very tough and gives a pass percentage of only 20% and so. If you want to score a good rank, then solving last year's question papers is the best way to know your level of preparation for the CA Intermediate Advanced Accounting paper. Along with that you also need to check the suggested answer sheet so you can develop the writing skill of giving the answer in the same format as prescribed by ICAI.
---
CA Intermediate Advanced Accounting Mock Test Papers for 2023
Mock test papers are mocking or imagining the exams. It is exactly like the day when you will give your real exams. VSI schedules such mock tests in intervals to keep our students well-prepared for the students. ICAI also scheduled such mock tests before exams. It is important to appear for such mock tests as you may get an idea about exam patterns and also about the updated syllabus. Practising ICAI mock test papers, and model question papers will help you in your upcoming CA Intermediate exam. You can download the CA Intermediate Mock Test Papers of Advanced Accounting from here.
Series 1:
Series 2:
Related Post – Importance of CA Intermediate Mock Tests

Download CA Intermediate question papers to prepare for Nov 2023 exams.
CA Intermediate Advanced Accounting RTP for 2023
If you want to succeed in CA Intermediate 2023 exams, It is important to revise all the subjects. RC Sharma always requests students to keep Practicing the ICAI Question paper with suggested answers. Watch the video to get an overview of the best study plan for Intermediate exams.
Download RTP for both Hindi and English medium students.
---
CA Intermediate Advanced Accounting Tips and Tricks
Advanced Accounting is an easy subject. Students should prepare well for this exam as it will help them in maintaining their aggregate score.
Here are a few tips and tricks students can follow while studying for an Advanced Accounting paper.
Better to make a study plan for the entire syllabus of CA Intermediate Advanced Accounting and fix the timetable to you.
You should try to adjust your timings for separate subjects such as numerical-based papers and detailed type papers.
You should make notes of chapters to understand the contents and arrangement of various topics & sub-topics.
Do the self-questioning while revising various topics.
Try to answer in the same details format as suggested in ICAI prescribed Answer sheets.
---
About CA Intermediate
CA course is divided into 3 parts and the 2nd part is the CA Intermediate Course. Intermediate is the second level of the CA course. You are eligible for this level after completing the foundation level or through a direct entry scheme after completing your graduation level exams.
CA Intermediate Syllabus has eight papers divided into two groups. Paper 5 Advance accounting is in the second group and is one of the most lucrative papers to gain good marks or exemption. Read this to score exemption in the second group papers.
VSI gives the best CA coaching to prepare for all papers. With the mock test paper series and continuous revision, students become comfortable with the subject and can score good marks.
---