Download ICAI Admit Card of CA Final December 2021
Attention Students!! ICAI has issued the admit card of the CA final exam for December 2021 for both old and new schemes candidates appearing for the December 2021 examinations this year. Students can download the admit card of the CA final from the link given on this page. CA final exam will start soon.
Students appearing for the exam have to carry CA final admit cards in printed format. Also, along with the admit card of CA final 2021, a valid id proof and stamp size photo is also needed.
Students shall note that no physical admit cards will be sent by the ICAI. You can only download CA final admit cards from the official website of ICAI. Hence are advised to take out its print at least 10 days before the examination to avoid any last moment mischief.
Students should also be careful while downloading the admit cards as the maximum limit to download your admit card is three times. Just a few days are left in your exams and you need to revise the full course before exams. This time you need more and more practice of previous year's question papers and Mock Test Papers.

---
---
Important Dates of CA Final December 2021 Exams
Admit Card of CA Final
Dates (For December)
Release of admit card of CA Final
TBA
CA Final exam date Old
Group -I: 5th, 7th, 9th & 11th December 2021
Group -II: 13th, 15th, 17th & 19th December 2021
CA Final exam date New
Group -I: 5th, 7th, 9th & 11th December 2021
Group -II: 13th, 15th, 17th & 19th December 2021
ICAI CA Final December 2021- Advisory Against Fake News
Here are some of the very important points from the advisory that the aspirants should note:
CA exam will start soon.
ICAI will be conducting the exam as per the guidelines provided by the Govt of India.
The conducting body is making sure that the safety of the students is a priority during the exam.
Do not believe fake information circulated on social media. To know any detail go to the official website.
Those who are spreading fake news should note that ICAI is considering taking action against it.
Students are requested to report the fake message to ICAI.
Eligibility Criteria for ICAI admit card of CA Final Dec 2021-
For students who want to download to download Admit Card of the CA final for December 2021, it is important for students to fill the CA Final Application Form for the Dec 2021 examination which is released in the month of Dec 2021.
Only those students who have submitted the CA Final Examination form for the Dec 2021 attempt with requisite fees are only eligible for downloading the admit card of the CA final Dec 2021.
How to Download CA Final Admit Card Dec 2021 in PDF Format
Click on this link after reading the complete instructions. It will land you directly on the ICAI official portal from where you can download your admit cards for Dec 2021 Examination.
Now, you have to log in to your dashboard.
After logging in to your account, you will get a link to download your admit card. Click on such a link.

It will show your name, CRO Number, Exam, and the downloading number as max three times you can download your admit card.
Click on the continue button to open your admit card.
When your admit card gets displayed on the screen, save it on your desktop and get its print.
Check the Information Appearing on the Admit Card of CA Final Dec 2021
You admit card of CA final will contain the below-given information. If any of the given information is false, then contact ICAI on its helpline number given at the end of this article.
Name of the Candidate
Father's Name of the Candidate
Candidate's Roll Number
Candidate's Registration Number
Groups appearing for
Medium for writing paper
Centre of Exam
Date of CA Final Exams
Photograph and Signature of Candidate
Important Instructions
How to Download Admit Card of CA Final Dec 2021 if Forgot Password?
For downloading CA Final Admit Card, students need to log in to their ICAI student account, login requires the student's Registration Number and Password if any student forgets their password while login, they can follow the below-mentioned CA final admit card download procedure.
Step1-  Visit ICAI official Website, go to the login tab, and click on "Forgot Password"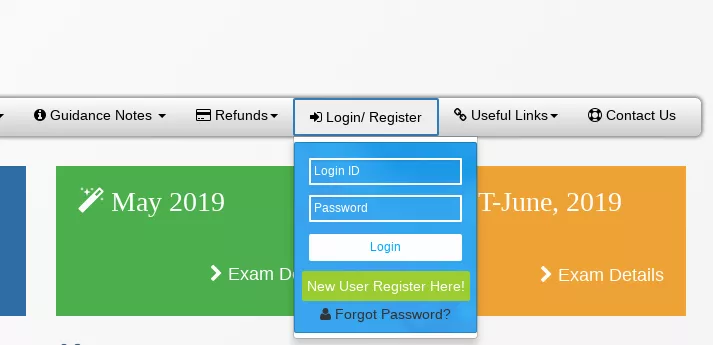 Step2- After clicking, you will be given three options to recover your Password

Option 1- Recover your password via Email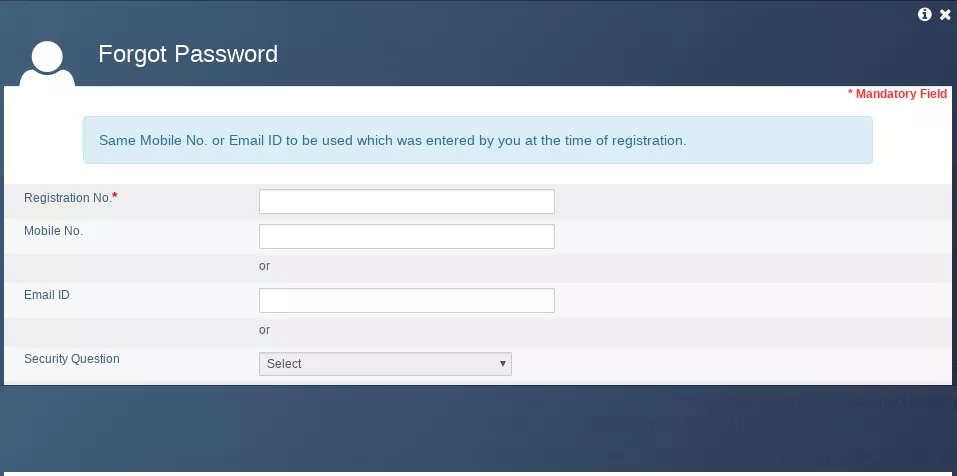 Option 2- Recover your password using your CA Final Registration Number, Date of Birth and Security Question and Answer

Option 3- Recover your password using your CA Final Registration Number,Bar Code and PIN.

Step 3- Select any of the three options and submit it.
Document required to Carry in Exam Hall?
Students need to carry below-mentioned things to enter the CA Final Examination Hall
CA final admit card Dec 2021
An Identity Card Issue by Govt. such as Adhar Card, Voter Id Card, etc
CA Final Admit Card should be attested by Chartered Accountant(if signature or photograph is missing in the Admit Card of CA Final)
Two passport size photographs (to be attached on the attendance register for candidates whose photograph/ signature is missing from the admit card)
Photograph and/or Signature Missing from the ICAI Admit Card of CA Final 
If a photo or signature is missing from the ICAI CA final admit card Dec 2021 then aspirants should not get worried. The admit card of the CA final is still valid. Aspirants need to do is paste a photo and do a signature in the provided space. Then, they need to get the admit card attested by a member of the Institute. While getting it attested, aspirants must ensure that the following is mentioned by the person attesting it, at the bottom of the page:
Name
Membership number
Office stamp
Sign / attesting
Aspirants have to carry the attested copy of the admit card at the center, as proof of identity.  Aspirants have to copy a  duplicate copy of it as well because the original copy will be kept by the authorities.
Issued someone else's ICAI admit card/details are incorrect/unable to print CA final admit card 2021
For the issues mentioned above, aspirants need to inform the ICAI. Aspirants can call or email ICAI for the same. For the following issues, aspirants need to provide the following information to the ICAI:
Registration number.
Bar code number of the exam form.
Receipt number, as issued by the regional office.
The Center opted for the zone.
Telephone number.
Fax number, etc.
Wrong Medium or Center is Appearing on the Admit Card –
In case you have opted for the wrong medium while filling the CA Final application form for Dec 2021 Examinations, you can change it through the correction window facility made available by ICAI. Corrections made through the first window is available for free, but it does not open till the issuance of admit card.
Therefore, you are required to make corrections through the second window only. Here, you can change the center and medium by making the payment of Rs 1000/-.
ICAI Helpline Email Ids –
Helpline Telephone No. –
0120 3054 851, 852, 853, 854 and 835.
0120 4953 751, 752, 753 and 754.
Admit Card of CA Final- If Valid Exemption not Visible
Aspirants who have a valid exemption for ca final exam will not receive any information regarding the same in the CA Final admit card 2021. To check it, aspirants have to check the statement of marks. If there is an Alphabet "E" printed against the marks of the paper indicates that marks for that particular paper have been brought forward from an exemption granted in that paper in the earlier attempt.
A "#" symbolizes that the aspirants have been granted exemption in that paper and it will be valid for the next 3 following exams.
Exam Pattern for CA Final 2021
Check the latest and updated CA final exam pattern for 2021.
Types of questions: objective and descriptive types of questions are there in exams.
Medium to answer: choose one either English or Hindi
Marking scheme: No marking scheme is there.
Total marks: The final exam is 800 marks in total.
Paper-wise Weightage 
Groups
Paper Names
Marks per paper
Total
Group 1
1. Financial Reporting

2. Strategic Financial Management

3. Advanced Auditing & Professional Ethics

4. Corporate & Allied Laws

100

100

100

100

400
Group 2
1. Advanced Management Accounting

2. Elective Paper

3. Direct Tax Laws

4. Indirect Tax Laws

100

100

100

100

400
CA Final Dec 2021 Exam Centres
| | | |
| --- | --- | --- |
| AGRA | AHMEDNAGAR | AHMEDABAD |
| AJMER | ALAPPUZHA | AKOLA |
| ALIGARH | ALWAR | ALLAHABAD (PRAYAGRAJ) |
| AMBALA | AMRAVATI | AMBIKAPUR* (CHHATTISGARH) |
| AMRITSAR | ANANTAPUR | ANAND |
| ASANSOL | BADLAPUR | AURANGABAD |
| BAHADURGARH | BANSWARA | BALOTRA* |
| BAREILLY | BEAWAR | BATHINDA |
| BEED | BELLARY | BELGAUM |
| BENGALURU | BHAGALPUR | BERHAMPORE (ODISHA) |
| BHARATPUR | BHAVNAGAR | BHARUCH |
| BHILWARA | BHIWANI | BHIWANDI |
| BHOPAL | BHUJ | BHUBANESWAR |
| BIKANER | BULANDSHAHR | BILASPUR |
| BURHANPUR | CHANDRAPUR | CHANDIGARH |
| CHENNAI | CHITTORGARH | CHHINDWARA |
| CHURU | CUTTACK | COIMBATORE |
| DARBHANGA | DEHRADUN | DAVANGERE |
| DELHI / NEW DELHI | DHULE | DHANBAD |
| DIBRUGARH | DURGAPUR | DURG |
| ELURU | ERODE | ERNAKULAM |
| FARIDABAD | FIROZABAD | FATEHABAD |
| GANDHIDHAM | GHAZIABAD | GANDHINAGAR |
| GONDIA | GUNTUR | GORAKHPUR |
| GURGAON | GWALIOR | GUWAHATI |
| HALDWANI | HISAR | HARIDWAR |
| HUBLI | ICHALKARANJI | HYDERABAD |
| INDORE | JAIPUR | JABALPUR |
| JALANDHAR | JALNA | JALGAON |
| JAMMU | JAMSHEDPUR | JAMNAGAR |
| JHANSI | JHUNJHUNU | JHARSUGUDA |
| JIND | JUNAGADH | JODHPUR |
| KADAPA | KAKINADA | KAITHAL |
| KALABURGI* (GULBARGA) | KANNUR | KANCHEEPURAM |
| KANPUR | KARNAL | KARIMNAGAR |
| KISHANGARH | KOLKATA | KOLHAPUR |
| KOLLAM | KOTTAYAM | KOTA |
| KOZHIKODE | KURNOOL | KUMBAKONAM |
| KURUKSHETRA | LUCKNOW | LATUR |
| LUDHIANA | MALAPPURAM | MADURAI |
| MANDSAUR | MAPUSA (GOA) | MANGALORE |
| MARGAO (GOA) | MEERUT | MATHURA |
| MORADABAD | MUZAFFARNAGAR | MUMBAI |
| MUZAFFARPUR | NAGPUR | MYSORE |
| NANDED | NAVI MUMBAI | NASHIK |
| NAVSARI | NELLORE | NEEMUCH |
| NIZAMABAD | ONGOLE | NOIDA |
| PALAKKAD | PALI MARWAR | PALGHAR |
| PANIPAT | PARBHANI | PANVEL |
| PATIALA | PIMPRI-CHINCHWAD | PATNA |
| PONDICHERRY | PUNE | PORT BLAIR* |
| RAIGARH* (CHHATTISGARH) | RAJAMAHENDRAVARAM | RAIPUR |
| RAJKOT | RANIGANJ | RANCHI |
| RATLAM | REWA | RATNAGIRI |
| REWARI | ROURKELA | ROHTAK |
| SAHARANPUR | SAMBALPUR | SALEM |
| SANGLI | SATARA | SANGRUR |
| SATNA | SHIMOGA | SHIMLA |
| SIKAR | SIROHI | SILIGURI |
| SIRSA | SOLAPUR | SIVAKASI |
| SONEPAT | SRINAGAR | SRI GANGANAGAR |
| SURAT | THANE | SURENDRANAGAR |
| THIRUVANANTHAPURAM | TINSUKIA | THRISSUR |
| TIRUCHIRAPALLI | TIRUPATI | TIRUNELVELI |
| TIRUPUR | UDAIPUR | TUTICORIN |
| UDUPI | VADODARA | UJJAIN |
| VAPI | VASAI | VARANASI |
| VELLORE | VISAKHAPATNAM | VIJAYAWADA |
| WARANGAL | YAVATMAL | YAMUNA NAGAR |
What after CA Final Admit Card Dec 2021
After downloading CA Final Admit Card, students will have only two three weeks left for their CA Final Exams, so at this time, they should start solving CA Final Mock Test Papers, Revision Test Paper, and CA Final Previous Year Papers, so that they can get an idea of what type of questions will be asked in CA Final Exams and how should they present the answer which will help them to prepare well for their CA Final exams.
About CA Final Course
CA Final is the Last and Final Stage in Chartered Accountancy Course. It is conducted by ICAI  twice a year, in May or December. It consists of Two Groups and Each Group has Four Subjects. CA Final has both theoretical as well as practical subjects. Every subject is of 100 marks.
Students minimum requires 40% marks in each subject and an aggregate of 50% marks to clear CA Final Exam. Students can give CA Final Exams either in both groups together or separately. Read about the necessary details of CA Final result like the passing criteria, marking scheme, etc.
Faqs relating to CA Final Admit Card Dec 2021
Ques1- Will Admit Card of CA Final available in Offline Mode? 
Ans1-   No ICAI will not send CA Final Admit Cards offline or personally to any student, students need to download their Admit Card Online.
Ques2- What if I lose my CA Final Admit Card?
Ans 2- Students are allowed to download Admit Cards thrice. So students need to download it carefully, save it for future reference and take out 2-3 printouts of it.
Ques3- I forgot to upload my Photograph in my Exam Form, can I send it to ICAI now?
Yes, you can send it to ICAI before the CA Final Admit Card is Published. After that, you need to contact ICAI Helpline Number.
Ques 4- What documents are required to carry to the exam hall along with Admit Card?
Ans 4-  Students need to carry a Govt issued identity card with their CA Final Admit Card.
Ques 5- What is ICAI Helpline Number?
Ans 5-  ICAI Helpline Number- 0120 3054 851, 852, 853, 854 and 835. 0120 4953 751, 752, 753 and 754.
Ques 6- Which  Type of printout I need to carry: the black and white printout or the colored one?
Ans 6- The candidate can carry both the printouts in the exam hall.
Ques 7- Is there any exam day guideline available in India?
Ans7- Yes, the exam day guidelines are available in India. This includes the reaching time on center, materials which are prohibited in the exam hall, following COVID-19 appropriate behavior, etc.
Ques8- Are the centers following the Covid- 19 guidelines for conducting exams?
Ans 8 – Yes, the centers follow the guidelines, and also proper sanitization is done after every exam.
Ques9 – Is there is any opt-out scheme for the candidates who are suffering from Corona?
Ans 9- Yes, the candidates who are not well due to corona or having symptoms of this, can opt-out for an exam from this attempt.
In case, students feel any difficulty in downloading the admit cards or after downloading any issue arise, then feel free to ask such from our experts. You can drop your query in the comment box given below.