Are you nervous that your class 12th board exams are near and you have not started studying yet? Don't worry; you still have 1-2 months. In this article, VSI Jaipur will share with you the actionable study tips to complete the class 12 syllabus in 1 month and score 90% marks in the boards.
Time management, a study plan, and the proper guidance are all you need to prepare for the 12 board exams and get a good class 12th result. So, let's start with the tips.
---

---
Tips to Complete Class 12 Syllabus in 1 Month & Score 90%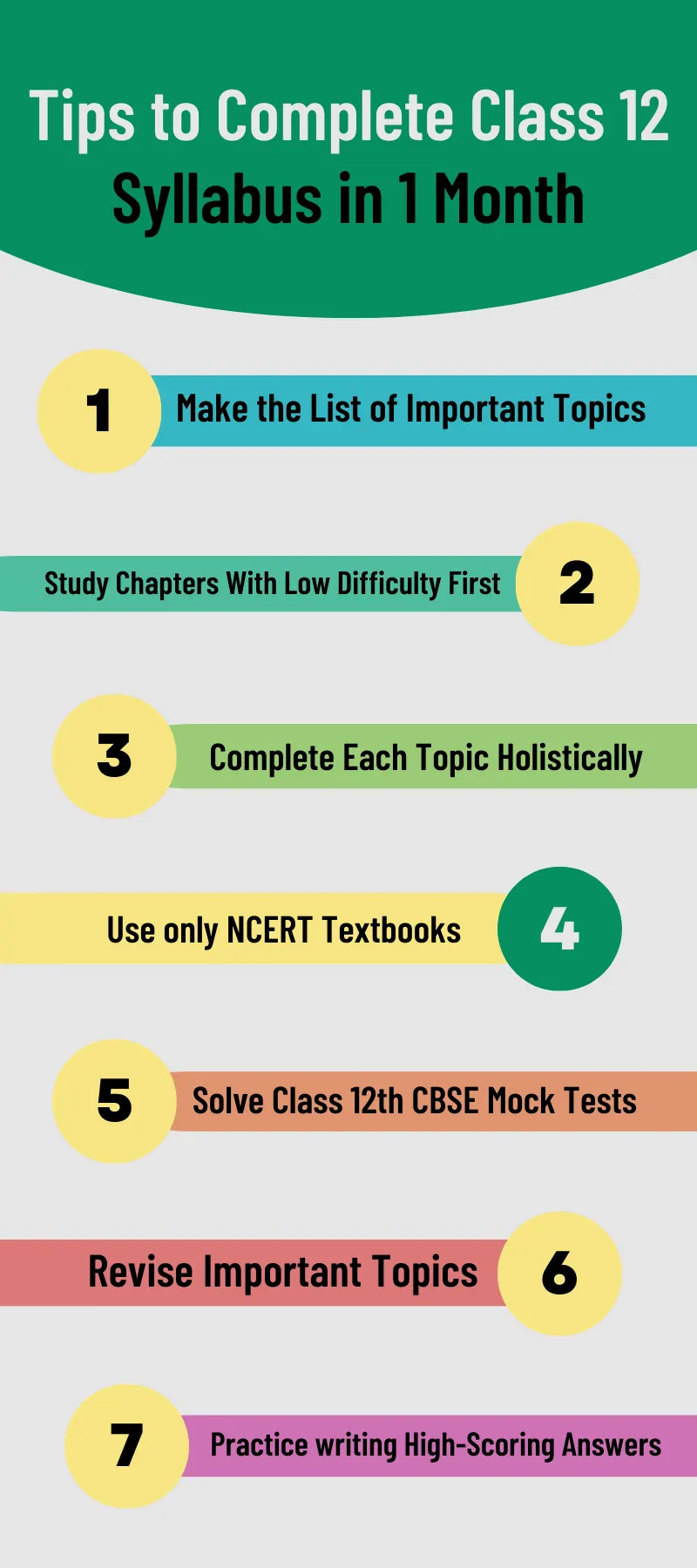 1. Make the List of Important Topics
Take the class 12 syllabus and marking scheme, and see the topics with more weightage in the exams. As you are left with very less time, so make a list of those topics that are easy to study and cover high weightage in the exams. Furthermore, you can also include frequent topics and those topics that you have already covered.
2. Study Chapters With Low Difficulty and High Weightage First
After finalising the list of chapters to study, start completing those chapters that are easy to understand and have higher weightage in the exams. You can study the basic chapters to have a clear knowledge base.
Then move on to the topics with low marking weightage and repeat the same process. For example, you are studying Accountancy. You can start your studies with Unit 2, which is 30 marks, and then go for Unit 3, which is 20 marks, then finally do Unit 1, which is 10 marks.
3. Complete Each Topic Holistically
Instead of just reading the class 12 syllabus, try to complete them holistically. Learn the concept, see its practical application and solve practice questions related to it. One more thing you can do is to check the previous year's question papers and see how the questions are framed from this topic. This way, you'll get an idea about the questions asked and prepare them.
4. Use only NCERT Textbooks for 12th Boards Preparation
When you have only one month left for the Class 12th board exams, you need to narrow down your study material. Read from only the Class 12 NCERT books. Don't use other different refreshers and notes because you have limited time. Students can download the NCERT Class 12th Economics Books pdf from this page.
5. Solve Class 12th CBSE Mock Tests After Syllabus Completion
Instead of using random sample papers available online, use CBSE Sample papers and previous year's question papers for practice. For instance, after completing your accounts syllabus, solve class 12 accountancy sample papers to strengthen your concepts and preparation. Students can find the class 12th commerce sample and question papers of the last 5 years on this page.
6. Revise Important Topics Before the Exams
As you don't have enough time to revise the complete 12th syllabus, so revise only the important topics. You need to manage your preparation time accordingly so that you can give at least 4-5 days for the revisions. Check your mistakes in the mock tests and cover them during revisions. Use self-made notes for revision if possible.
7. Practice writing High-Scoring Answers
Give attention to your answer presentation and try to improve it. Refer to the answer copies of toppers to see their answers' presentation style. You do not have to fill the answer sheets for the sake of it, but write a suitable answer for the questions asked. Avoid using abbreviations and try to make diagrams, tables, and flowcharts where possible. Every subject is unique, so you should follow a subject-wise preparation strategy for learning.
Pro Tip – If you need help from a tutor, then select a dedicated one for every subject. Even if you are learning through online lessons, try to stick to a single teacher for each subject. Listening to multiple teachers can confuse you even more.
---
Study Timetable for Class 12 Syllabus Completion in 1 Month
Class 12th students have five main subjects in their course. You can start by doing one subject and allocate a fixed number of days for each subject. For most students, the subject combination includes:
One language like English, Hindi, or other languages.
Three main subjects Accountancy, Maths, Economics, Physics, Chemistry, Biology, etc.
One extra subject that is easy and takes less time, like Entrepreneurship, Physical Education, Fine Arts, etc.
Below is a suggested study timetable that you can implement for your studies, though you can change the order of subjects and customize it according to yourself.
| | |
| --- | --- |
| Subject | No. of days |
| Subject 1 | 2-3 |
| Subject 2 | 5-7 |
| Subject 3 | 5-7 |
| Subject 4 | 5-7 |
| Subject 5 | 2-3 |
| Revisions | 5-6 |
If you want to take more than one subject in a day, you can make a different plan accordingly. Just remember that before starting, you must have a detailed plan to ensure effective time management. Revisions are very important, so keep enough time for them in your schedule so that you can have at least one day for each subject.
---
Few More Study Tips for Class 12 Students
Students often get distracted while preparing for board exams and don't know how to complete the 12th syllabus in 1 month. So here we have shared some essential study tips for class 12 exam preparation which will help you to get a positive class 12th result.
1. Avoid Distractions
Mobile phones, social media, television, and such things can break your focus from your studies, so avoid these things while you are preparing for the exams.
2. Plan your Studies
Before starting preparation, you must have a detailed timetable that covers all the subjects and your revisions.
3. Solve CBSE Sample Papers
Instead of using random sample papers available online, use CBSE Sample papers and previous year's question papers for practice. Check the class 12 accountancy sample papers.
4. Stay Healthy
Take proper care of your health because over-exerting yourself can deteriorate your health. You will end up wasting a few days being sick and recovering instead of utilizing time.
5. Stay Focused while Studying
Make the best utilization of your study time by improving your concentration. Quality matters than quantity apply here as well. Don't focus on the number of hours; focus on the topics you have read and how well you understood them.
---
2 Study Techniques For Effective Class 12th Preparation
1. Pomodoro technique
You must've heard of studying for a short period and taking a 5 minutes break. This method is called the Pomodoro technique. In this method, students have to select a topic and study for 25 minutes. Then take a 5 minute break to relax, and repeat the process. After every 4th cycle, take a 15-30 minutes break. This technique is very effective because the human mind has a short attention span. The short breaks refresh the mind.
2. Feynman technique
This technique is a simple process where you first pick a topic and study it yourself. Then you have to teach the same topic to another person. You can also pretend to teach it to an imaginary audience. While doing so, you will find the gaps where you lacked and were confused about the topic. Go back to the book, and read again to clear the point where you were stuck. This topic is effective because you will try to simplify the topic yourself and understand it easily.
---
Start Preparing from Today!
Now you know how to complete the 12th syllabus in 1 month, don't waste another day. Start making your study plan now and start learning. Keep track of your daily targets, and don't skip them for tomorrow. Use our study tips and techniques for effective time management and studies.
---
Frequently Asked Questions
Q 1. Is one month enough for the 12th board preparation?
The class 12 syllabus is very vast, and to cover it entirely, you will need more than one month. But if you follow a proper study plan, you can cover enough to get average marks in 12th board preparation.
Q 2. How much time does it take to complete the class 12 syllabus?
It will take at least 3 months to cover the entire class 12th syllabus covering all the theory and practical subjects. In addition, you'll also need 15-20 days to revise the complete course.
Q 3. Can I score 90+ marks in the class 12th board exam in 15-20 days?
It is almost impossible to score 90+ marks in class 12th with only 15 or 20 days of preparation. If you aim to score 90+ marks in class 12th board, start your preparation at least 3 months before the exams.
Q 4. How to complete the class 12 syllabus in 15 days?
You can only complete the important topics of the class 12 syllabus in 15 days. So, make a list of important topics that have higher weightage and are frequently asked in the exams. Then, understand those topics for better retention in the exams.