CBSE set the senior secondary level syllabus for class 11th Syllabus. The syllabus is formatted in such a manner that it helps the students to achieve overall growth. According to CBSE, in order to create overall competence among young students, they have structured the syllabus into 2 main segments. Scholastic approach and Co scholastic approach.
The scholastic approach in the syllabus will help the students to have a fundamental understanding of language, and conceptual understanding of subjects like physics, chemistry, accounts, economics, management, biology, history and more. Mainly the subjects which are required in routine schooling.
The co-scholastic approach will emphasize on overall physical and mental development like physical fitness and general awareness. The CBSE has also introduced the project wise assessment to check the students conceptual understanding of all the subjects of science, arts and commerce.
---
Where to get the Updated CBSE 11th Syllabus?
VSI provides CBSE class XIth syllabus of Accounts, Economics, Maths, Physics,Chemistry, English and all the subjects of arts, commerce and science students. The syllabus has been updated by The CBSE recently.
VSI is the best CA institute in India. We help students to prepare for CA exams. CA is one of the most searched professional courses after 12th. We provide exclusive CA coaching for students from class 11th and 12th who want to enrol for CA course after clearing their senior secondary exams in 2024. We provide CA foundation coaching, CA intermediate coaching and CA final coaching Under one roof.
We also provide 11th and 12th std CBSE affiliated study materials, sample papers, previous year question papers with suggested answer sheets for all the subjects of commerce, science and arts Subject like English, Hindi, Marathi, Gujrati, Tamil, Humanities, Economics, Mathematics, Business studies, Physics, Accounts, Chemistry, History and more.
Students can know the CBSE Class 11 date sheet for the 2023-24 session from this link.
---
CBSE XIth Std Syllabus for 2023-24 Session
As you all know, senior secondary comprises 2 classes; class XI and class XII. An 11th class student chooses his subjects which prevails till 12th std. The cbse senior secondary exams comprises 5 compulsory subjects and 1 optional subject. Students prefer to choose the subject of their own choice among the extensive options of the courses. CBSE has also introduced the skillset subjects which will help the students to develop and polish the preliminary skills of their choice.
CBSE 2023 Scheme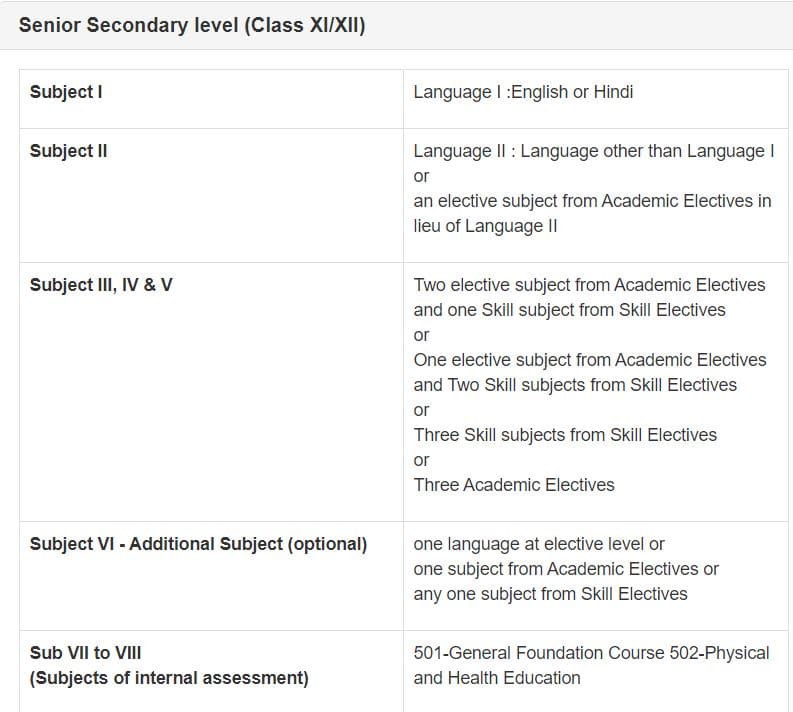 ---
Download CBSE Class XIth Language Group Syllabus 2023-24
To check the RBSE class 11th syllabus 2024, students can check this page.
---
Download CBSE Class 11th Syllabus for Commerce 2023-24 
Check out the detailed CBSE class 11 commerce syllabus for the 2024 board exams.
---
Download the CBSE 11th Syllabus for Science 2023-24
Also Check: Science vs Commerce
---
Download the CBSE Syllabus for Arts 2023-24
---
Download the CBSE Syllabus for the Academics Elective of Group B
---
CBSE Class 11 Syllabus 2023-24 – Important Details
11th standard is one of the most crucial stages in any student's life. This is the phase where students make assertive decisions to unfold their dreams and ambition. The syllabus provided here is updated and is aligned with the CBSE pattern. With thorough focus and regular practise students can complete the syllabus on time.
The students can also take help of other books for more practise on syllabus but we would suggest keeping NCERT books as the base is enough at this level.
---
Students Also Asked
What are the minimum passing marks for CBSE class 11th exam?
Ans. Students must gain at least 33% to pass in all subjects for CBSE class 11th exam 2023-24.

Does CBSE class 11th syllabus vary state wise?
Ans. No, CBSE class 12th syllabus remains the same for all states.

Are you appearing for the CBSE class 11th or12th board exams? Don't miss the Best preparation guide for the class 11th board exams. Also, you can check the CBSE class 12 exam results.

When can I join a CA course?
Ans. CA course eligibility starts after completing class 12th exams from any stream.

Can I Join CA coaching when I am appearing for my 11th std Exams?
Ans. Yes, you can join our institute for foundation coaching, even when you are preparing for the 11th Std exams. This will help you to complete your 11th std commerce syllabus and will also buy more time to study for the toughest course in India.
Explore: Courses after 12th
---
About VSI Jaipur
VSI Jaipur provides the best 11th and 12th commerce classes for Accounts, Maths, BST, and Economics subjects. By taking tuition from VSI, you can build solid concepts and get high grades in your 12th board exams. Further, VSI provides the best CA coaching classes in India and helped thousands of students clear CA exams on the first attempt. Our students scored the ever-highest marks in CA IPCC, Intermediate, and Final exams. Furthermore, our 7 students got AIR 1 in the last 10 years.
So, begin your CA Journey by joining our 11th commerce classes in offline, online or recorded modes (your choice).