---
VSI Study Pattern for CA
Jaipur Centre
Other than Jaipur Centre
Online Classes

(Study at your Home)

Expected Role in CA Results
(i) Classes
Face to face
Video Classes
Video Classes
10%
(ii) Mock Test
Conducted
Conducted
Conducted
40%
(iii) Personalized Guidance
Provided Telephonically
Provided Telephonically
Provided Telephonically
50%
---
VSI fee Structure for Special Batch
CA Intermediate Fees

Both Group
83,000
First Group
45,000
Second Group
45,000
---
VSI Reviews
---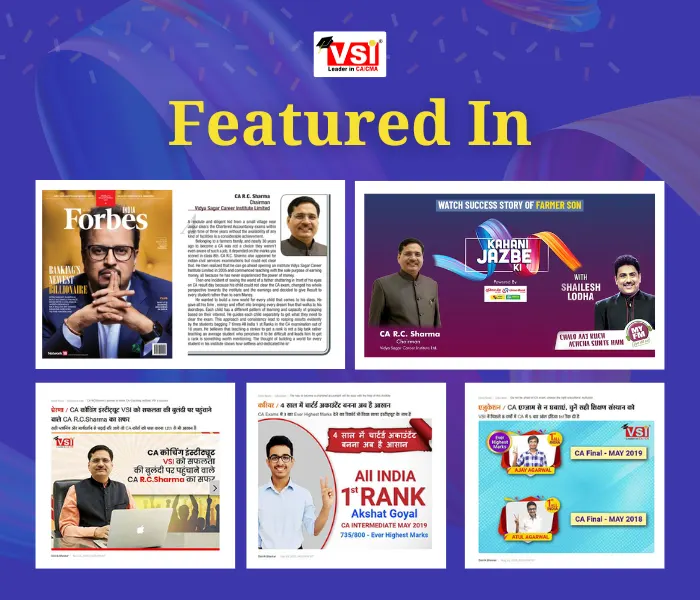 ---
VSI - India's No. 1 CA Coaching Institute
Where All India First Rank is a Tradition

---

---
CA Intermediate Dec 2021 Result of VSI Students
More Than 60 Marks

Accounting
View All Students List

90 Above marks
3 students
80 Above marks
26 students
70 Above marks
93 students
60 Above marks
202 students
Law
View All Students List

80 Above marks
6 students
70 Above marks
40 students
60 Above marks
143 students
Cost & Management
Accounting
View All Students List

90 Above marks
4 students
80 Above marks
22 students
70 Above marks
62 students
60 Above marks
161 students
Taxation
View All Students List

70 Above marks
6 students
60 Above marks
24 students
Advance Accounting
View All Students List

80 Above marks
3 students
70 Above marks
14 students
60 Above marks
60 students
Auditing
View All Students List

70 Above marks
5 students
60 Above marks
17 students
EIS & SM
View All Students List

80 Above marks
1 student
70 Above marks
10 students
60 Above marks
31 students
FM & Economics
View All Students List

80 Above marks
7 students
70 Above marks
23 students
60 Above marks
68 students
---
---
VSI CA Intermediate Result January 2021

---
7 Times All India 1st Rank in Last 10 Years

---
VSI- Where all India 1st Rank is a tradition

---
Your Questions Answered by CA R.C. Sharma
CA Institutes works on 2 models, i.e., Classroom-satisfaction and Result-satisfaction. Unlike most institutes, VSI Jaipur believes in result satisfaction and not classroom enjoyments. This gives the students more time for mock tests and preparation. That's why VSI students Akshat Goyal, Ajay Agarwal, Nikhil Kumar got the ever-highest marks in CA Intermediate, and many others get AIRs. VSI has limited seats so that each student gets enough attention and guidance.
VSI Jaipur has the ever-highest marks in CA Final, CA Intermediate (old and new course). As the VSI teaching model is made after research on 3000 students, it helps them provide personalized guidance to each student based on his interests and capabilities.
VSI Jaipur has the record of ever-highest marks in CA Final, CA Intermediate (old and new course). VSI believes in result satisfaction and not just classroom satisfaction. It helps students in getting enough time for practicing mock test papers and preparation.
VSI's mode of teaching in Special Batches is online, offline, and recorded.
The VSI study Model is divided into 3 parts, i.e., Classes, Mock tests, and Guidance. The only difference in the online and offline batches is in the mode of classes. Mock tests will be conducted simultaneously for both batches, and telephonic guidance will be given to all the students. Our efforts are same for offline or online batches. The CA Intermediate Coaching Fees is Rs. 80,000.
VSI provides 2 types of scholarships. The first one is on the need-basis, provided based on the student's financial situation. The merit-based scholarship is provided to the students based on their Foundation results.
No, VSI does not believe in Rattafication. No student can pass the CA exams with this technique. It is just a rumor spread by others.
For VSI Jaipur, every student is important, and proper attention is given to each of them. That's why it has only limited seats. Moreover, attention and guidance are given based on students' capabilities and interests.
In Classroom satisfaction, the primary focus is on making the class more engaging and fun for the students. On the contrary, VSI believes in result-satisfaction. Therefore the complete focus is given to teaching so that students can get the best results in the exams.
Many institutes claim they are the No. 1 Institute for CA. Hence, students should check the institute's Rank percentage, i.e., how many students got ranked among all of their passed students. Other than that, you should check whether the institutes are claiming some other institutes' rank.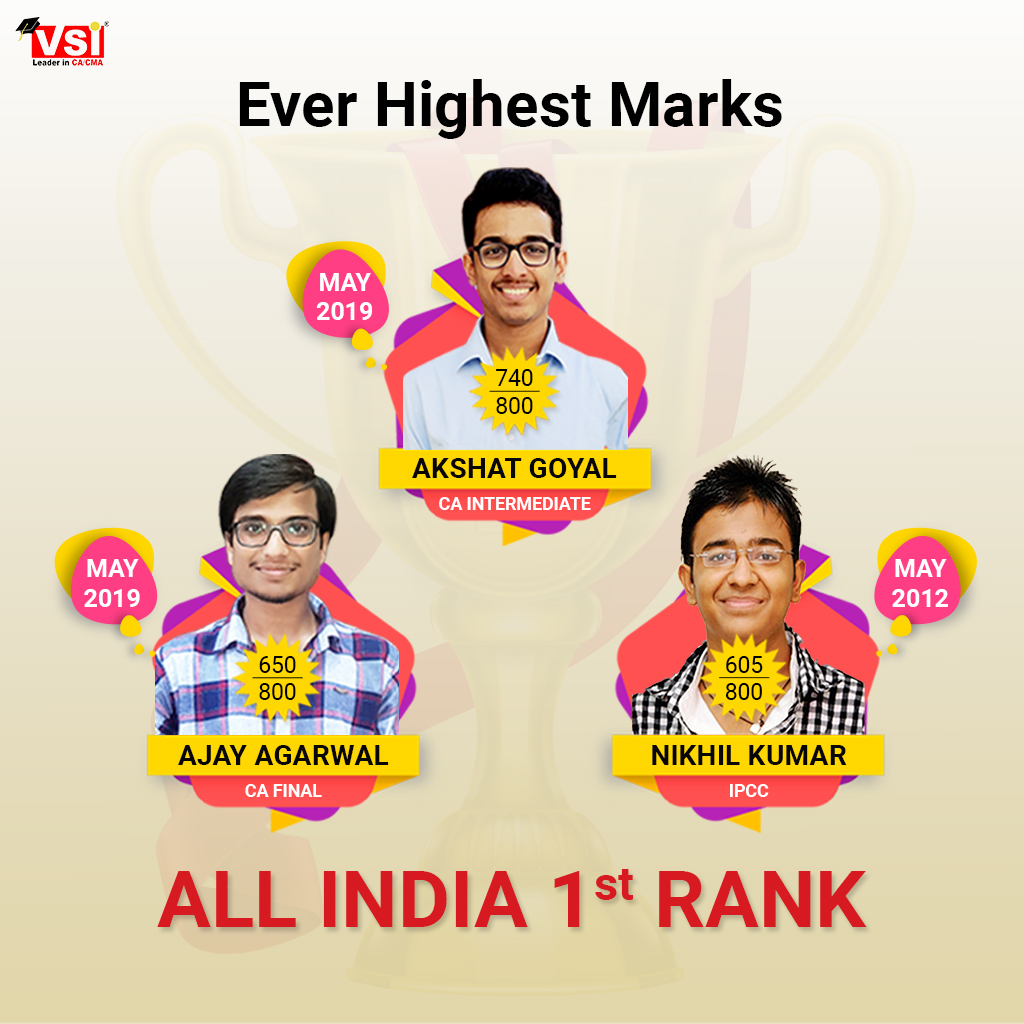 ---
VSI CA Final Result May 2019

---
VSI CA Intermediate Result May 2019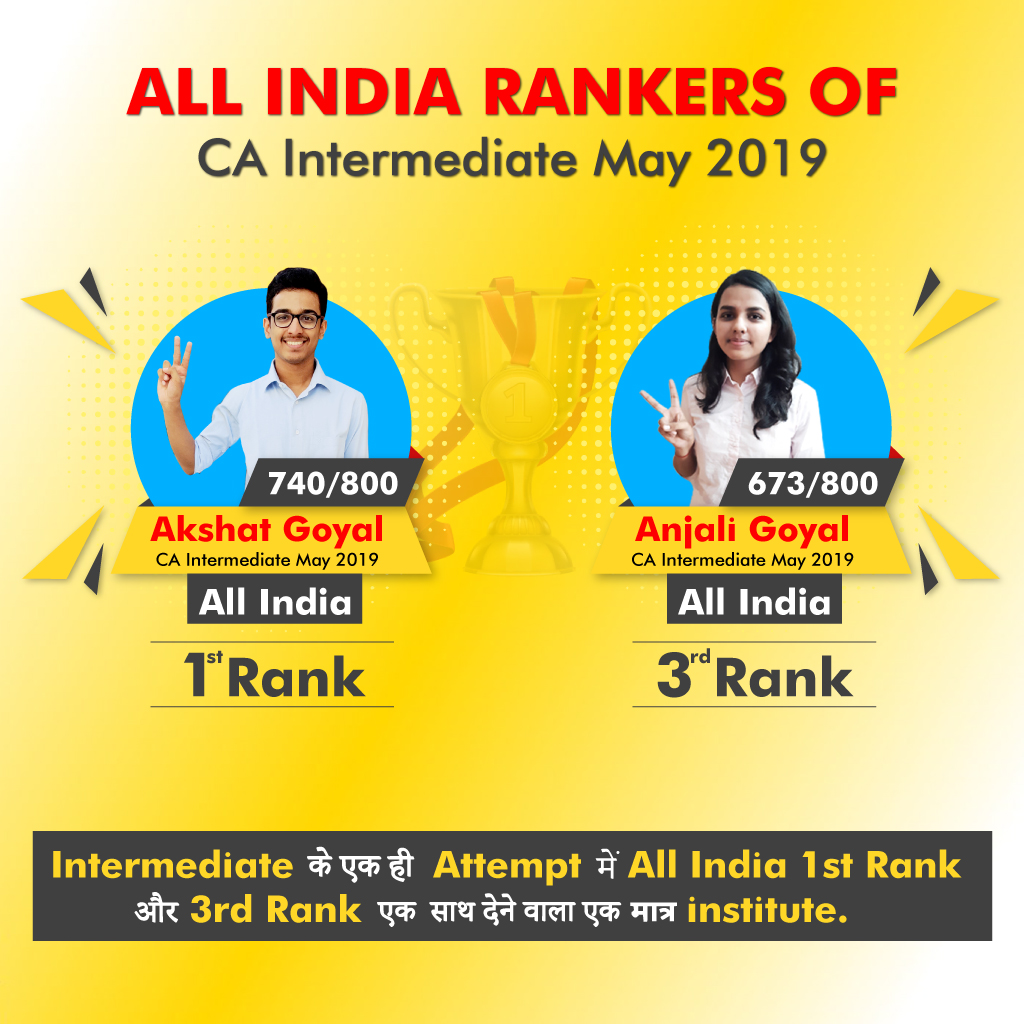 ---
VSI CA Intermediate Result Nov. 2019

---
VSI CA Final Result May 2018

---
VSI CA Intermediate Result May 2018

---
VSI 2017 RESULTS

---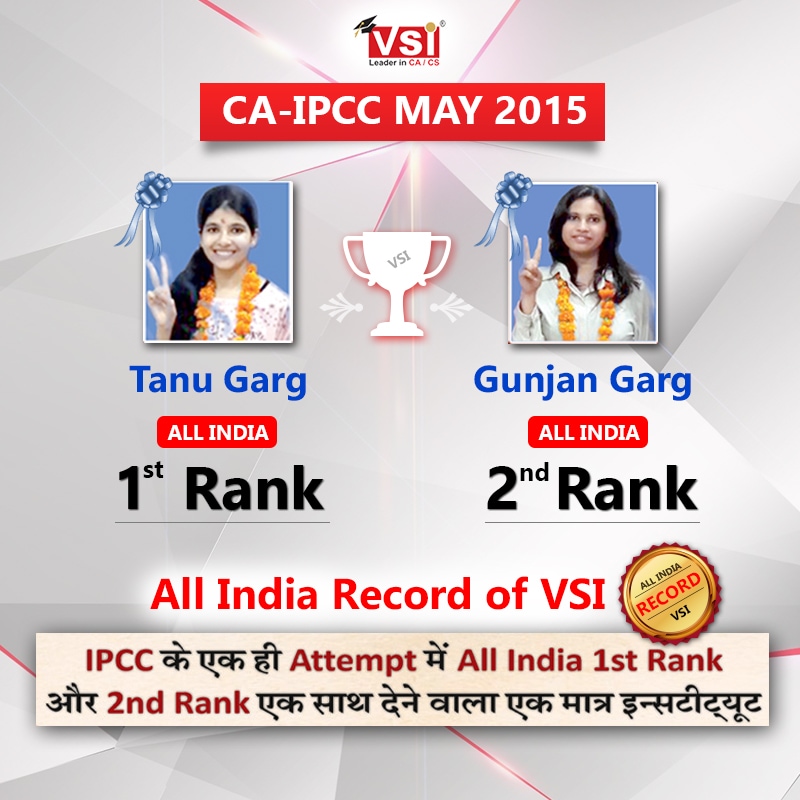 ---
All India Rank 1st from VSI in CA IPCC May 2012 RESULTS