Students studying in class 11th looking for the JAC 11th Syllabus can download the latest syllabus from this page. JAC boards have incorporated the CBSE curriculum for the years 2023-24. This allows 11th-class students to make a choice between commerce, science, and arts subjects.  To obtain good marks in board exams, students must study according to the syllabus prescribed by the Jharkhand board. Before starting with preparation, it is necessary to have a thorough knowledge of the syllabus of each and every subject.
For the ease and convenience of students, we have provided the syllabus in PDF format, which can be downloaded for future use. VSI Jaipur keeps a keen eye on the latest news and updates on Intermediate class 11th and 12th results as well as on CA and CS courses.
Students can enrol for CA courses in India, even in class XI, under provisional registration. Students Need to submit the 12th mark sheet before sitting for CA foundation exams. With this facility, students can get extra time to prepare for the CA foundation.  To get all the latest news updates regarding JAC class 12th Syllabus 2024, bookmark the VSI Jaipur page.
About the Jharkhand Board
Jharkhand Board, known as Jharkhand Academic Council (JAC), is a body established for conducting examinations for Higher Secondary, secondary, and Madrasa education in Jharkhand state. The senior secondary is referred to as intermediate in this state. The JAC board has included the CBSE curriculum for primary, secondary, and intermediate levels.  The examination for class 11th is conducted by the Jharkhand Board every year in the month of March.
Latest and updated JAC Board Class 11 Exam
The JAC Board Class 11 Exams will have 40 marks questions for MCQ and 10 marks for long questions. Exams will be for 250 marks covered in 5 papers.
Time table of JAC exams for Class 11th.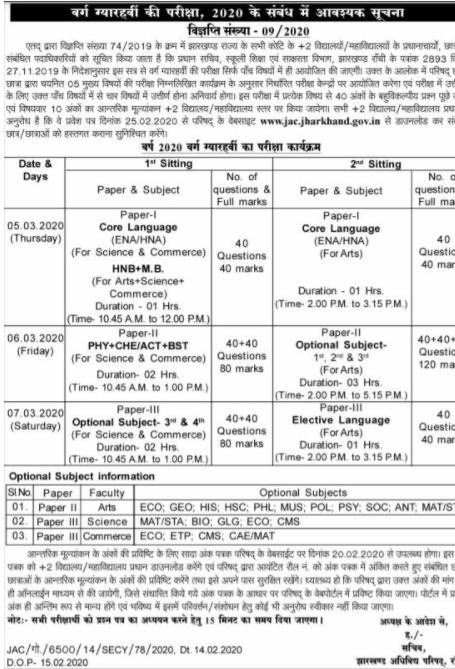 How to Register for the JAC Board Class 11 2023-24 Exam?
Students who cleared the 10th exam of the JAC board are now eligible to appear for class 11th exams. The registration form for JAC class 11th is available here. Download the JAC exam registration form for class XI from here and take a printout of it. Fill the right details in the form only with a black pen. Attach the appropriate size of the photograph and proper sign to the form and submit it at the school itself. Once the registration form is submitted online, it will be hard to make any changes; hence it is important students take extra precautions and reconcile before submitting the details.
Online registration for JAC class XI exams Regular.pdf 
Must Check: Science vs Commerce
---
What is the JAC 11th Syllabus 2023-24?
JAC syllabus 2023-24 is a course planning for class 11th students, which is planned by the CBSE. In the syllabus, all the important topics and chapters are covered. 
Importance of JAC Board 11 Syllabus
The new syllabus of the JAC board will help students:
To have assessment, evaluation, and analytical skills.

To have a strong conceptual understanding of the subjects.

To make use of information technology in Math, accounts, and other algorithm-based subjects.

To create a new perspective on the dynamic environment of our country

To get acquainted with international culture and practices.
 JAC Board Class 11th Syllabus 2023-24
For easy learning of all chapters for Maths, Chemistry, Physics, Accounts, Economics, Biology, Applied Mathematics, Business Studies, and Sociology, download the Syllabus for the main subjects of Science, Commerce and Arts in PDf format. 
JAC 11th Syllabus – Accountancy Download PDF
JAC 11th Syllabus Business Studies & Psychology Download PDF
JAC 11th Syllabus – Mathematics Download PDF
JAC 11th Syllabus – English Download PDF
JAC 11th Syllabus – Physics Download PDF
JAC 11th Syllabus – Biology Download PDF
JAC 11th Syllabus – Chemistry Download PDF
JAC 11th Syllabus – Hindi Download PDF
JAC 11th Syllabus – Sanskrit Download PDF
JAC 11th Syllabus – History, Geography, Political Science, Economics  Download PDF
JAC Board Class 11 Model Papers for 2023 Exams:
The JAC board understands conceptual understanding is important to excel. In order to develop conceptual understanding, the board issues model papers or sample papers every year. They are the practice paper mocked as real exam questions appear. The mock test paper for JAC class 11th can be downloaded here.
JAC Class XIth Physics- set 1  model paper for 2023 exams with Answers
JAC Class XIthChemistry-set 1 model paper for 2023 exams with Answers
JAC Class XIthBiology_ set 1 model paper for 2023 exams with Answers
JAC Class XIthMaths- set 1 model paper for 2023 exams with Answers
JAC Class XIthAccounts 11_COM.pdf model paper for 2023 exams with Answers
JAC Class XIthBusiness studies 11_COM.PDF model paper for 2023 exams with Answers
JAC Class XIthCommercial mathematics 11_COM.pdf  model paper for 2023 exams with Answers
JAC Class XIthEntrepreneurship 11_COM.pdf  model paper for 2023 exams with Answers
Must Check: JAC Class 11th Model Question Papers 
JAC Board Class 11 Results 2023-24
Once the examinations of class 11th are over, students start searching for their class 11th results. Jharkhand board releases the JAC class 11th result in the month of June. The results will get announced on the official website of the Jharkhand board; students can check their results by entering the required details, after which they will get their results for download. 
Preparation Tips for Class 11th Students
Try to cover the syllabus well on time. To complete the syllabus, it is important to have a detailed study plan.

It is better to adopt regular study habits for timely completion of the course and effective results.

Do not forget to revise what you studied on the same day for effective retentivity.

Practice enough questions which involve calculation for accuracy and maintenance of speed.

While studying, do not forget to make notes comprising important topics for revision during the exam time.
Practice enough previous year question papers (at least past 10-year question papers) for a better idea of the types of questions being asked in the examination; you will also get to know how many questions get repeated in the examination hence you can prepare those questions effectively.
---
About VSI Jaipur
VSI Jaipur provides the best 11th and 12th commerce classes for Accounts, Maths, BST, and Economics subjects. By taking tuition from VSI, you can build solid concepts and get high grades in your 12th board exams. Further, VSI provides the best CA coaching classes in India and helped thousands of students clear CA exams on the first attempt. Our students scored the ever-highest marks in CA IPCC, Intermediate, and Final exams. Furthermore, our 7 students got AIR 1 in the last 10 years.
So, begin your CA Journey by joining our 11th commerce classes in offline, online, or recorded modes (your choice).
---
Students also Asked
Q1. What is the JAC class 12th syllabus 2023-24 for all three streams?
Ans. JAC Class 12th syllabus 2023-24 for Arts, Science, and Commerce is given on this page.
Q2. Can we download the JAC class 11th syllabus 2023-24 from the VSI Jaipur page?
Ans. Yes, students can download the JAC class 11th syllabus from this page itself.
Q3. Who plans the JAC class 11th syllabus for students?
Ans. JAC class 11th syllabus is planned by the Jharkhand Board Council Members. They have an Affiliated CBSE course for class 11th.
Q4.  What are the total marks for the JAC 11th exam?
Ans. Students need to score 250 marks in total for the JAC 11th exam. There are 5 papers for 50 marks each. It is important to clear 4 papers to become eligible for 12th std.