Class 12 provides students an entryway into higher education and career opportunities, acting as an essential stage to demonstrate their knowledge, abilities, and academic prowess. Furthermore, this phase provides the foundation for future studies and professions. As one of the world's most widely spoken languages, Hindi presents opportunities for effective communication and gaining deeper insights into India's rich traditions and literature. If you are a Class 12 Hindi student preparing for the 2023-24 boards, then in this post, we present the Class 12 Hindi Syllabus for your reference. Let's check. 
You can also check the RBSE Complete Syllabus 2023-2024.
CBSE Class 12 Hindi Syllabus Course Structure 2023-24
The CBSE Class 12th Hindi Syllabus for the academic year 2023-24 introduces them to the Hindi literature and language. Divided into two parts—Aaroh and Vitan—students will explore a range of prose, poetry, and other short stories. Here is the Class 12th Hindi syllabus 2023-24 for your reference: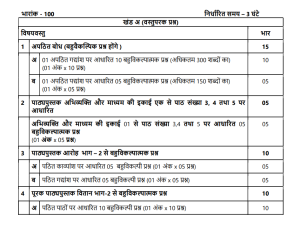 Section A
Section – B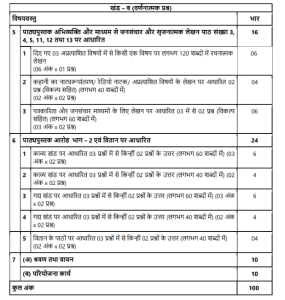 Deleted Syllabus

CBSE Class 12 Hindi Syllabus 2023-24 – Unit Wise
Here, you can find all the chapters of the CBSE Class 12th Hindi syllabus:
Class 12 Hindi Core Aroh 2024
हरिवंश राय बच्चन
आलोक धन्वा
कुंवर नारायण
रघुवीर सहाय
शमशेर बहादुर सिंह
सूर्यकांत त्रिपाठी निराला
तुलसीदास
फ़िराक गोरखपुरी – (गज़ल Deleted)
उमाशंकर जोशी
महादेवी वर्मा
जैनेन्द्र कुमार
धर्मवीर भारती
फणीश्वरनाथ रेणु
हजारी प्रसाद द्विवेदी
बाबा साहेब भीमराव अंबेडकर
Class 12 Hindi Core Vitan 2024
सिल्वर वैडिंग
जूझ
अतीत में दबे पाँव
What is the syllabus of Class 12 Hindi?
The Class 12 Hindi Syllabus summarizes all the subjects students will read and appear for the following year's exam. With the syllabus in hand, students get details about the chapters.
How many chapters are in Hindi class 12 2023?
For the number of chapters, refer to the CBSE class 12th Hindi syllabus.
Is Hindi easy in class 12?
The ease of Hindi in Class 12 varies from student to student. While some may find it intuitive and straightforward, others may face challenges. The key lies in consistent practice, a thorough understanding of grammar rules, and having a deep understanding of the chapters.
Is Hindi a scoring subject?
Yes, Hindi can be a scoring subject in Class 12. With a well-structured study plan and an emphasis on language skills and literary analysis, students can excel in Hindi.