CA vs MBA: Which is Better? – Salary, Scope, Eligibility, Skills 2023
CA vs MBA – The primary difference between CA and MBA courses is the curriculum. On the one side, CA provides students with specialized teaching in the accounting and finance field. While the MBA gives a complete overview of business operations and fields within an organization.
There is always debate among aspirants about which is better, CA vs MBA. These are two of the country's most popular and well-known career choices, but students don't know which one to choose.
So, in this article, we'll share the major differences between Chartered Accountancy and MBA courses, including the comparison of salary, scope, skills, eligibility, and more. Thus, check the complete article to make an informed decision.

---
Difference Between CA vs MBA
Key Takeaway:-
CAs specialize in accounting and finances, whereas MBAs have a broader approach towards many aspects of business and company strategic skills.
Major Differences between CA and MBA are:
Salary – The CA salary in India is around 8-9 lakhs per annum. On the other hand, the average salary of an MBA is 7-8 lakhs per annum.
Skills and Knowledge – Chartered Accountants have great knowledge in Financial Reporting, Account Management, Auditing, Taxation, Corporate Laws, etc. An MBA has expertise in Financial Planning and Management, Marketing, Risk Analysis, Product Management, etc.
Fees – The fee for the CA course is around 3-4 lakhs. In comparison, the MBA fees are higher and range between 10-15 lakhs.
Scope – The scope of both MBA and CAs are higher in the coming years.


---
CA vs MBA: Comparison Table
Here in the below-mentioned table, we have covered the major differences between CA and MBA, such as course structure, scope, career, salary, study duration, eligibility, and more.
Criteria
CA
MBA
Study Duration
4.5-5 years
2 years
Fees
On an average 2 lakhs
Depends upon the college
Eligibility
For admissions, you must have a minimum of 50% in 10+2 commerce and pass the foundation exam.
50% in any undergraduate programme and the candidates should clear the CAT exam or other related exams.
Governing Body
ICAI (Institute of Chartered Accountants India)
UGC (University of Grants Commission)
Domain of Study
Finance, Accounts, Internal Auditing, Taxation
Business Management, Business Development, and Human Resources
Levels of Examination
Level 1 – CPT Exam
Level 2 – IPCC Exam
Level 3 – CA Final
CAT/MAT/GMAT
Practical Exposure Offered
Articleship
Compulsory internship ranging from 3-6 months
Who can pursue?
Students with interest in accounting and finance.
Students interested for business development and management.
Career Options
Internal Auditing, Finance, Accounts, etc.
HR, Marketing, Sales, Data Analytics, Financial Analyst, etc.
---
Overview About CA Course
Chartered Accountancy is a professional certification course. The CA course deals in accounting, finance, and taxation. Most commerce students pursue a career in accounting or auditing after their 12th class.
CA refers to a person who has completed a Chartered Accountancy course. After passing the 10+2 exam, candidates can register for the CA course. If a candidate has a bachelor's degree, then he can directly go for the CA Intermediate course. The ICAI is the governing body for the CA Course in India.
There are three exam levels of CA:
Foundation Level
Intermediate Level
Final Level
There is also a 3-year articleship that every CA student has to complete.
The CA Course's primary goal is to expose students to the financial and accounting sectors. It will take at least 5 years to clear all the exams and become a Chartered Accountant. However, it can take more if you don't clear the exams.
A CA examines various government notices, taxes, and other financial regulations following the finance ministry's rules. They also make appropriate recommendations based on the taxonomy laws.
---
Overview About MBA Course
A Master of Business Administration (MBA), is a postgraduate degree. MBA is widely recognized around the world. Candidates with an MBA degree have a plethora of career options.
A bachelor's degree in any field, such as science, humanities, or commerce, is required to enrol in an MBA program. To get admission to Business schools, students must clear the entrance exams such as the CAT, CMAT, BMAT, MAT, XAT, and others.
The main goal of an MBA program is to expose students to various domains such as human resources, marketing, finance, and other fields. Moreover, the number of startups has shown rapid growth for MBA graduates.
Under a management belt, an MBA comprises multiple specialization courses in finance, management, marketing, etc. It enables students to enhance in one field while also diversifying their interests in other fields.
---
Comparison Between CA vs MBA
1. Future Scope
CA Future Scope
CA is one of India's most reputable certifications. Despite the recent emergence of many short-term diploma certifications in accounting and finance, CA certification gets more weightage in work roles.
CA's can start freelancing after gaining experience or working for reputable CA firms and global corporations. Also, due to its broad scope, CA graduates will get a chance to work in various fields. Graduates can operate in audit and accounting firms, financial analysis banks, tax firms, and other fields.
Graduates have the freedom to choose and operate from a plethora of options. Almost every company needs an accounting and finance unit, and CA graduates are always needed to keep it running smoothly.
During article training, graduates can experience auditing, taxation, cost accounting, and finance. This broadens their scope and increases their likelihood of getting investment banking positions.
Future Scope for MBAs in India
The ever-increasing demand for MBAs demonstrates how decent the job opportunities are in the employment market. MBA curriculum equips graduates with theoretical and practical knowledge that allows them to work in various settings.
In any company, the need for management personnel is more important. A strong management structure is essential for organizational progress and requires highly qualified graduates with prior experience.
The MBA's specialization diversity has also resulted in new job opportunities in the data science and analytics sectors.
---
2. Skills Acquired
Skills acquired in CA
When a student undergoes the CA course and the articleship training, he gets practical exposure to auditing, accounting, and taxation. They also acquire discipline, conceptual understanding, great communication skills, diligence, hard work, and managing tight schedules.
Skills acquired in MBA
Apart from earning a specialization, the 2-year program develops many skills in students. This includes strategic thinking and analysis, networking right, working in high-pressure situations, leadership, time-management, and decision-making skills.
---
3. Duration and Fees
Duration and Fees in CA
The minimum CA course duration for students taking the Foundation Route is around five years. Each additional attempt to pass an examination could cost students at least six months. However, students taking the direct entry route can complete the course in 4.5 years.
The total CA Course fees for all three levels is Rs. 76,200. It includes the registration, exam form and membership fees during the 5-year course. However, if we add the cost of coaching and study material, it will go around 3-4 lakhs.
Duration and Fees for the MBA Course
MBA is a two-year program. Furthermore, the Internship duration ranging from 3 months to 6 months is also included in these two years of the program.
Talking about the fees, MBA is costlier and difficult for everyone to afford. The MBA fees can range from 2 lakhs to 40 lakhs. Students should note that the fees will vary from college to college.
---
4. CA vs MBA Salary
Experience, area of specialization, and the domain in which they work are all critical factors influencing pay scale. Both graduates have a variety of job responsibilities, which entitles them to a wide range of pay.
Salary of a CA in India
The average salary of CA are as follows:
| Job Roles | Salary |
| --- | --- |
| Chartered Accountant | INR 7.39 LPA |
| Business Analyst | INR 6 LPA |
| Financial Planner | INR 8 LPA |
| Auditor | INR 7.77 LPA |
| Taxonomy Specialist | INR 8.1 LPA |
Salary of MBA
MBA graduates, like chartered accountants, work in a variety of fields. The following are the average salaries of MBA graduates:
| Job Roles | Salary |
| --- | --- |
| Business Development Specialist | INR 6.3 LPA |
| Human Resource Manager | INR 7.02 LPA |
| Sales Manager | INR 4.33 LPA |
| Customer Relationship Management | INR 6.77 LPA |
| Marketing Manager | INR 7.01 LPA |
---
5. Eligibility Criteria for the CA and MBA Course
To be eligible for the CA Course, students need to complete their 12th class with at least 50%. Other than that, there is no other restriction regarding stream and age. But graduate students through the direct entry route have to get at least 55% (commerce stream) & 60% (science stream).
Students who want to pursue MBA have to complete a bachelor's degree. Furthermore, to take admission to reputed colleges, they need to clear the entrance tests, such as CAT, XAT, and GMAT.
---
6. Exams and Passing Percentage
Talking about the CA course, there are three exams that students must clear to become a Chartered Accountant. These exams are Foundation, Intermediate and Final. The difficulty increases with each level. The passing percentage for the CA exams is very low and ranges between 10 to 30% only. There are many students who couldn't clear the levels even after multiple attempts.
For MBA, students first need to pass the entrance exam and then clear the 4-semester exams in the 2 years of college with a required percentage. The passing percentage for the MBA program is a bit higher and students manage to complete the papers.
---
7. Syllabus of CA and MBA
The CA syllabus is large and involves:
Basic and Advance Accounting.
Basic to Advance level Auditing.
Financial and Strategic Management.
Corporate Laws.
Direct, Indirect, and International Laws.
On the other hand, the MBA program includes:
Financial Planning and Management.
Business Economics
Product, Human Resource Management
Marketing
Leadership
IT infrastructure and risk management.
Check the high salary Jobs in India after CA and MBA
---
CA vs. MBA: Which is Better?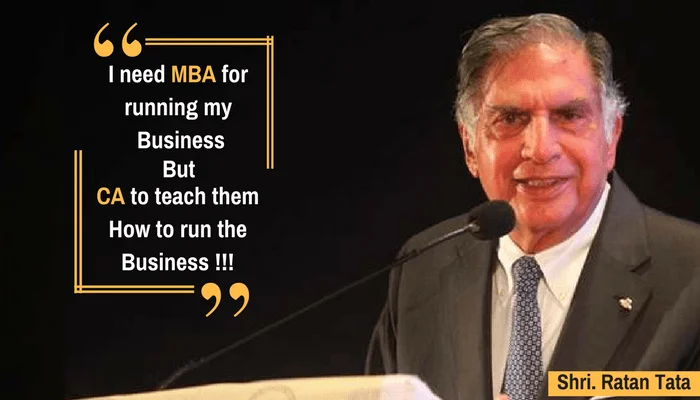 Both CA and MBA are equivalently reputable in the job market. There are some fields where CAs are preferred over MBAs and vice versa. We have also seen CA graduates learning new skills on the job and taking on more duties than MBA graduates. MBAs with multiple skill sets in data analytics and business management are in higher demand.
So, it is completely based on students which one is better for them among Chartered Accountancy and MBA. To make an informed decision, they should consider factors like their interests, preferred job role, salary, career scope and job security.
Students can also take career counselling after the 12th to make better decisions and move in the right direction.
Also Check: Courses after B.COM
---
Final Say on CA vs MBA
Chartered Accountancy is not only a versatile profession but also provides a greater degree of security and stability. They are aware of new laws, modifications in laws, and other changes. As a result, almost every organization requires CAs to handle finance, accounting, and auditing. Opting for a career in CA can be a wise decision.
Also compare: CA vs CMA
---
Frequently Asked Questions
Ques 1. Which one is harder, CA or MBA?
Ans. As per the pass percentage, we can say that the CA course is harder than MBA. In MBA, students can somehow manage to clear the exams. But there are many CA students who couldn't clear their exams even after 5-6 attempts.
Ques 2. Who earns more, a Chartered Accountant or an MBA?
Ans. The average salary of a Chartered Accountant in India is 8-9 lakhs per annum. Furthermore, the CA toppers can get annual packages of 15 to 20 lakhs. In the case of MBA graduates from IIMs, their average package is around 18 to 20 lakhs per annum. But this is not the case for the MBA graduates from the local college.
Ques 3. Is MBA equal to CA?
Ans. In the finance field, we can say that MBA and CA are almost similar.
Ques 4. Can I do both CA and MBA?
Ans. It will be very difficult to do both courses simultaneously. However, you can do MBA after CA, as it will also help in getting better job roles and packages.