NIOS 12th Result of April 2022 Exam @nios.ac.in
The NIOS 12th result of the April 2022 exams has been declared on June 14, 2022, on the official website – nios.ac.in. Students need their enrollment numbers to check their results. In the marksheet, you'll find your subject-wise marks, total marks, grade, and qualifying status. 
To get all the details of NIOS Class 12th Results such as important dates, steps to check, revaluation, supplementary exams, and more, check the complete page. 
---
---
NIOS 12th Result 2022: Important Dates
The NIOS board has released the 12th result for the 2022 exams. Students can check the table to know all the important dates.  
The next exam for the NIOS 12th board is going to be held on October 2022. So, students of the 2023 session have to be prepared for the exams. Furthermore, the results for the October 2022 exams will be declared in the month of January 2023.
---
How to Check NIOS 12th Result 2022 Online?
Students need to visit the official website of the NIOS board and follow the steps given below: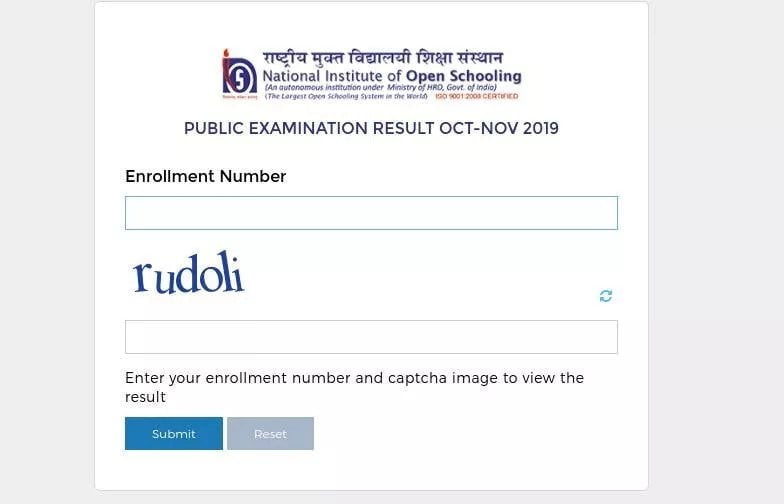 Visit the official website of NIOS i.e.

nios.ac.in

On the Homepage, click on the "Examination Result 2022" link.

Next, click on NIOS 12th result 2022.

 A new window will open, enter your class 12th enrollment number and captcha details and then click on submit button.

Now you are able to see the result on your screen.

Save the result marksheet for future reference.
To keep your result marksheet safe, laminate your marksheet and keep it safe. You can also take 3-4 photocopies for the safer side.
---
Steps to Check Class 12 Result of NIOS Board via SMS
Sometimes due to excessive server load or technical errors at the time of result, students are not able to check their 12th result online. To remove this problem, NIOS also provides a facility to its students where they can check their results via SMS.
To avail of this facility, students need to send a message in the following Format.
NIOS12<ROLL NUMBER>

and send it to

5676750
In a few minutes, your NIOS class 12 Result 2022 will be sent to your mobile number via SMS.
---
Details Mentioned on NIOS 12th Marksheet
Your Name 

Father's name

Mother's name

Your Enrollment number

Course Name & Class

DOB or Date of Birth

Total Marks Scored ( Both Theory + Practical)

Qualifying Status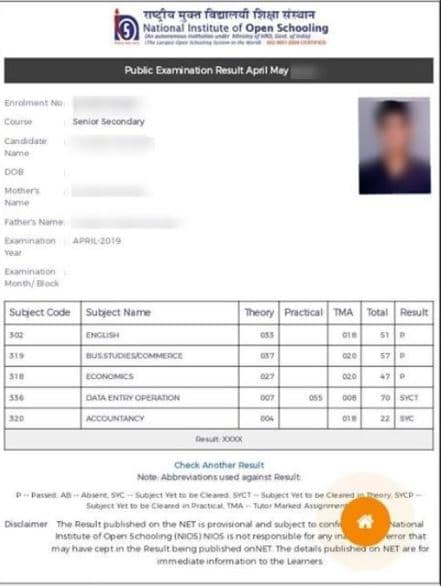 ---
Abbreviations Used in NIOS Class 12th Marksheet
In the NIOS Result 2022, there are various abbreviations used and each abbreviation has its own purpose and meaning. 
The following Table includes all those abbreviations used in NIOS 12th Result 2022:
---
Previous Year Statistics of NIOS Class 12 Results
---
Analysis of NIOS 12th Result From October 2010
The following result analysis is from the month of October 2010 for Class 12, published by the Official website of NIOS. For further reference visit:  https://results.nios.ac.in/home/result-analysis
---
NIOS 12th Result 2022 Toppers
Every Year after the declaration of the Result, NIOS declares the List of Toppers for that year.
This year also, the National Institute of Open Schooling, NIOS will declare the list of toppers for NIOS 12th Result 2022 on its official website nios.ac.in.
---
NIOS 12th Correction Procedure
In case students find any spelling errors in their personal information/details or errors in totalling of Marks etc, in their NIOS 12th Result marksheet can apply for correction.
Students need to apply for the same within 30 days after the results get declared.

You need to submit an application for correction at your study centre, along with your original documents.

After the verification procedure, your details will be corrected and the new result will be provided by the NIOS.
---
Re-Checking / Re-Evaluation of NIOS Result 2022
NIOS provides the facility to students to apply for re-checking and re-evaluation of their NIOS 12th Result in case they are not satisfied with their results. Students must apply within 15 days of the declaration of the result.
To apply for rechecking you must follow these simple steps:
First students must fill and submit an online application form along with Rs 300/- per subject.

After that, your marks in the results are rechecked by the exam authority.

If there is an increase of 5% or more marks, new marks will be awarded to the student 

Note: In the process of Rechecking, final marks can be both increased and decreased.
---
NIOS 12th Improvement Exams 2022
Students who are not able to secure passing marks in one or more papers are eligible to apply for Improvement Exams 2022 which are also conducted by NIOS.
NOTE: To apply for the improvement exams, students must fill and submit an online application form available on the official website of NIOS along with the small amount of fee per subject.
Improvement Exam 2022 will be conducted in the month of August 2022 by NIOS

Admit Card for the same will be available on the official website of NIOS, 2 weeks prior to the improvement exams.

The result for NIOS 12th Improvement exam will be declared in the month of September 2022. (Tentative).
---
What to do After NIOS Class 12 Results?
Students who can't clear the exams must look for revaluation of their answer sheets or the improvement exams. We advise all the students to study hard to clear the improvement exams, otherwise, your 1 year will be wasted.
Students who have cleared the 12th exams should decide their careers. And based on the career you have chosen, apply to a top college or university. Other than that, they can also go for professional courses. Some of the best professional and job-oriented courses are CA, CMA, digital marketing, data science, etc.
---
About VSI Jaipur
VSI Jaipur provides the best 12th commerce classes for Accounts, Maths, BST and Economics subjects. By taking tuition from VSI, you can build solid concepts and get high grades in your 12th board exams. Further, if you aspire to become a CA, you can join our coaching classes and clear the CA exams on the first attempt. VSI Jaipur is the best CA Coaching in India and our students have scored the ever-highest marks in CA IPCC, Intermediate and Final exams. Moreover, our 7 students got AIR 1 in the last 10 years.
Further, we also provide the best CMA and ACCA coaching classes for all levels. So, join VSI Jaipur's online or offline classes to get the best class 12th result and build a strong foundation for CA/CMA/ACCA.
---
Frequently Asked Questions (FAQs)
Ques 1. When will the NIOS Board declare the Class 12th Results of the April 2022 exams? 
Ans. The NIOS board has already declared the Class 12 result on June 14, 2022. 
Ques 2. What Details are required to check my NIOS 12th Result 2022 Online?
Ans. To check your NIOS 12th Result 2022 online, you must have your enrollment number and given captcha code.
Ques 3. How to Check NIOS 12th Result 2022 Online?
Ans. You can check your NIOS 12th Result 2022 by visiting the Official website i.e. nios.ac.in.
Ques 4. What is the Passing Percentage to Clear NIOS 12th Examinations 2022?
Ans. To Pass NIOS 12th Examinations 2022, you must secure at least 33% marks in each paper.
Ques 5. How to Check NIOS 12th Result 2022 via SMS?
Ans. To get your NIOS Result via SMS Type "NIOS12<ROLL NUMBER> and send it to 5676750".
Ques 6. What are the best courses after class 12
Ans. The best courses after class 12 are mentioned on this page. Students can explore all of them by clicking on this link.