CBSE Class 12th Toppers List 2022-23
CBSE Class 12th toppers list of 2022-23 will be released soon by CBSE. With the CBSE 12th result declaration, CBSE will also release the list of students who topped this year. In the Merit list of 2022-23, the details mentioned will be Rank, Name, Marks, Percentage, and more.
Finally, the wait is over and this year the result has been released a bit early as per the usual trend. 83.4% has been the result which is better in comparison to last year. The first two positions are secured by Indian daughters beating the boys. This year a total of 12,87,359 students appeared for class 12th exams. Exams were conducted at 4,138 centers throughout India and 71 centers outside India. Check your CBSE 12th result .
In the above pass percentage, 88.70% of girls passed whereas the pass percentage of boys is 79.4%.
CBSE Class 12th Toppers 2022-23
The ICAI has not yet released the toppers list of CBSE class 12th exams. Students are advised to wait for the result. As the CBSE will release the merit list, we'll update the list on this page. So, bookmark this page for the latest updates regarding the CBSE class 12th toppers list. Until then, check out the Toppers list of the 2019 session.
| Position | Rank 1 | Rank 1 |
| --- | --- | --- |
| Name | Hansika Shukla | Karishma Arora |
| Marks | 499/500 | 499/500 |
| Percentage | 99.80% | 99.80% |
| School | DPS | SD Public School |
| State | Uttar Pradesh | Uttar Pradesh |
| Subject | Humanities | Humanities |
---

---
First Rank
Hansika Shukla has topped the CBSE 12th exams she lives in Ghaziabad and studied in DPS of Meerut road. She scored 499 marks out of 500 with 99.80%. Hansika belongs to the Humanities stream. Here is her Marks Statement –
| Subject | Marks |
| --- | --- |
| English | 99 |
| History | 100 |
| Geography | 100 |
| Psychology | 100 |
| Economics | 100 |
Another UP girl Karishma Arora secured the first position by scoring 499 marks out of 500 with 99.80% studied at SD Public School. Karishma also belongs to Humanities stream. Here is her marks statement-
---
Second Rank
The second position is also secured by girls. Three girls Gaurangi Chawla of Nirmal Ashram school, Rishikesh Aishwarya of Kendriya Vidyalaya, Rai Bareilly and Bhavya of BR SK International Public School Jind Haryana have scored 498 out of 500.
---
Third Rank
The third position is tied up with eighteen students, seven boys and eleven girls scoring 497 marks by each student.
Toppers List of Differently Abled Students 2018
| Candidate's Name | Name of School | Total Marks |
| --- | --- | --- |
| A VIJAY GANESH | PALGHAT LIONS SCHOOL KOPPAM PALAKKAD KERALA | 492 |
| POOJA KUMARI | MODELS FOR VISUALLY HANDICAPPED DEHRADUN | 489 |
| LAVANYA JHA | DELHI PUBLIC SCHOOL SECTOR XII R K PURAM ND | 487 |
In 2018, differently-abled students also rocked. Out of 2836 students who appeared for CBSE class 12th exams 2482 students passed.
In 2018,14,881 Students out of 15674 students cleared CBSE class 12th Examination who appeared in this examination from outside India.
---
CBSE Class 12th Merit List
| Rank | Name | School | Marks |
| --- | --- | --- | --- |
| 1st | HANSIKA SHUKLA | DELHI PUBLIC SCHOOL MEERUT RD GHAZIABAD UP | 499 |
| 1st | KARISHMA ARORA | SD PUBLIC SCHOOL MUZAFFARNAGAR UP | 499 |
| 2nd | GAURANGI CHAWLA | NIRMAL ASHRAM DEEPMALA P PUB SCH RISHIKESH UK | 498 |
| 2nd | AISHWARYA | KENDRIYA VIDYALAYA NO 1 RAE BARELI UP | 498 |
| 2nd | BHAVYA | B R S K INTERNATIONAL PUB SCH SAFIDON JIND HRY | 498 |
| 3rd | AYUSHI UPADHYAY | LUCKNOW PUBLIC SCH SOUTH CITY LUCKNOW UP | 497 |
| 3rd | MEHAK TALWAR | DELHI PUBLIC SCHOOL SEC-24 PHASE III ROHINI ND | 497 |
| 3rd | PARTH SAINI | ST LUKE`S SR SEC SCHOOL SOLAN HP | 497 |
| 3rd | VEERAJ JINDAL | VASANT VALLEY SCHOOL VASANT KUNJ NEW DELHI | 497 |
| 10. | ANANYA GOEL | K L INTNL SCH SOMDUTT VIHAR GARH RD MEERUT UP | 497 |
---
Check your CBSE Class 12th Result
The candidates can check their mark statement from www.results.nic.in or www.cbseresults.nic.in or www.cbse.nic.in.
To check your result, you have to submit your Roll no. and other asked credentials then click the submit button.
---
SMS/ IVRS
The candidates can also check your result through "SMS organizer" app. In order to check your result through SMS, you need to download it first and get yourself register with the CBSE results. If you are already registered then must have received a notification about the result.
The result can also be check through IVRS. The IVR numbers are 24300699 for Local Delhi users and 011-24300699 for subscribers in another part of the country.
To check your result type- cbse12 (space) Roll No. (space) Type above no. and send it to 7738299899.
The board has informed that this year schools will get their entire students result on email id registered with the board.
---
Digital Mark Statement
CBSE has announced that students will be provided class XII digital mark sheet in DigiLocker at http://digilocker.gov.in.
Board has also released that the credentials contained by such Digilocker will be sent to each student through SMS on their registered mobile number.
---
---
Join CPT/CA Foundation Rankers Club
---
Get better marks then XII in CA Foundation
CPT June 2017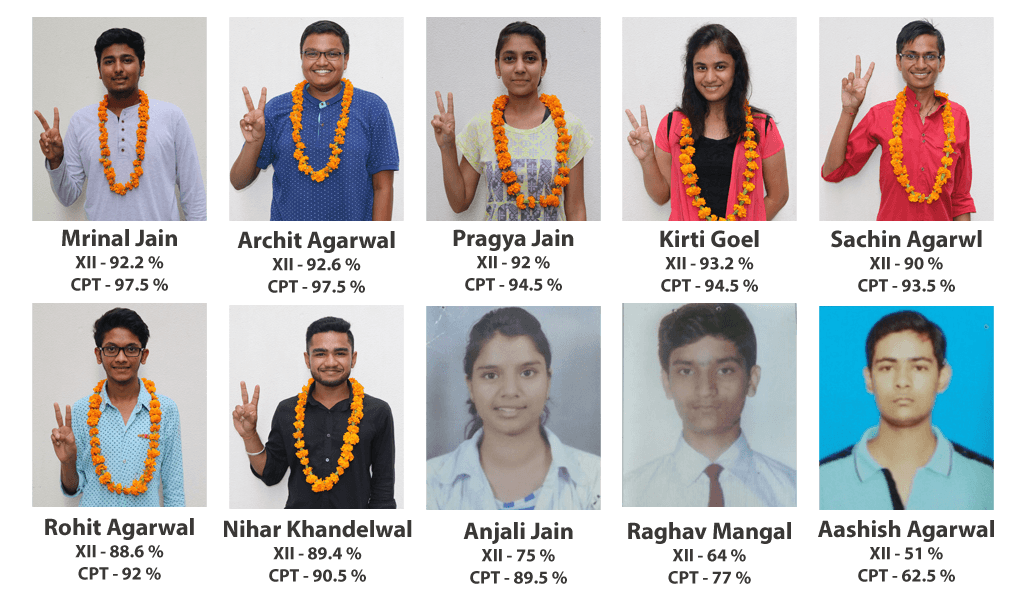 CPT December 2017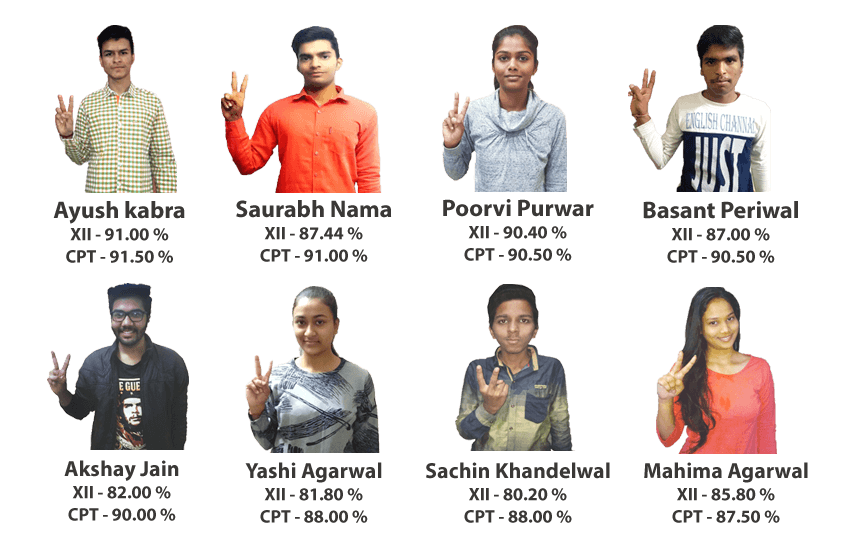 ---
CBSE Class 12th Toppers 2017
Among the 11 lakh students, Raksha Gopal from the Amity International School in Noida standout at the first position by securing 99.6 percent marks in Humanities stream.
The second position was also achieved by one of India's daughter named as Bhumi Sawant by scoring 99.4 percent marks in Science.
There was a tie over the third position between the Mannat Luthra and Aditya Jain from Chandigarh scoring 99.2% in Commerce Stream.
| Position | Rank 1 | Rank 2 | Rank 3 | Rank 3 |
| --- | --- | --- | --- | --- |
| Name | Raksha Gopal | Bhumi Sawant | Aditya Jain | Mannat Luthra |
| State | Noida | Chandigarh | Chandigarh | Chandigarh |
| Percentage | 99.6% | 99.4% | 99.2% | 99.2% |
| Subject | Humanities | Science | Commerce | Commerce |
Here are the statistics of Last year CBSE class 12th result –
Last Year Statistics of Class 12th CBSE Result
Total No. of students appeared
11 Lakh
Pass Percentage
82%
Girls pass percentage
87.50%
Boys pass percentage
78%
We are sharing you the toppers guidance which can be prove helpful for your 12th CBSE Board Examinations. Before that let's have a look over the report card of 1st Rank holder –
1st Topper – Raksha Gopal
Raksha never believed in marks, she only believes in Knowledge. Her father use to teach her "Score marks lower than Zero, if possible but gain knowledge, not marks" which make her stand out at the first position in all over India.
This girl has leave a challenge for the batches to follow, by scoring 99.6% marks in Humanities at the age of 17. And this could not be possible without hard work.
Her strategy is to focus on quality rather than quantity which most of the students often lack. She was focused for her dream not just during exams but throughout the year and which proven her superior from the crowd.
2nd Topper – Bhoomi Sawant
A girl from Chandigarh studied from DAV School in Sector 8 who scored complete 100 marks in Physics, Chemistry, Mathematics and Computer Science. Beside this, she also scored 97 marks in English.
She was so dedicated to her study that she consistently studied for Six to seven hours not just during exam times but throughout the whole year. Amid such year, she did not even use whatsapp or Facebook so that one day she can see herself on the seventh cloud.
3rd Topper – Mannat Luthra
Aditya Jain stood at Third Rank in the CBSE 12th Board 2017 Examinations by scoring 99.2% in Commerce Stream. 99.2% consists of full marks in Economics and Business Studies along with 98 marks in English.
Aditya Jain Shared the secret of his success, which comprises of three to four hours effective study in a day beside the school. He believes in effective work rather than labour work which means whatever time you study, you must be completely focused which is the secret of his success.